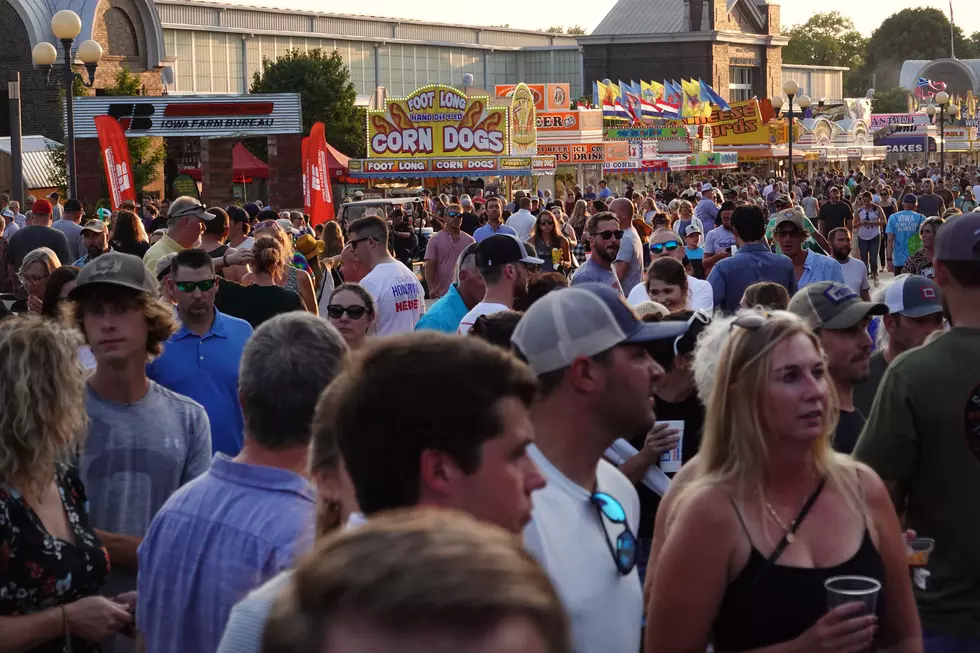 Everything You Need To Know About The 2022 Iowa State Fair
Getty Images
There is only one Iowa State Fair. It is recognized across the nation as the largest state fair with more entertainment and food options than you can shake a stick at! Food on a stick, at that! This year's Iowa State Fair runs from August 11th through August 21st. Even if you've been to the fair before, there are some things you need to know. The Des Moines Register has put together some helpful tips before you head to the best state fair in the U.S.A.!
When Does the Iowa State Fair Open? - The fairgrounds of the Iowa State Fair open each day at 8 a.m. If you head there that early be aware that most buildings don't open up until 9 a.m. and the amusement parks have different hours as well.
Where Are the Iowa State Fairgrounds Located? - The Iowa State Fairgrounds can be found at East 30th Street and East University Ave. in Des Moines. That has been the site of the State Fair since 1886.
How Much Does it Cost To Get Into The Iowa State Fair? - Advance tickets are already on sale and can be purchased HERE. Advanced tickets are $9 for adults and $5 for kids. Those prices increase at the gate to $14 for adults and $8 for children. Other attractions, food, and concerts cost extra.
How Do I Get Tickets for The Iowa State Fair? - Tickets can be purchased HERE for general admission, Grandstand concerts, rides, and food coupons. The State Fair ticket office is open from 8 a.m. to 4:30 p.m. Monday through Friday, and 9 a.m. to noon on Saturday. The ticket office is located on the front porch of the administration building. You can also purchase advance tickets at participating Hy-Vee, Hy-Vee Drugstores, Fast and Fresh Stores, and participating Fareway stores.
What Kind of Food Can I Enjoy at The Iowa State Fair? - The State Fair announced what new foods that fairgoers can expect back in July. You can check out the list of new foods HERE. Here are the three dishes that will be competing this year for the People's Choice Best New Food. The OMG Chicken Sandwich from Chicken City, Iowa Pork Tent's Pork Picnic in a Cup, and The Finisher from the Rib Shack.
Who is Performing at this year's Iowa State Fair? - Here are the acts that will pack the grandstands at this year's Iowa State Fair!
August 11th - Skillet
August 12th - Brooks and Dunn
August 13th - Nelly
August 14th - Demi Lovato
August 15th - Alanis Morissette
August 16th - ZZ Top and Ann Wilson
August 17th - John Crist
August 18th - Kane Brown
August 19th - Disturbed with Chevelle
August 20th - Keith Urban
August 21st - Carrie Underwood
If you don't feel like paying for those shows there are plenty of free entertainment options too! Check out the list of free shows at this year's fair HERE.
Where Should I Park When Attending the Iowa State Fair? - If you are driving to the Iowa State Fairgrounds yourself, you can park at one of the three lots. They charge $10 to park. You can also take shuttles from the parking lots or ride DART. Ride-sharing services and taxis can also get you to and from the fairgrounds.
The Most Delicious Fair/Festival Foods That We've Ever Had
Cedar Rapids Balloon Glow 2022
Balloon Glow 2022 was a huge success for the Cedar Rapids Freedom Festival! Here are some photos from this year's event!