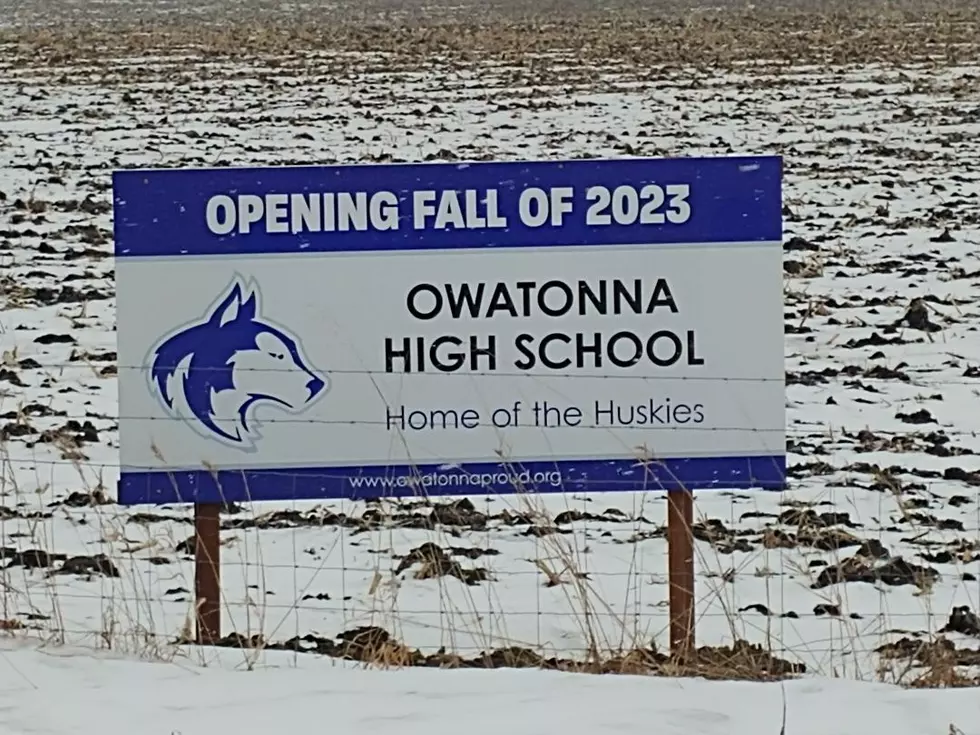 Design for New High School to be Presented
Roy Koenig/Townsquare Media
The design plan for the new Owatonna High School is due to be presented at a work session of the school board at 5:30 pm. The new campus is located in southeast Owatonna near the intersection of highways 14 and 218. It is expected to open for students in the fall of 2023.
At a 'Coffee with the Superintendent' zoom meeting in May, Jeff Elstad said, "We are making progress on our new high school. We have been planning and designing really from November until now." On Monday "members of the core planning team, as well as Wold Architects will be releasing the first community glimpse at what the design of the new high school will be, as well as some of the renderings that they're able to share."
Elstad said when plans are finalized, bid packages would go out "probably in November for a January opening. Because our intent would be to break ground as soon as we are able to next spring on the high school."
He added that the technical drawings would then take place between June and October to ensure specifications are set. "Once we break ground, we do plan on finishing the building probably the spring of 2023, so somewhere it that May or June time frame. Which would allow us a very nice opportunity for staff to make a transition from the current building to the new OHS campus."
Regarding athletic facilities, Elstad said the idea of an artificial turf is still being studied for the stadium field, "What we're learning right now is actually the cost of artificial is coming down which is good news. What we're also recognizing is with artificial turf, the usability of that field goes up dramatically." He said at the current field approximately $25,000 - $30,000 goes into sod repair and maintenance annually. "We are leaning strongly toward an artificial surface."
He said there would be multiple practice fields, baseball and softball fields, although Fuller Field at Dartt's Park would still host varsity baseball games. Elstad said Morehouse Park is a nice location for varsity softball, however due to frequent flooding, he can see varsity games moving to a new field at the new high school.
Eight tennis courts are part of the plan. Elstad said overall planning for the site might last until the fall. He said those parts are usually the last areas developed. "Our goal with that has always been to keep as many of our activities on campus as we can."
Elstad said there will be plug-ins for electric cars and possibly some solar-power sustainability.
At the May talk, Elstad said he would present a September State of the School address.
OHS Class of 2020 Cruise Night