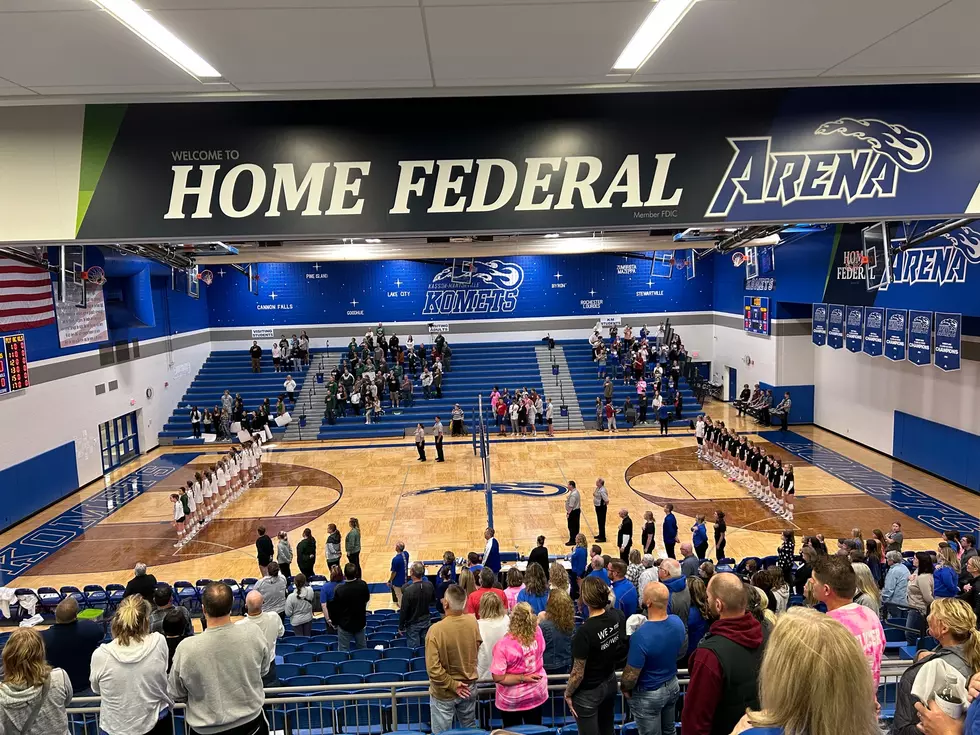 Faribault Volleyball Nearly Upsets Kasson-Mantorville
Section 1AAA Semifinals National Anthem at Kasson. Faribault in White. Photo by Gordy Kosfeld
The Faribault Falcons ended their season Tuesday night by falling in a five set thriller to perennial volleyball powerhouse Kasson-Mantorville in the KoMets home gym.
The match did not start out well for Faribault with hitting error after hitting error in the first set resulting in the KoMets pulling away for a 25-12 win.
My unofficial tally had the Falcons with 16 total errors.  Kasson-Mantorville 5 service errors in the set.
Faribault jumped out to a big lead in the second set and had to hang on for the 25-22 win.  They had just 4 miscues compared to 10 mistakes by the KoMets.
The third set was a repeat of the first with K-M running away 25-14 thanks to some impressive offense, 14 kills, 5 players with more than 2 kills each.
Faribault did start to get a better block up and it paid dividends in the 4th set with 5 blocks being a main factor in a 25-17 win. Senior Emily Soukup and junior Halle Rice put on a blocking clinic against the #4 ranked Class 3A Kasson-Mantorville team.
Fifth sets put a premium on being efficient because you go to 15 points and must win by two, so giving away points is magnified.
Faribault won the coin flip to start the fifth set meaning they chose to go on offense.
The difference in that final set of the season for the Falcons was errors.  My tally had Faribault with 7 errors and K-M 3 mistakes.  Junior Nikki Hausen and Soukup had monster blocks to keep the Falcons close.
Our Malecha's Auto Body Crunch Time Faribault Players of the Match were the six seniors who all contributed in the near upset.
Libero Clara Malecha picked up some impossible looking digs.  Darla Glende, Emily Soukup, Addison Dietsch and Isabel Herda are the other seniors.
The Cashwise Foods and Pharmacy of Owatonna Deliveries of the Match went to juniors Nikki Hausen and Halle Rice and sophmore Josie Herda.
My unofficial statistics had Josie Herda with 9 kills, Addison Dietsch 9 kills, Emily Soukup 6 kills, junior Halle Rice 6 kills.  Rice tallied 4 blocks on my stat sheet.
Soukup with 5 blocks.  Faribault ended the season with a 16-13 record.  They opened the year losing to then #4 Class 3A ranked Byron in a five set match and end the year with a 5 set loss to another ranked team.
The KoMets with 52 kills in the five sets, 31 errors including 10 service errors.
Emily Babcock smacked 18 kills, Whitney Deno 14 kills, Ellie Ask 7 kills.
Junior setter Abby Distad scored 4 dump kills for K-M.
#3 seed Byron swept #2 Stewartville 25-18, 25-13, 25-23.  Kasson-Mantorville are the defending Section 1AAA Champions.
In other Tuesday night action.
Section 1AA Quarterfinals:
Cannon Falls 3 Pine Island 1, 1st set Pine Island 25-22, then Cannon Falls 25-10,
25-11, 25-16.
Chatfield 3  La Crescent 1, LaCrescent 25-22 then Chatfield 25-11, 25-11, 25-16
Zumbrota-Mazeppa 3  Medford 0, 25-16, 25-12, 25-11
Caledonia 3  Goodhue 0  25-18, 25-21, 25-14
Section 1AAAA Semifinals:  Northfield 3  Rochester Mayo 0, 26-24, 25-15, 25-18, Sydney Jaynes 13 kills 17 digs, .394 hiting percentage, Teagan Timperly 13 kills, .414 hitting percentage.  Raiders team hitting percentage .367.
Lakeville North 3  Lakeville South 1, 25-11 North, 25-22 South, 25-10, 25-18.
Section 2A North Subsection Semifinals:  Mayer Lutheran 3  Sleepy Eye St. Mary's 0, 25-21, 25-9, 25-19
BOLD 3  New Ulm Cathedral1, 25-16 BOLD, 25-22 NUC, 25-18, 25-20.
Section 2A South Subsection Semifinals Cedar Mountain Comfrey 3  Martin County West 0,  25-21, 25-6, 25-23
Cleveland 3  Springfield 0,
Section 2AA North Semifinals: Southwest Christian 3  Glencoe-Silver Lake 0, 25-12,
25-16, 25-21.
Section 2AA South Semifinals:  NRHEG 3  Waseca 0, 25-21, 25-20, 25-23
Check out our NEW Minnesota High School Sports Scoreboard! You can quickly and easily check mn sports scores sorted by school, sport, conference, or football district.
For the best experience, download our Free App to check Minnesota State High School Sports Scores on the Go📲
Minnesota Musicians Who Have Made An Impact