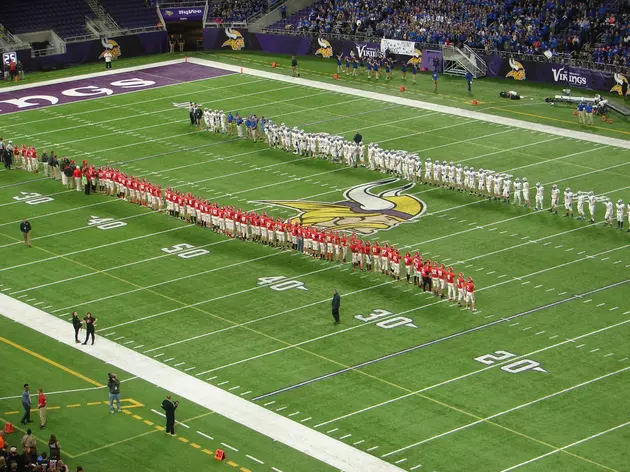 Back to The Bank for Hagen and Wiese
Roy Koenig/Townsquare Media (2017)
Blooming Prairie's Gabe Hagen and Owatonna's Zach Wiese know their way around US Bank Stadium. Each has played multiple games there and gets another chance put their skills on display during the Minnesota Football Showcase on Saturday, December 7 for the 47th annual high school all-star football game.
The game kicks off at 1 pm but several other activities will take place beforehand. The Legacy Gate opens at 9 am. Registration for a youth clinic begins at 10 am with the clinic running from 11 am - 12 pm. Current and former Vikings will be available for autographs.
High school bands and cheer teams will perform. Admission is $18 for adults and $8 for age 6-17. Children five years and under are free. All proceeds go to the Minnesota Football Coaches Association and the Tackle Cancer campaign.
Wiese was a starting offensive guard for two state championship teams for the Huskies. Owatonna had their own play land on the ESPN countdown last year. Hear Jason Williamson's touchdown run here. He played center this season for Owatonna. His father and OHS assistant coach Marc Wiese told me that Zach will play center Saturday. Marc played in the all-star game when he played for the Indians. He says he still has friendships with some of those teammates who reached out to him after Zach was named to the team.
Other southern Minnesota players on the South roster include Jack Foster of Mankato West, Jack Fisher of Rochester Century, Chance Backer of Chatfield, Elton Myhre of Stewartville, Donnie Lakey from Caledonia, Zach Niebuhr of USC, Carter Schmitz of Southland, Hayden Johnston from Albert Lea, Aaron Witt of Winona, Justin Azure of Waseca who is injured, Deontae Veney of Rochester JM, and Spencer Spaude from Mankato West.
The format is recent years has been North versus South, rather than Metro versus Greater Minnesota as it once was.