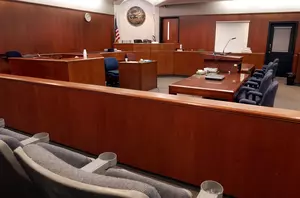 Albert Lea Man Married to Two Women at the Same Time
Getty Images
Albert Lea, MN  - An Albert Lea man is facing prosecution for a rare crime - bigamy.
The felony charge of being married to two women at the same time was recently filed in Freeborn County Court against 38-year-old Quinten Amos.
According to the criminal complaint, a detective discovered in July that Amos was married to a woman in Hennepin County several years ago. The marriage certificate was signed by a Justice of the Peace on May 16, 2009.
The detective did some checking and discovered Amos was married a second time to a Mower County woman on Valentine's Day 2016 at Albert Lea Vineyard Church. His first wife told the investigator they started online divorce proceedings but "they were never completed."
Amos - also known as "Crazy" - has been ordered to make his first court appearance later this month.