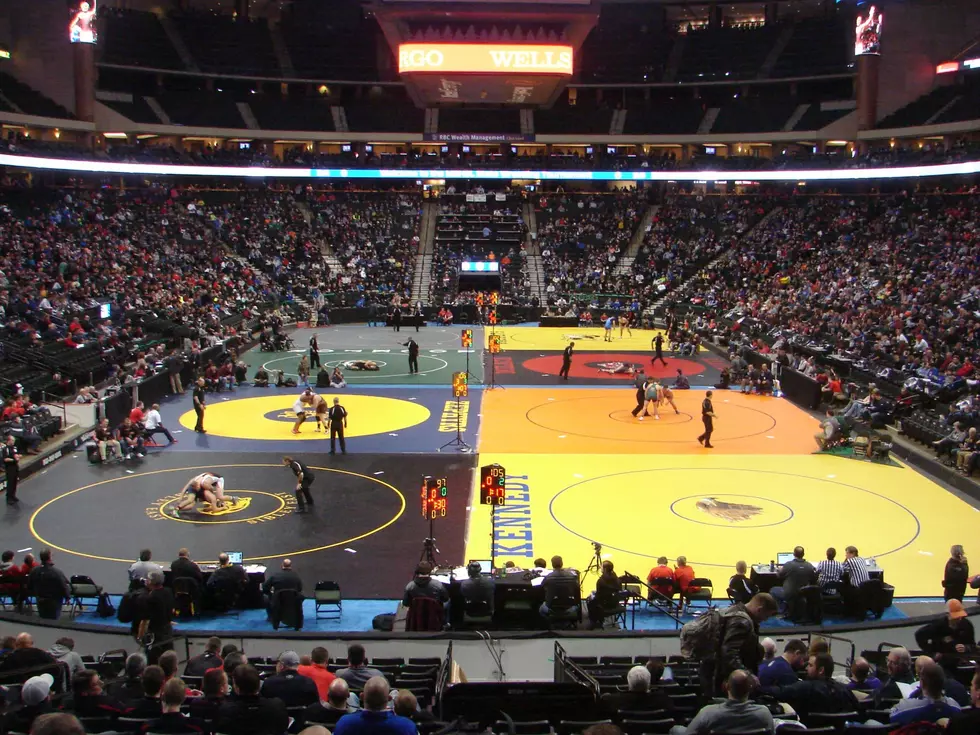 7 Fun Facts About this Year's Minnesota State Wrestling Tournament
Roy Koenig/Townsquare Media (2017)
Wrestling fans will fill Xcel Energy Center this Thursday through Saturday as Minnesota's top grapplers vie for state titles.
Owatonna opens team competition Thursday at 9AM against a familiar foe, Hastings. The Huskies beat the Raiders 36-23 during the Bloomington Kennedy tournament in late January.
There is some section and state history between the schools as well. The Huskies and Raiders met in the 1AAA finals three straight years from 2012-14. Hastings won two of those battles. The Raiders shifted to Section 3 a couple of seasons ago. Back in 1998, Owatonna beat Hastings to win the state title.
The team tournament is a one-day event. The winner of the Owatonna-Hastings match will likely face top seed and 11-time defending state champ Apple Valley in the semifinals. The last time the Eagles didn't win the title is 2005, when OHS won the championship.
The individual tournament starts Friday. Junior Peyton Robb will attempt to make history as the first Owatonna wrestler to win three state titles. Brandon Moen looks to end his prep career with a second straight title. Cade King and Griffin Thorn return to compete at state, while teammates Kaden Nelson, Landen Johnson and Goy Tut make their individual debuts. Class AAA individuals begin at 1PM Friday.
Westfield makes it tournament debut with five individual wrestlers to represent the first-year Blooming Prairie-Hayfield co-op. Ethan Arett, Colton Krell, Morgen Moreno, Mitchell Oswald and Trey Chatman will represent the Razorbacks at 9AM Friday. Medford has Willie VonRuden back at state again.
Get ticket information and the full schedule of the state wrestling tournament through the Minnesota State High School League. KRFO AM 1390 will present live coverage of Owatonna's team competition on Thursday and the local individual wrestlers Friday and Saturday.
Roy Koenig, Townsquare Media

Roy Koenig, Townsquare Media

1

Besides meeting during the regular season this year, the teams battled for the Section 1AAA title from 2012-14 and OHS beat the Raiders for the state title in 1998.

Roy Koenig / Townsquare Media

Roy Koenig / Townsquare Media

2

Owatonna's Brandon Moen and Peyton Robb look to add to their legacy this weekend.

Roy Koenig/Townsquare Media

Roy Koenig/Townsquare Media

3

Class AAA Field Loaded with History

The eight teams in the Class AAA field have combined for 124 state tournament appearances and 39 state titles. Owatonna is making its 12th appearance and has four titles.

Roy Koenig/Townsquare Media (2017)

Roy Koenig/Townsquare Media (2017)

4

Has Apple Valley Already Won the Title?

Was the Eagles' win over Shakopee in the section finals truly the state title match in AAA?

5

Westfield Makes Its State Debut

Five wrestlers from the newly formed Westfield Razorbacks will compete at state, representing the Blooming Prairie-Hayfield co-op.

Roy Koenig, Townsquare Media

Roy Koenig, Townsquare Media

6

Defending Class A champ Kenyon-Wanamingo must get through HVL rival Zumbrota-Mazeppa in the quarterfinals. Z-M beat K-W 28-27 on December 15. Kasson-Mantorville, the AA defending champ, is also from the HVL.

Roy Koenig, Townsquare Media (2015 photo)

Roy Koenig, Townsquare Media (2015 photo)

7

The Komets are 22-0 in dual meets this season and have finished in front of at least nine state tournament teams, either in a dual or in-season tournament.