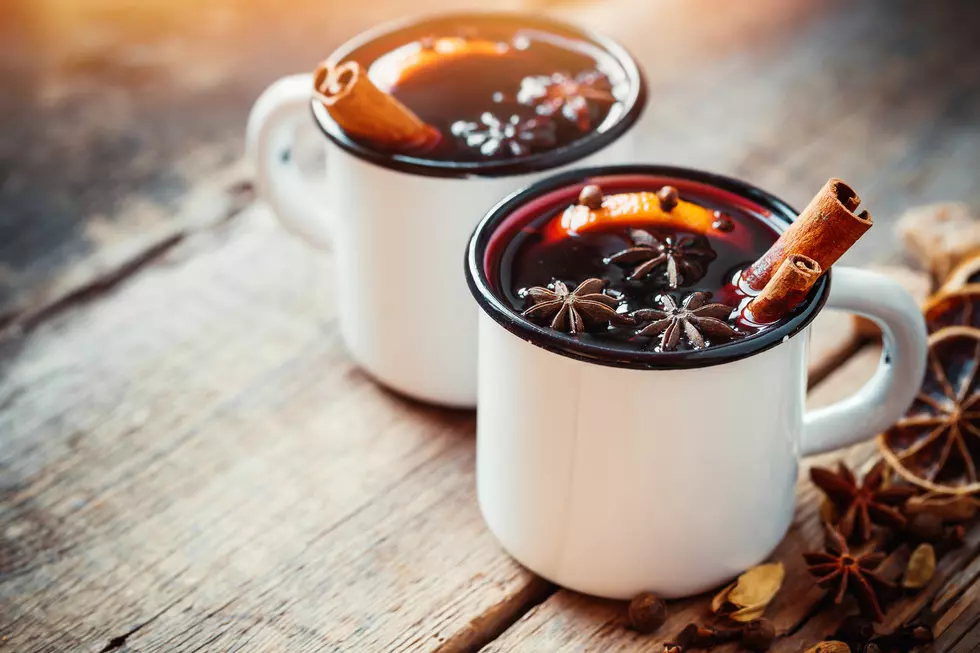 5 Hot (Adult) Beverages Perfect for Frigid Temps in MN
ChamilleWhite
Sometimes the only way to survive the frigid temps of a Minnesota winter is with a hot adult beverage. Try one of these!
If you haven't heard already, it's colder in Minnesota this week than it is at the North Pole. Seriously, while temperatures at the North Pole hover just above zero, the best Minnesota can do is highs in the negatives. Talk about depressing. Weather like this calls for lots of layers, blankets and hot drinks. While a hot cup of coffee, tea or cocoa is great and all, we think temperatures like the ones we're facing this week deserve a little something...extra.
Here are five hot adult beverages perfect for winter in Minnesota:
1. Coffee & Bailey's Irish Cream
As far as hot beverages go, it doesn't get much simpler than coffee and dash of Bailey's Irish Cream! With notes of rich and creamy chocolate and vanilla, warm up your cup of Joe with an extra touch of velvet Irish whiskey! If you're not a coffee drinker, you could also substitute coffee for hot chocolate.
Here are some more recipes we found that call for Bailey's Irish Cream.
2. Hot Toddy
Another relatively easy and flexible hot beverage is the Hot Toddy, also known as hot whiskey in Ireland. Typically made with hot water, honey, lemon juice, garnish (as desired) and whiskey, you're also welcome to swap the whiskey with another brown liquor such as brandy or rum and even add a tea bag! While not proven to cure a sore throat or winter cold, it certainly doesn't hurt to make up a Hot Toddy to enjoy anyway!
Here's a recipe we like for making a great Hot Toddy.
Enter your number to get our free mobile app
3. Tom & Jerry
If you like eggnog, then you'll love the Tom & Jerry! A warm, spicy, rum-based cocktail, this one is especially popular around Christmas-time. Typically calling for a number of ingredients including stiffly beaten egg whites, egg yolks, butter, sugar, nutmeg, cloves, vanilla, cinnamon, milk, rum and cognac, the Tom & Jerry does require a bit of preparation and work. But, oh, is it worth it!
Here's a recipe we like for making a great Tom & Jerry.
4. Hot Gin Apple Cider
A winter take on a summer drink, the hot gin apple cider is just the warmed-up version of a gin and apple cocktail. At its simplest, this one can be a simple mix of heated apple cider and a gin of your choice; if you're really feeling adventurous, you can add a dash of lemon juice, simple syrup. bitters and even apple slices for garnish.
Here's a recipe we like for making a great Hot Gin Apple Cider.
5. Mulled Wine
Mulled wine is a great hot winter drink using ingredients you probably have around the house already. Simply heat up some fruity red wine, brandy or bourbon, star anise, lemon peel and sugar in a sauce pan, and -- voila! -- you're on your way to a warmer winter day...internally, at least.
Here's a recipe we like for making great mulled wine.
Just a friendly reminder that -- as all these recipes include alcohol -- you must be 21 or older to enjoy these five adult hot beverages...sorry!
Do you have a favorite cold-weather drink you like to enjoy during a Minnesota winter?
Dos and Don'ts of Wine Drinking