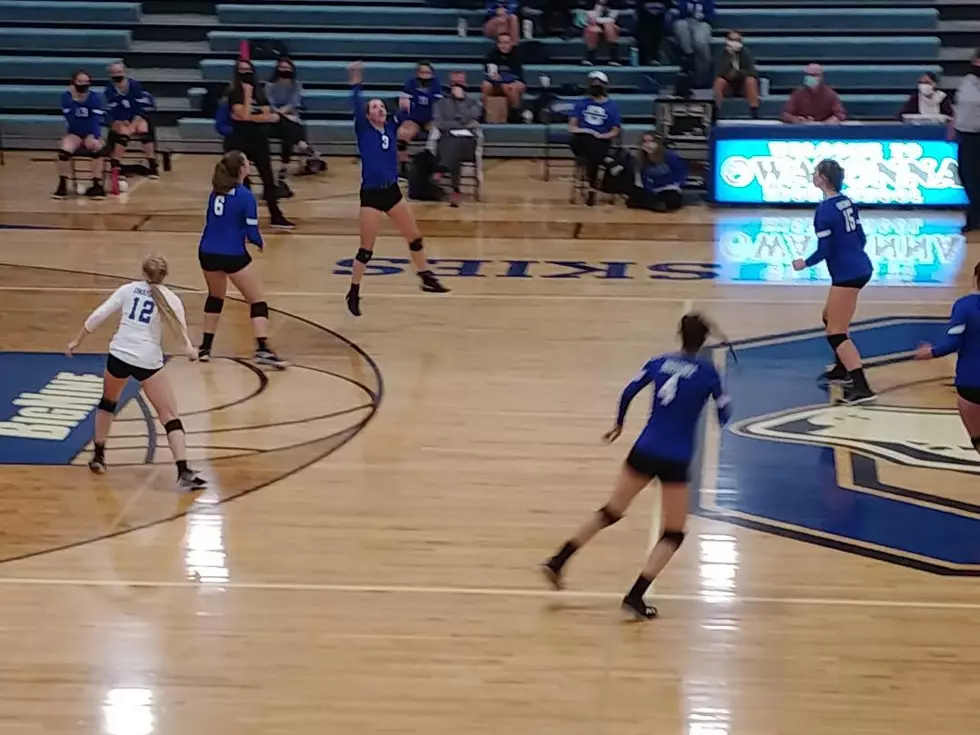 Volleyball: Mayo Sweeps Owatonna
Roy Koenig/TSM
Owatonna's rivalry with Rochester Mayo in most sports has a great history. Volleyball is no exception. The teams have battled each other for conference and section titles over the years. However in recent times, Mayo has had the Huskies number. The Spartans 3-set sweep of the Huskies Tuesday night was Rochester' eighth straight win in the series.
Enter your number to get our free mobile app
Mayo set the tone early as senior All-Conference returner Anna Miller pounded down eight of her match-high 16 kills in the first set. Owatonna rallied to within 8-7 when Mayo went on a 7-1 run on the way to a 25-13 victory.
The second set went back-and-forth through a 10-10 tie. Mayo reeled off eight straight points and took the game 25-12. The Huskies were tied 8-8 in the third set before Mayo scored nine of the next 12 points and completed the Big Nine sweep 25-17.
The Huskies' Emily Hagen and Ava Eitrheim each had about five kills. Jenna Gleason, Leah Welker, Lanie Schuster, Chloe Cockram, and Abby Smith all had kills as well. Bailey Manderfeld and Isabella Barrie handled most of the setting. Haylee Mullenbach wore the libero jersey.
Owatonna (2-4) hosts Rochester JM Monday, November 2. A match on the original schedule at Faribault on Thursday, October 29 got rescheduled to later in the season. Mayo (5-0) faces Century Thursday.
Top-five ranked Waterville-Elysian-Morristown swept Blooming Prairie on Tuesday 25-12, 25-10, 25-14. Micalyn Trihus led BP with six kills. She also had a pair of ace blocks and five digs. Macy Lembke distributed seven assists and picked up four digs. Maggie Bruns had eight digs and four assists. Maren Forystek had 15 digs.
The Awesome Blossoms host Hayfield Thursday, October 29.
Other Tuesday results include Faribault Bethlehem Academy 3-0 over NRHEG, Northfield 3-0 over Austin, Mankato East three straight over Rochester JM, Century swept Winona, Stewartville won three straight over Zumbrota-Mazeppa, and Hayfield won 3-1 over United South Central.
BRRRR: The 15 Coldest Cities in America
LIST: 10 Best Things About Minnesota in the Fall
KEEP READING: 10 Safest Neighborhoods in the Faribault/Owatonna Area