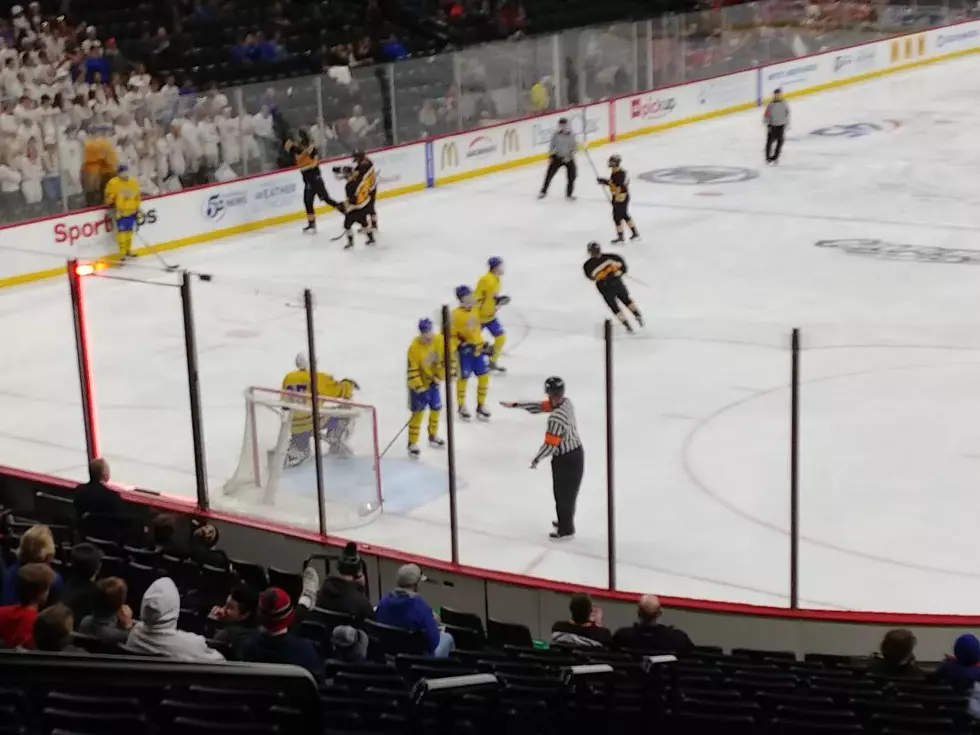 Mankato East Can't Contain Cathedral
Roy Koenig/Townsquare Media
A day at the rink is always a good thing, even if the games turn a bit one-sided. The 76th annual state high school boys hockey tournament began Wednesday at Xcel Energy Center in St.Paul. Mankato East from the Big Nine gave up an early goal to No. 2 seed St. Cloud Cathedral. The Cougars tied the game up a short time later, but the Cougars could not keep up with the defending state champs, falling 11-2.
East, at state for the second time in the last three years, was out shot 48-13. East finished sixth in the Big Nine Conference standings. I felt Cougar fans were getting a little desperate for excitement by playing the "Marco...Polo" game during play. I always believed that cheer was reserved for down times.
Ten different players scored for the Crusaders, who wait until Friday, March 6 at 11 am to play No. 3 seed Hermantown in the Class A semifinals. The Hawks dominated the Moose of Monticello 7-1. I found myself torn on rooting interest. Being a northern Minnesota native, I usually cheer for teams from up north when they play Twin Cities teams. But the intrigue of the Moose, with a huge following of fans, pulled me that way as well. My top choice is to cheer for southern Minnesota teams.
Mostly, I'm hoping for a close game, and even overtime. So I was a bit disappointed when the heavily-favored Hawks added to their 1-0 first period lead with a goal in the closing minute before intermission.
Hermantown is the only team with cheerleaders listed in the tournament program. And they skate, two of them with hockey skates rather than figure skates.
Top seed Warroad made quick work of Hutchinson, putting the game into running time on the way to a 9-3 win. Grant Slukynsky had a staggering seven-point performance with a hat trick and four assists.
The final quarterfinal game between fourth-seed Mahtomedi and fifth-seed Delano is the most likely game to go to overtime. I hope I can stay awake for it now that I'm home after attending the opening session.
The Class AA quarterfinals are Thursday at Xcel Energy Center. The championship semifinal games are Friday in both classes. The title games are Saturday.
Owatonna senior Collin Pederson is listed in the tournament program as the Huskies nominee for the Hobey Baker Character Award. Pederson and senior Zach Wiese were selected for the Great 8 all-star series in April. Their Huskies teammate Dom Valento was named to the U18 section team with junior Wyatt Oldenfendt named a reserve.