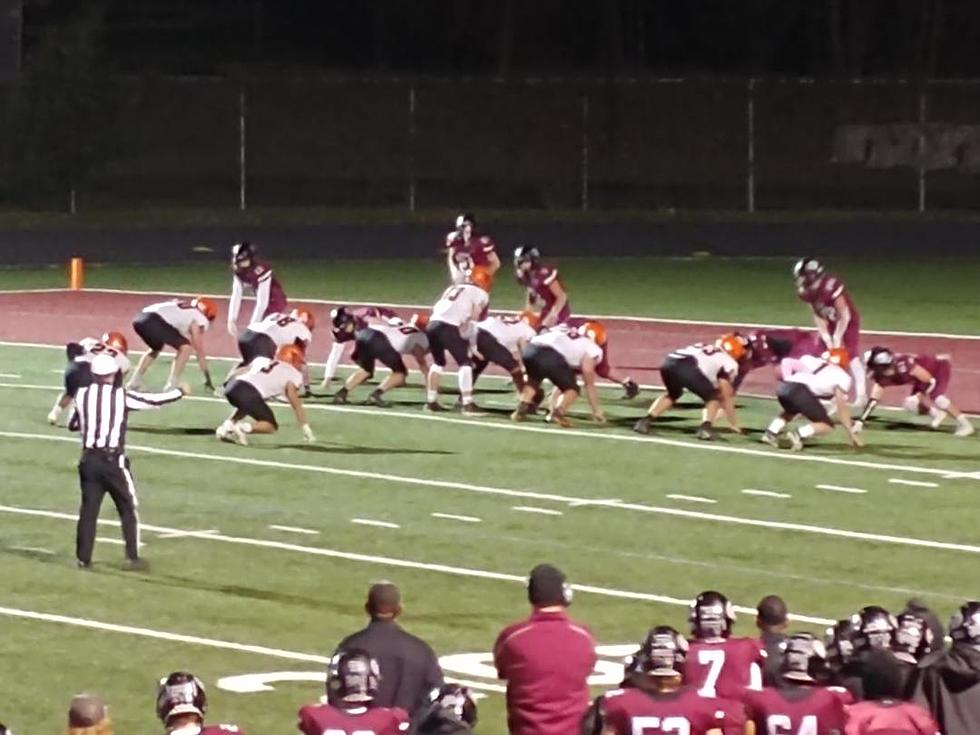 Triton Wins Another Thriller; Blooming Prairie Rolls to Victory
Roy Koenig/TSM
Several trends have developed over the 2021 high school football season. Blooming Prairie is going to win big. Triton is going to win a thriller that comes down to the final play. BP continued their winning ways with a 37-0 shutout of Medford in the Section 2AA quarterfinals. Triton escaped with a 30-28 victory over St. Charles in Dodge Center in the quarterfinals of the Section 1AA tournament.
The Cobras led 30-14 entering the fourth quarter. The Saints finished off a drive with nine minutes to go to pull within 30-22. St. Charles executed an onside kick and marched to a goal-to-go situation. Triton turned aside the Saints on fourth-and-goal from the one.
On their second play from the shadow of their own goal line, the Cobras fumbled the ball back. St. Charles cashed in but missed the two-point try, leaving the Cobras up 30-28 with one minute to go. The Saints promptly recovered a second onside kick. The Cobras defense forced St. Charles backward on the drive to secure their second two-point over the Saints of the season.
The fourth-seed Cobras go to No. 1 seed Chatfield Saturday. Triton lost a one-point game to the Gophers earlier this season. Goodhue and Lewiston-Altura meet in the other semifinal. L-A upset Caledonia 34-14 on Tuesday.
Blooming Prairie's win over Medford extended their winning streak to 27 games, spanning three seasons. BP will host St. Clair/Loyola Saturday after the Spartans topped NRHEG Tuesday 13-7. Maple River and Blue Earth Area meet in the other semifinal.
Owatonna had a bye Tuesday and will host Northfield Saturday, October 30 at 7 pm after the Raiders jumped out early and cruised by Austin 48-14. Century beat JM 40-28 and will play at top-seed Mayo Saturday.
Scores, section playoff football
Tuesday, October 26
Section 1-5A
Northfield 48, Austin 14
Century 40, JM 28
(Mayo, OHS with first-round byes)
Section 1-4A
Byron 41, Red Wing 0
Winona 49, Albert Lea 21
(Stewartville, Kasson-Mantorville with first-round byes)
Section 1AAA
Lourdes 28, Pine Island 0
Lake City 41, LaCrescent 18
PEM 37, Zumbrota-Mazeppa 0
(Cannon Falls with first-round bye)
Section 1AA
Triton 30, St. Charles 28
Chatfield 60, Cotter 14
Lewiston-Altura 34, Caledonia 14
Goodhue 46, Dover-Eyota 12
Section 1A
Rushford-Peterson 32, Wabasha-Kellogg 6
Randolph 36, Kenyon-Wanamingo 32
Fillmore Central 18, Kingsland 0
Faribault BA 44, Hayfield 18
Section 1-nine-man
Lanesboro 53, Lyle/Pacelli 0
Southland 19, Spring Grove 12
Grand Meadow 42, Houston 18
Leroy-Ostrander 57, Mabel-Canton 6
Section 2-5A
New Prague 34, Mankato East 21
Waconia 22, Chanhassen 12
(Mankato West, Chaska with first-round byes)
Section 2-4A
Faribault 43, Marshall 14
St. Peter 30, Jordan 7
(Hutchinson, Willmar with first round byes)
Section 2AA
Blooming Prairie 37, Medford 0
St. Clair/Loyola 13, NRHEG 7
Maple River 46, LeSueur-Henderson 14
Blue Earth Area 49, WEM 7
Section 3AAA
Waseca 62, Belle Plaine 0
TCU 28, New Ulm 14
Luverne 23, Worthington 7
(Fairmont with first-round bye)
Enter your number to get our free mobile app
Why do cats have whiskers? Why do they meow? Why do they nap so much? And answers to 47 other kitty questions:
Why do they meow? Why do they nap so much? Why do they have whiskers? Cats, and their undeniably adorable babies known as kittens, are mysterious creatures. Their larger relatives, after all, are some of the most mystical and lethal animals on the planet. Many questions related to domestic felines, however, have perfectly logical answers. Here's a look at some of the most common questions related to kittens and cats, and the answers cat lovers are looking for.