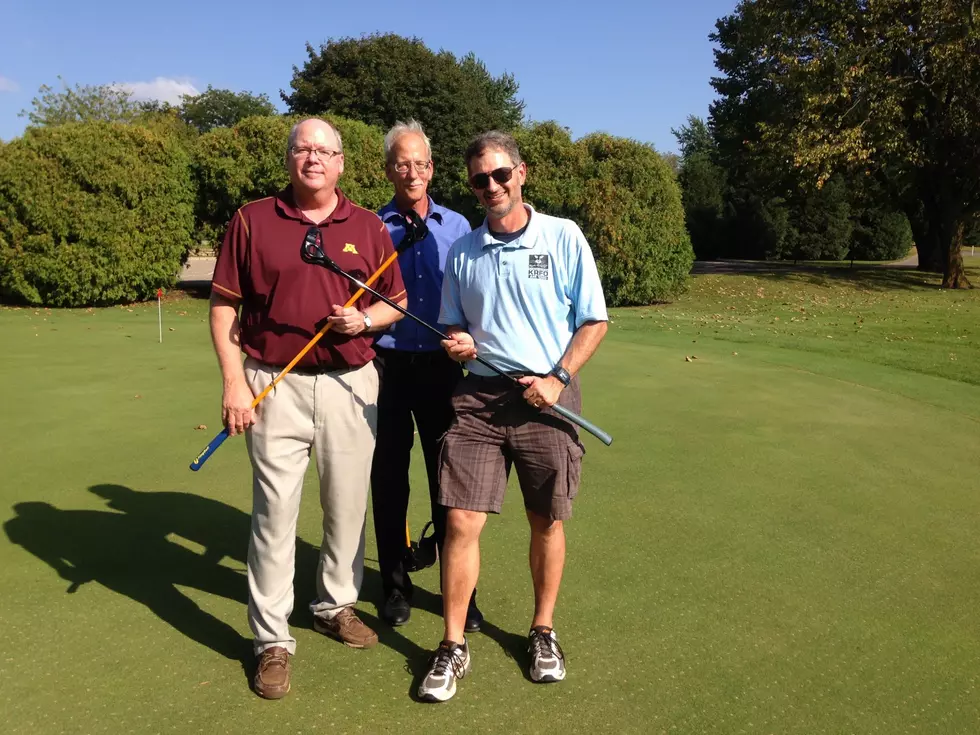 Take a Swing at FlingGolf Sunday at Brooktree in Owatonna
Townsquare Media
You may have been tempted at times to fling your golf club after a bad swing. Now you can simply fling the ball with a new spin on the old game. FlingGolf is another way to enjoy a nice day on the beautiful Brooktree Golf Course in Owatonna. The club is hosting another trial time Sunday October 8 from 9-10AM, in advance of their Beers and Bogeys tournament which begins with a 10:30AM shotgun start.
FlingGolf is a cross between golf, lacrosse and baseball. Recreation superintendent Mary Jo Knudson took me, Brad and Rich from KRFO out for try recently. The club is skinny with a plastic basket that holds the golf ball. Knudson showed us several ways to advance the ball down the course. You are allowed to take a run at it, while you take your swing.
Each of us struggled with the baseball-type swing and frequently pulled the ball off the course, similar to my success with an actual golf club. The over-the-top swing seemed to work best for us, but perfecting the follow through is going to take some time. The video on the FlingGolf website shows people with a strong follow through leading to some long shots. Rich tried firing the ball down the course backward over his head. That worked pretty well. He seemed to have the longest shots between the three of us.
Knudson showed us the flop shot for when you are close to the green and can shovel the ball ahead without a big swing. Once you reach the green, the Fling Golf club has a notch where you push the ball toward that hole, rather than hit it like a putter.
We laughed quite a bit during our one-hole experiment as shots sprayed all over the place, however I don't believe we lost any balls. I would enjoy a chance to play a full round. A cold beverage or two might even improve my shot.
There is no cost to give it a try at Brooktree. Knudson has several FlingGolf sticks to use and indicated they might require golfers to use one to tee off on one of the holes for Sunday's regular golf tournament. At least one Owatonna High School lacrosse player had an easy transition to the club and had a success round.
News stories on the existence of FlingGolf date back to 2013 on their website.