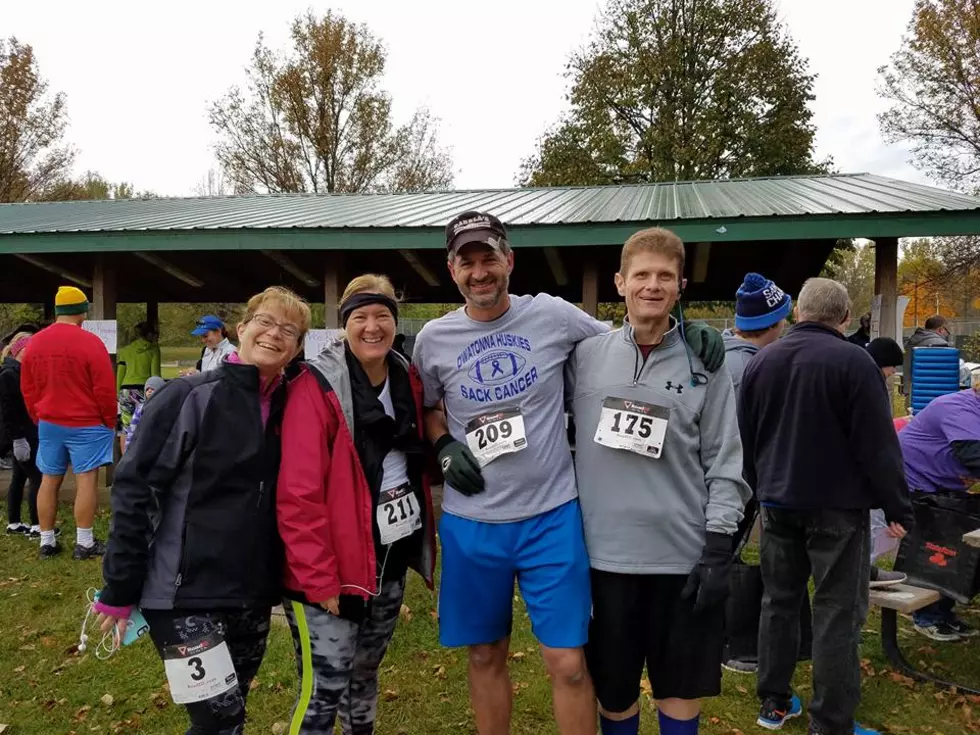 Spirit Runners Go for a Chilly Morning Jog in Owatonna
Townsquare Media
The temperature on Bill Brown's phone jumped from 36 to 37 degrees Saturday morning just as the second annual Spirit Run began at Manthey Park in Owatonna.
The 123 runners and walkers took different approaches to the cool morning. Some wore hooded sweatshirts with shorts, winter caps and gloves and a few daring souls went with t-shirts, myself included. My saving grace was my Wisconsin-native co-worker Loren, who loaned me his Green Bay Packer gloves, which gave me something to blow my nose into during the run.
I decided to run the 10K event, with the goal of keeping a jogging pace the entire distance. I have run the Steele County Fair four-mile and 5K in the past, but this was my first organized run of this length. I am happy to say I was able to average 6 mph and finished in just over 62 minutes.
I appreciate Bill pushing me at the finish and Rachel Spurgeon right on our heels to force me to keep up my pace. I am very impressed with our LaKlenza Skala, who conquered the 10K after only about a year of running. I would not have been so brave after such a short time. I started jogging about 10 years ago as my fitness plan. I enjoy the organized runs and have to find the next one I'd like to tackle. My favorite part of any run continues to be when it's over and I can justify eating pizza for another day.
My legs were a bit sore on Sunday but I wasn't going to complain around my house. My daughter's friends had just run the Twin Cities Marathon and were crashing on our couches. Makes my 10K look like a brief warm-up activity.
The Spirit Run benefits the Catholic Youth of Owatonna and offers a 5K and 10K course that started and finished at Manthey Park on the north side of Owatonna. Organizers did a great job of having the course marked and Owatonna police assisted at the busy street intersections. Volunteers and a few onlookers cheered us on.