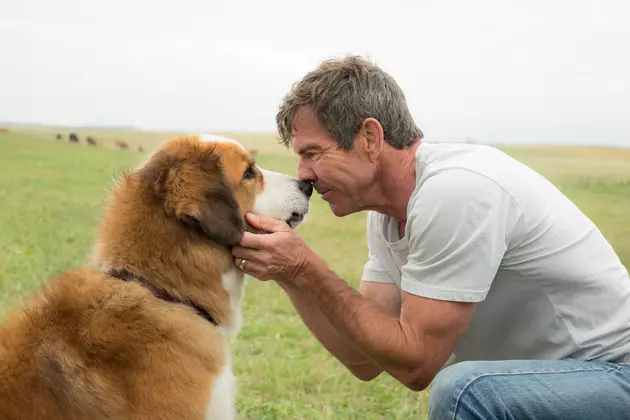 Shocking Video Leak Reveals Animal Abuse on Set of 'A Dog's Purpose'
Universal
Forcing audiences to watch a movie in which a dog lives, finds true happiness, and then dies over and over again would've been an act of sadism all on its own. But the crew of the upcoming family film A Dog's Purpose have recently been outed as sadists of another, more stomach-churning sort. TMZ posted a shocking video from a second-unit shoot for the film in which an animal handler forces a reluctant German Shepard into rushing waters, the dog begins drowning, and handlers rush to retrieve the animal amid cries of "cut it! cut it!" PETA has already called for a boycott of the film, with the most shame heaped upon the industry supplier Birds & Animals Unlimited, and the rest of the fallout has been swift.
Deadline indicates that director Lasse Hallstrom and star Josh Gad have already both distanced themselves from the incident, explaining that neither was present for a second-unit shoot. Hallstrom posted a series of tweets in which he refers to himself as a "lifelong animal lover" and expressed that he's "disturbed" over the video.
Also in Deadline, a representative from presiding studio Amblin Entertainment offered a formal rebuttal that denied the veracity of the video:
Amblin production team followed rigorous protocols to foster an ethical and safe environment for the animals. While we continue to review the circumstances shown in the edited footage, Amblin is confident that great care and concern was shown for the German Shepherd Hercules, as well as for all of the other dogs featured throughout the production of the film. There were several days of rehearsal of the water scenes to ensure Hercules was comfortable with all of the stunts. On the day of the shoot, ‪Hercules did not want to perform the stunt portrayed on the tape so the Amblin production team did not proceed with filming that shot. Hercules is happy and healthy.
Gavin Polone, producer of A Dog's Life, evinced more outrage in his response. A longtime animal rights activist, he could scarcely believe that something like this could transpire on his set:
I'm horrified by this... The first thing I asked was, 'Is the dog OK?' He's fine. But if I had seen that, I would have stopped it in a minute. People have to be held responsible for this. It was someone's job to watch out for this kind of thing. Why didn't they? This is something I've written about before, whether it be circus animals or animals on set. American Humane are supposed to be there supervising. That's their job that someone is paid a lot of money to do. Why wasn't this stopped? There needs to be a better system than this. That's what I've called for in the past. I agree with PETA that they not only need to make sure animals are treated properly on set, but they also need to find out where the animals are kept outside of the set. To make sure they are treated properly at all times.
Further details are sure to surface in the days to come, but for right now, it looks like the stench of abuse could destroy A Dog's Life before it even premieres. And at the risk of editorializing, if the video is accurate, then it would be rightly so.