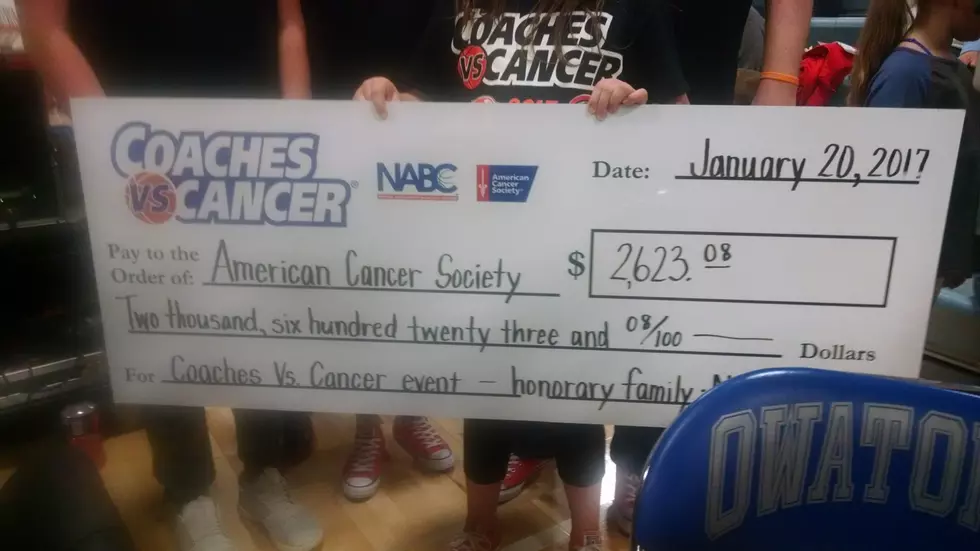 Owatonna Basketball Sweeps Mankato East Friday
John Connor/Townsquare Media
The Owatonna boys basketball team beat Mankato East 61-49 on Coaches vs Cancer night at OHS. The girls game went to Owatonna 80-43 at Mankato.
The OHS boys had a nice burst just before halftime to grab a 29-28 lead at the break. Jadyn Gunderson led that charge with eight points off the bench. Dalton Kubista led the Huskies in scoring with 18. Andrew Jackson added 14 as Owatonna won its fourth in a row. It was Coaches vs. Cancer fundraising night with more than $2,600 donated to the American Cancer Society. The Huskies go to Mankato West on Monday.
The Owatonna girls had another dominating performance in their 80-43 blowout win at East High School. Syd Schultz scored 30 while collecting 10 rebounds. Jenna Zeman had 15 points and four assists. Bria Wachowiak scored nine as the Huskies won for the sixth time in seven games. OHS hosts Mankato West on Monday.
Scoreboard, Friday, January 20
Boys basketball
Owatonna 61, Mankato East 49
NRHEG 59, Faribault BA 49
Maple River 85, Medford 26
WEM 69, Blooming Prairie 38
Apple Valley 76, Farmington 75 (Tre Jones hit buzzer beater in overtime.)
Austin 71, Albert Lea 24
Faribault 60, Mankato West 44
New Prague 63, Delano 52
Red Wing 52, Northfield 48
Rochester JM 94, Rochester Century 46
Winona 66, Rochester Mayo 64
Girls basketball
Owatonna 80, Mankato East 43
Blooming Prairie 59, WEM 58 (Kylie Forystek hit a three with :01 left.)
Maple River 70, Medford 53
NRHEG 82, Faribault BA 51
Rochester Lourdes 85, Triton 56
Austin 61, Albert Lea 42
Goodhue 71, Lake City 51
Hayfield 70, Stewartville 52
Mankato West 50, Faribault 43
Northfield 72, Red Wing 34
Rochester JM 54, Century 38
Rochester Mayo 47, Winona 40