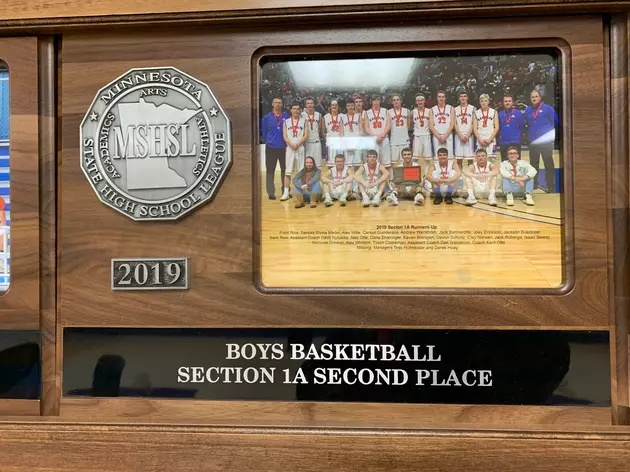 Randolph Boys Basketball Pulls Away From Triton
Randolph Trophy. Photo by Gordy Kosfeld
The Randolph Rockets and Triton Cobras played a very entertaining game in Randolph tonight.  The Rockets pulled away in the end to win 73-65.  There were 17 lead changes in the game.  9 in the first half, 8 in the second half.  Triton led at the McIntee Chiropractic of Cannon Falls half 34-33.
The first half the pace was frantic at times with teams trading turnovers on a number of occasions.  Both teams had four players in double figures.  The difference in the game was the three point shooting where Randolph drilled 9 and Triton 4 three point shots.  There are more than 3 reasons to visit The Trophy House in New Trier.  Remember they open at 11:00 a.m. with delicious lunches.
Triton's bench tallied 11 points, 10 for Randolph.
The Rockets were led by point guard, senior 6'3 Nick Drinken with 20 points.  Junior 6'3 Devon Schultz buried five three pointers for 15 points.  Senior 6'4 Dane Ehleringer had 13 points and senior 6'0 AJ Weidner had 11 points.
Triton got 16 points from junior Haeven Quimby.  15 points from senior Jay Yankowiak, 13 points from sophomore Braxton Munnikuysen, 10 points from sophomore Owen Petersohn.
My unofficial statistics found Triton with 19 turnovers, Randolph with 15 turnovers.  The Rockets scored 14 points, Cobras 11 off turnovers.
Triton is 1-2, hosts Zumbrota-Mazeppa Tuesday before going to Faribault Bethlehem Academy next Thursday.
Randolph entertains Kingsland Friday night, Grand Meadow Tuesday before going to Goodhue next Thursday.
Enter your number to get our free mobile app