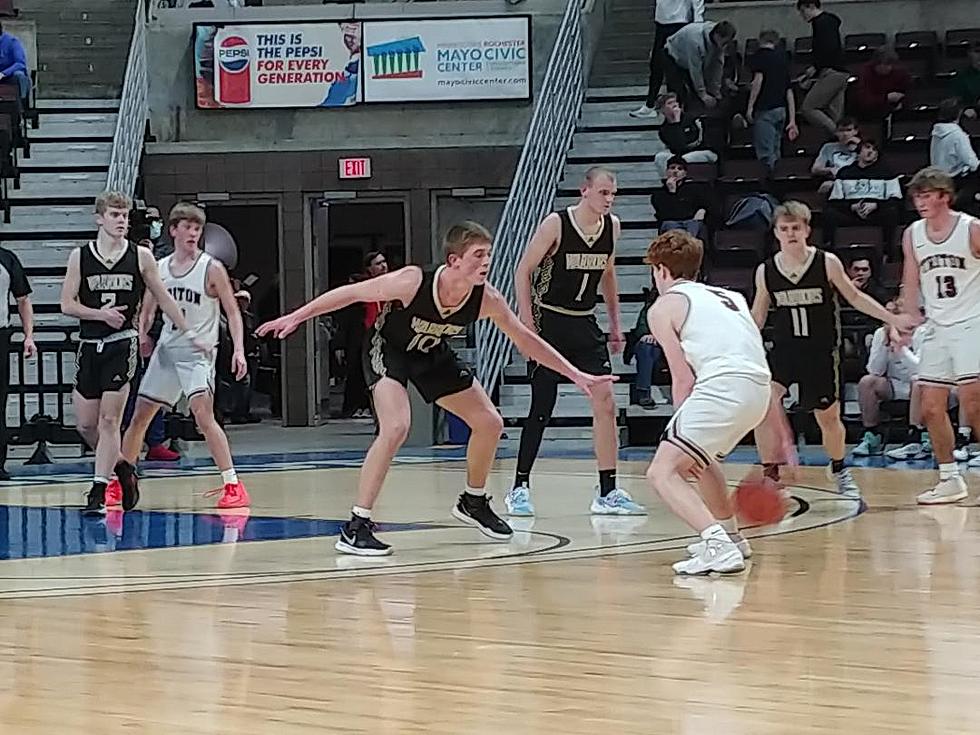 Rallies Fall Short for Triton, NRHEG Basketball in Playoffs
Roy Koenig/TSM
The Triton boys and NRHEG girls basketball squads each found themselves down by a double-digit deficit in the first half of their playoff game Monday night. Each pulled within a basket in the second half but neither could complete the comeback.
The Cobras lost 70-53 to top-seed, and No. 1 ranked in the state, Caledonia in the Section 1AA quarterfinals at Mayo Civic Center in Rochester. The Panthers dropped a 70-64 final in the South Subsection final to top-seed Lake Crystal-Welcome Memorial at Minnesota State University-Mankato.
Triton hung tough with the two-time defending section champion Caledonia, but ultimately couldn't keep up with future Iowa State player Eli King who ended the night with 26 points, while turning in a well-rounded night with many rebounds, steals, and assists.
Cobras' senior Owen Petersohn scored 21 points, highlighted by several deep threes. Triton had a tough night shooting, especially in the first half, but did well rebounding. Turnovers eventually caught up to the Cobras.
Triton ended the season at 16-12. Joining Petersohn as seniors on the roster are Noah Thomas, Benett Monosmith, Weston Thomas, Braxton Munnikhuysen, Kavon Langr, Anthony Crofton, and Scott Nolan.
NRHEG (20-10) got behind 12-2 right away and trailed by as many as 15 in the first half. The Panthers were behind by ten at the half. Lone senior Sophie Stork scored 30 for the night and got the team within one point with about ten minutes to go. LCWM hit about a dozen three-pointers.
Section 1AA boys basketball
Caledonia 70, Triton 53
Lewiston-Altura 75, La Crescent 57
Wednesday, March 9
Plainview-Elgin-Millville vs Chatfield, 6 pm
Lake City vs Pine Island, 7:30 pm
Section 2AA girls basketball
South Subsection final
Lake Crystal-Welcome Memorial 70, NRHEG 64
North Subsection final
Glencoe-Silver Lake 67, Belle Plaine 66
Section Championship, MSU-Mankato
Friday, March 11, 8 pm
LCWM vs GSL
LOOK: Here are the 10 US golf destinations with the most courses per capita
Discover where you can find the best access in the country for your pick of courses, the unique terrain that lends itself to world-class golf, and what makes select clubs noteworthy.
Every Pixar Movie, Ranked From Worst to Best