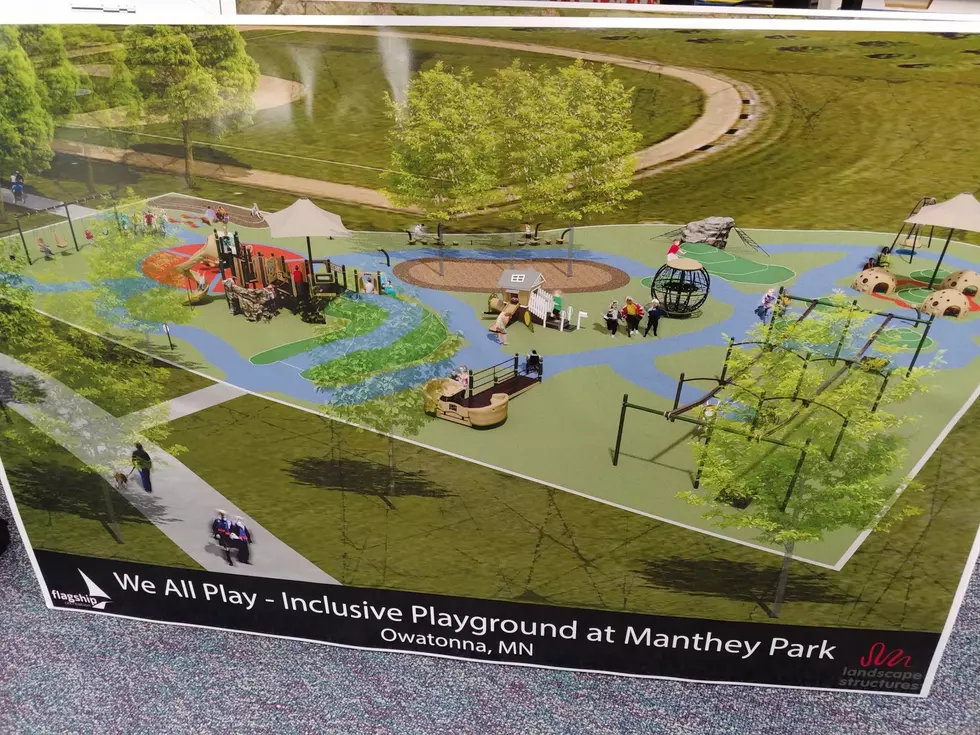 Plans Progress for Miracle Field, Inclusive Playground for Owatonna
Roy Koenig/Townsquare Media
Plans continue to move forward for an intergenerational, inclusive playground and Miracle Field ball diamond in Owatonna. Parents and city officials provided an update during a recent community meeting, reporting that $90,000 has been raised toward the $800,000 project. The playground and Miracle Field would be constructed at Manthey Park.
Tim Truelson with Owatonna Parks and Recreation says the city council has approved plans and Flagship Recreation has created a design (pictured with this post). He believes that once fundraising momentum begins, reaching the goal can be accomplished. Owatonna has strong and active Therapeutic Recreation and Special Olympics programs with many individuals that would benefit from such a facility.
"Play is having the opportunity to explore the world around you in a way that is fun and stress-free," says Amanda Gislason in a prepared flyer promoting the project. "Children are able to develop physically, socially, intellectually and morally through play. Adults are able to bond with and teach their children through play." Gislason and Missy Ahrens are on a committee working to build momentum for the playground.
Truelson says Owatonna has a few pieces of adaptive playground equipment at some parks, but those options are few. Some Owatonna parents travel to Lakeville, Rochester or Mankato to use their inclusive playgrounds. These playgrounds allow children of all abilities to play together. It could also make things easier for parents confined to wheelchairs or with other limitations and grandparents to more easily interact with their grandchildren at the playground.
In other prepared materials, Dr. Mary Rahrick of Mayo Clinic Health System Owatonna says, "It will also create an atmosphere of inclusion for children and adults of all abilities. Inclusion fosters understanding and acceptance, which in turn leads to embracement and advocacy. This is a win-win for the entire community."
Truelson said funding the project in full would include the playground, Miracle Field, some sidewalk work, a storage facility, an ADA bathroom and additional parking. Playground equipment currently at Manthey would be moved to Morehouse Park.
Find out more information or make a donation at the We All Play Owatonna website or call Gislason at 507-469-9720 or Ahrens at 507-456-9107.