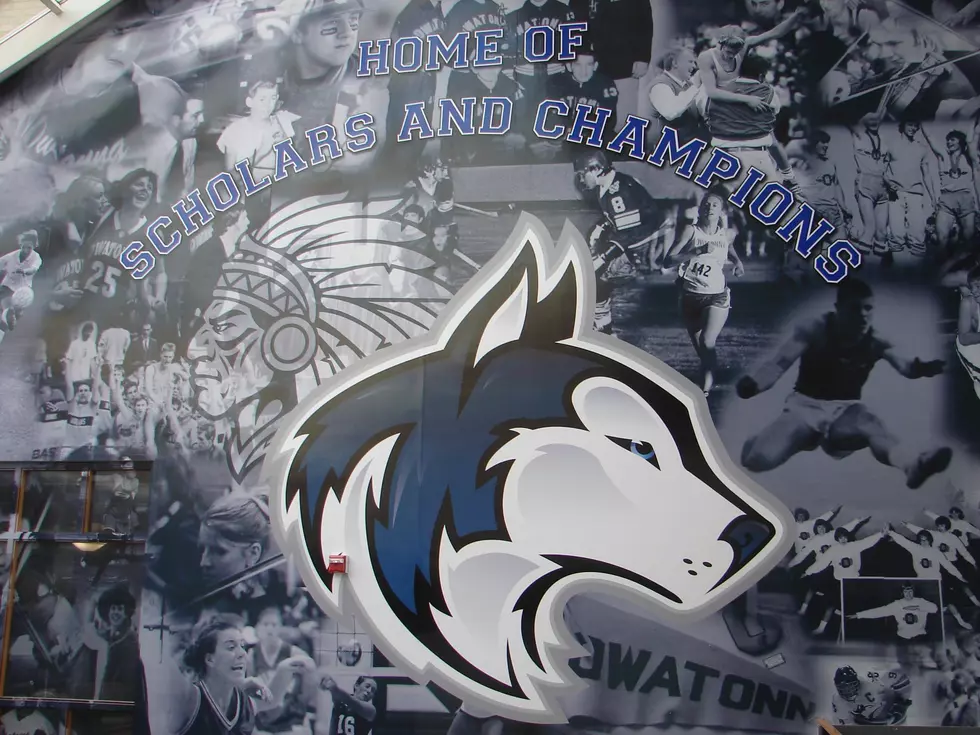 Owatonna's Super Sports Saturday Results
Roy Koenig/Townsquare Media
Seven Owatonna High School varsity teams competed in gyms, rinks and the pool Saturday. Events included raising money for cancer, a future NBA player in the OHS gym and a future Golden Gophers goalie on the bench in Rochester.
Owatonna's wrestlers, who just moved up to No. 2 in the Class AAA rankings through The Guillotine, won the Mustang Duals. The Huskies beat No. 9 Mounds View, the host team, 42-25 in the finals. Former OHS coach Scot Davis assisted Tim Thorn on the KRFO radio coverage of the tournament. As a bonus, the Owatonna fans won the Hot Dog Challenge at the concession stand. OHS will hold Alumni and Parents' Night Thursday, January 17 when John Marshall comes to the Owatonna gym.
Owatonna's hockey teams pulled off a pair of close wins over Rochester Mayo. The girls won in Rochester 2-0 behind 31 saves by freshman Ava Wolfe. OHS got goals from Kiley Friedrichs (from Ezra Oien) and Oien (from Sydney Hunst). Mayo's Makayla Pahl, a future Gopher, sat out with an injury suffered during a holiday tournament game. The Huskies go to Red Wing Thursday, January 17.
The Owatonna boys held their Stick it to Cancer Night fundraiser and capped the evening with a 3-2 win over the Spartans. Dom Valento scored his team-leading 12th goal late in the third period for a 3-1 lead that gave the Huskies just enough insurance for the win.
Jacob Stoykovich scored late in the second to push Owatonna to the lead after the Spartans had tied the game at 1-1 early in the period. Evan Stienberg opened the scoring late in the first frame. Zach Wiese turned aside 21 shots for the win. The Huskies host Red Wing Thursday.
The Owatonna dance team took first place in varsity and JV kick at Rochester Century. They were second in varsity, JV and b-squad jazz. The Big Nine Conference competition is Saturday, January 19 at Albert Lea. Mark your calendars for two home events for the dance squad. Saturday, January 26 they host a community dance show at 11 am at OHS. Thursday, January 31 Century and Mayo come to Owatonna.
Owatonna's boys' swimming team took third place Saturday at Packer Invitational at South St. Paul. Highlights included Logan Steckelberg and Fletcher Schulz finishing second and third in the 100 back stroke. The medley relay was second. The Huskies host Northfield Thursday, January 17 at 6 pm at the Owatonna Middle School.