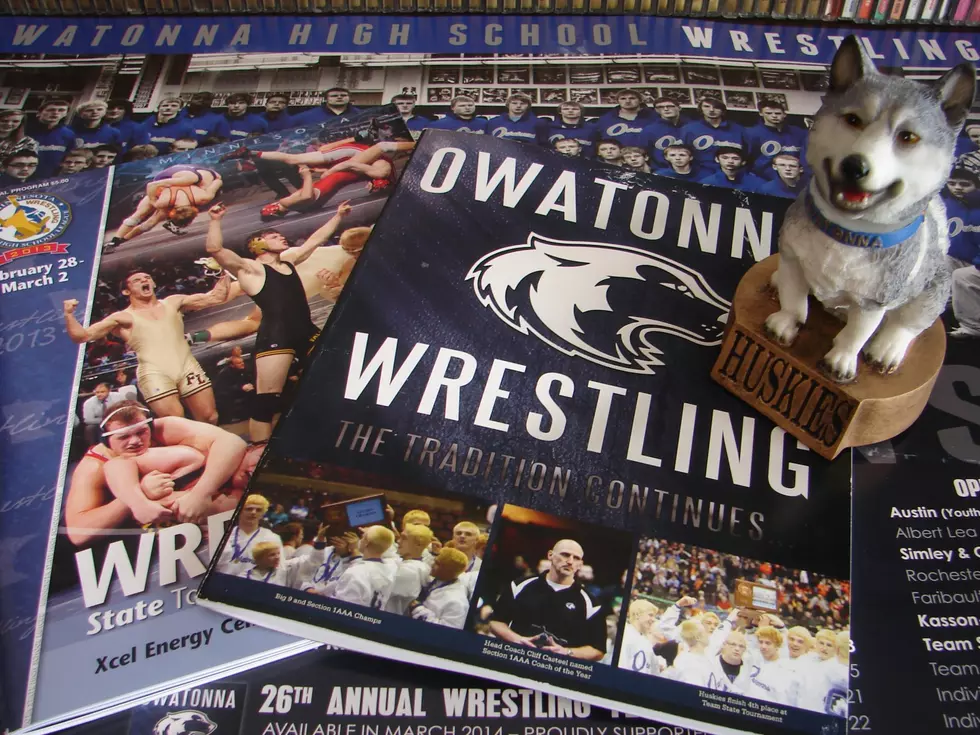 Owatonna Wrestling Second at Mustang Duals; NRHEG Runner-Up at Gopher Meet
Roy Koenig, Townsquare Media
Owatonna High School wrestling rallied for a pair of come-from-behind wins to advance to the finals of the Mounds View tournament before falling to Eastview 37-30 in the finals.
In Saturday's tournament, the Huskies opened with a 48-10 win over Dassel-Cokato. OHS beat Milaca 35-25 by winning the final four weights. Owatonna edged Mounds View 35-33 in round three, winning three of the final four bouts. Goy Tut won by pin at heavyweight to secure the team victory. The Huskies lost to Eastview in the finals 37-30.
Owatonna goes to Rochester John Marshall on Thursday, January 14, at 7PM with the action on KRFO AM 1390. Saturday the Huskies go to Zumbrota-Mazeppa for a daylong tournament. Albert Lea and Caledonia are part of the talented field.
New Richland-Hartland-Ellendale-Geneva had three champions at the Gopher Valley Conference tournament Saturday at St. Clair and finished second to Fairmont / MCW in the final standings 170-166.5. The Panthers' Cordell Peterson won the title at 126 pounds. His teammates Zeke Erickson (220) and Wyatt Fitterer (285) also finished first. Panthers Bryce Okland (152) and Trey Hoppe (182) took second.
Medford was sixth in the team standings. Willie VonRuden won the title at 120 pounds. Blooming Prairie finished eighth out of 10 teams. Ethan Arett was the runner-up at 106.