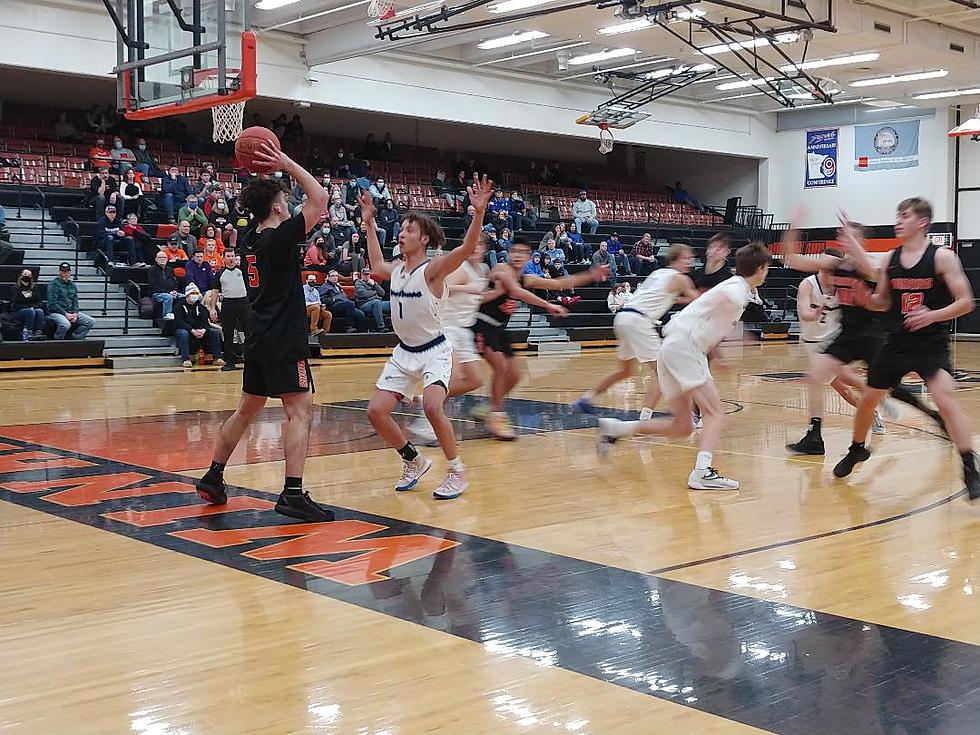 Owatonna Wins Road Game Over Top 10 Team [Southern MN Scores, Jan 4]
Roy Koenig/TSM
The 14th rated [Class 4A] Owatonna boys basketball team rallied from an early deficit to beat No. 9 [Class 3A] Winona 74-61 Tuesday night [January 4] at Winona Senior High. The Huskies used a 20-2 run in the first half to turn a five-point deficit into a 13-point lead. OHS led 36-26 at the half. The Winhawks got no closer than six in the second half.
Brayden Williams led the Huskies with 26 points including four three-pointers. Evan Dushek had to sit early due to a pair of quick fouls, but added 18 points and almost ten rebounds. Ty Creger scored 17 including six straight free throws late in the game.
Blake Burmeister contributed eight points and a handful of rebounds. Avery Hartman, Collin Vick and Nick Williams all grabbed big boards in the second half. Winona was led by Division I-prospect Jasper Hedin's 26 points and about a dozen rebounds.
Owatonna (5-1 overall, 4-0 Big Nine) hosts Rochester Mayo Friday, January 7 at 7:30 and faces Park (Cottage Grove) Saturday, January 8 at Kasson-Mantorville High School at 2 pm in the Breakdown Classic. Both games are set to broadcast on AM 1390 KRFO and 94.7 FM.
The Owatonna girls dominated Winona 63-29 Tuesday night at OHS. Hillary Haarstad scored 14 points. Audrey Simon had 12. Holly Buytaert added nine. The Huskies controlled the boards 33-10. Owatonna plays at Rochester Mayo Friday with coverage on Kat Kountry 105 FM.
Owatonna hockey teams lost Tuesday. The boys fell to Gentry Academy 5-0, while the girls lost 5-0 to Lakeville South.
Prep scoreboard for Tuesday, January 4, 2022
Boys basketball
Austin 83, Albert Lea 50
Caledonia 92, Dover-Eyota 68
Fairmont 71, Jackson County Central 70
Farmington 86, Apple Valley 44
Hayfield 70, Grand Meadow 42
Kasson-Mantorville 67, Cannon Falls 47
Lake Crystal Welcome Memorial 63, Blue Earth Area 61
Northfield 81, Century 72, double-overtime
Owatonna 74, Winona 61
St. Clair 66, NRHEG 33
Girls basketball
Austin 63, Albert Lea 46
Kenyon-Wanamingo 42, Kingsland 39
Mankato West 49, Rochester JM 46
Owatonna 63, Winona 29
Rochester Century 61, Northfield 54
Rochester Lourdes 52, Pine Island 21
Rochester Mayo 60, Red Wing 59
WEM 55, St. James 46
Boys hockey
Gentry Academy 5, Owatonna 0
Mankato East 6, Hutchinson 4
Rochester Mayo 3, Northfield 3 (tie)
Girls hockey
Lakeville North 3, Dodge County 2
Lakeville South 5, Owatonna 0
Mankato East 5, New Prague 2
Enter your number to get our free mobile app
Top 10 Sledding Hills Near Rochester, Minnesota
Rochester, Minnesota has a bunch of great sledding spots that are perfect for an afternoon of
winter
enjoyment. If you've been on the hunt for a great hill, check out these 10 spots around Rochester that our listeners say are their #1 pick for a fun afternoon!