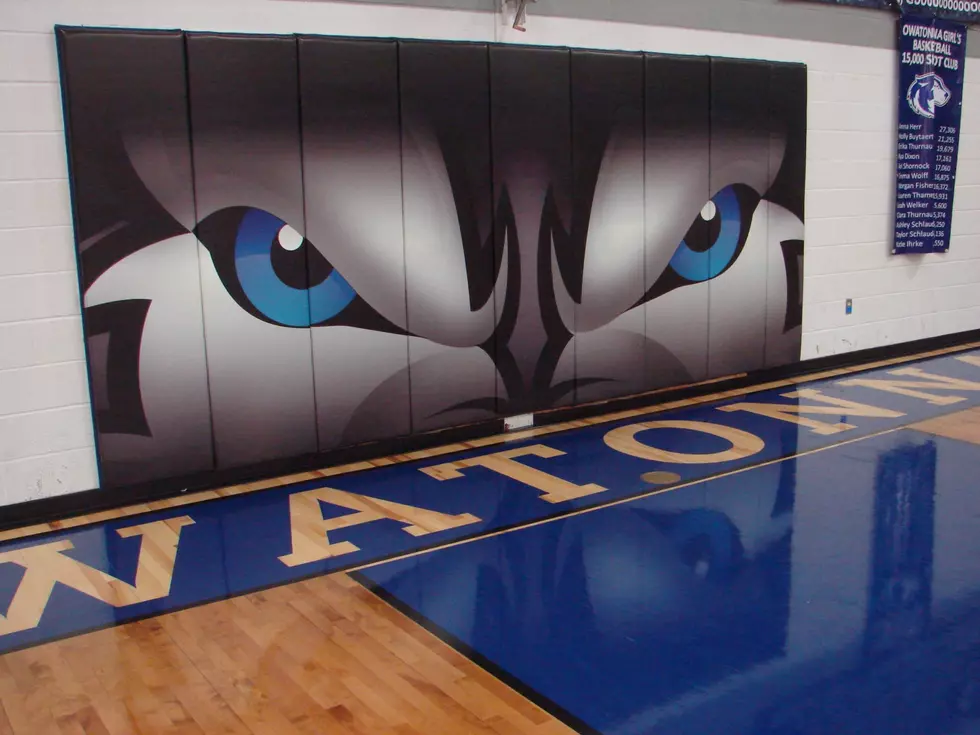 Owatonna Wins Big Nine Showdown, Sits Atop the Conference [Jan 18 Scoreboard]
Roy Koenig/Townsquare Media
The Owatonna boys basketball won a key conference game at Mankato West Tuesday 61-44 and sits alone atop the Big Nine standings. The win came on the heels of a victory over a top-five rated Wisconsin team over the weekend and in advance of another conference showdown with Mankato East coming to Owatonna Saturday, January 22 for a 7:30 pm tip.
OHS improves to 9-2 (7-0 Big Nine) on the season. Evan Dushek led the way for the Huskies with 22 points and passed Kyle Melcher ('09 OHS grad) for third all-time on the Owatonna scoring list. He has 1,207 career points. Brayden Williams added 18, Ty Creger had eight, Blake Burmeister with six.
The Huskies were down 15-10 early, but went on a 22-7 run to end the half up ten, 32-22. West started the second half on a 7-0 run, but Owatonna never let them get any closer than being down three.
Louis Magers led the way for the Scarlets with 13 points, Mehki Collins (West's fourth all-time leading scorer, All-Conference from last year, and future NDSU wide receiver) had nine. Cornell Ayers had 11. West is now 10-3 (7-2).
[Recap provided by Derek Thada who called the game on AM 1390 KRFO.]
Prep scoreboard for Tuesday, January 18
Boys basketball
Austin 75, Faribault 55
JWP 75, Medford 54
Jordan 77, Waseca 55
Kenyon Wanamingo 72, Randolph 42
Mankato East 84, Byron 50
NRHEG 71, USC 42
Owatonna 61, Mankato West 44
Rochester Mayo 71, Northfield 62
Triton 68, Blooming Prairie 60 (Owen Petersohn led Cobras with 21 points, five assists and seven steals)
Winona 78, Albert Lea 43
Girls basketball
Albert Lea 49, Winona 25
Austin 84, Faribault 25
Hayfield 94, Bethlehem Academy 44
Mankato West 43, Owatonna 41
Maple River 34, WEM 33
Boys hockey
Dodge County 11, Waseca 1
Girls hockey
Owatonna 5, Mankato East 2
Lakeville South 8, Dodge County 3
Wrestling
Medford 36, Westfield 24
Enter your number to get our free mobile app
See 8 Beaituful Photos of the Ice Palace Maze in Stillwater, MN!