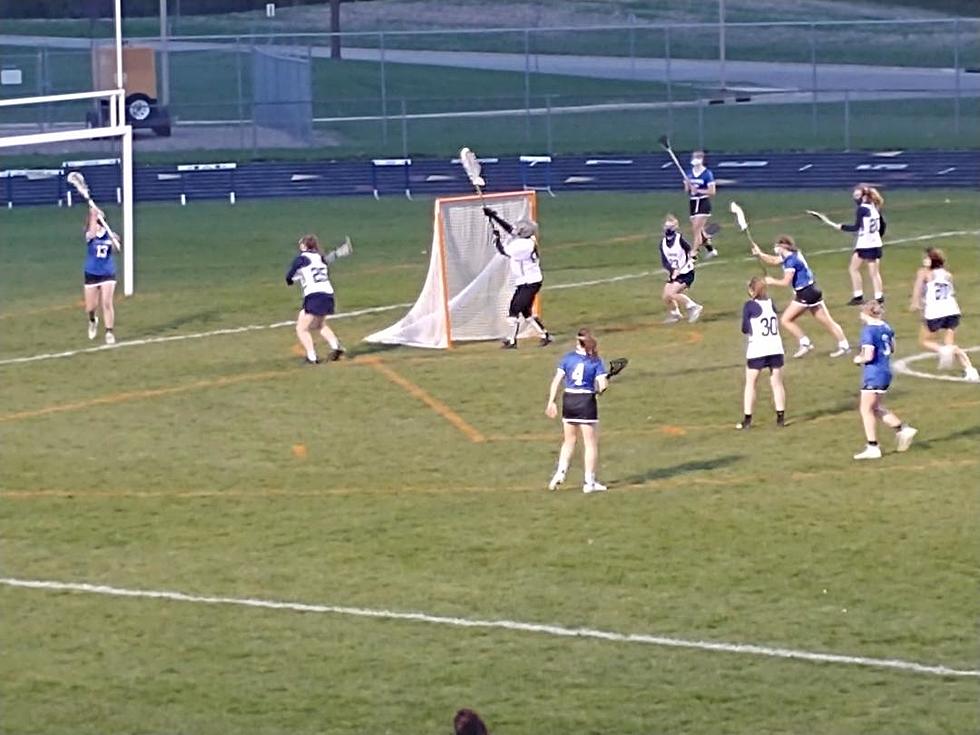 Owatonna Lacrosse, NRHEG Softball Stay Unbeaten
Roy Koenig/TSM
On one of the warmer days for springs sports so far this season (though not as warm as the weather forecasters predicted), Owatonna's lacrosse teams swept Rochester Century in much different ways. The boys won at OHS 21-0 while the girls fought through a defensive battle to top the Panthers 5-2.
Owatonna jumped out to a quick 1-0 in the girls game on Kat Kountry 105 FM as sophomore Annie Moran scored less than five minutes into the contest. Senior Allie Keller gave the Huskies a 2-0 lead with 9:24 to go until halftime. The Panthers twice in the final five minutes to forge a 2-2 tied at the break.
Moran netted a second-half hat trick, giving her 15 goals for the season, and the Huskies dominated possession time to shutout out Century after halftime for the 5-2 win. Zoe Anderson made several saves on point-blank chances. The Huskies (3-0) host John Marshall Thursday.
The OHS boys are 4-0 after the 21-0 victory. @OwatonnaBoysLacrosse announced, "Players of the game tonight in a 21-0 win over Rochester Century! Korban Stricklin - shutout, Caleb Belting - 6g and 17 of 19 on face offs, Preston Meier 4g 5a! Congrats!"
Huskies boys tennis beat Rosemount 6-1 in a makeup. Owatonna swept singles with Lincoln Maher, Mac Pilcher, Caleb Schuler and Liam Smith. Owatonna doubles teams of Thomas Herzog/John Pfeifer and Nils Gantert/Damien Boubin won their matches. The Huskies (6-1) are scheduled to host Northfield Tuesday.
Owatonna girls golf tied Mankato West with 397 at Faribault. The Falcons shot 475. The OHS boys shot 361 at Red Wing. The Wingers carded 347. Austin came in at 409.
The NRHEG softball team edged WEM 6-5 to improve to 6-0 on the season. Elsewhere, Blooming Prairie beat Maple River 11-8 and Medford topped USC 13-3.
In baseball, WEM beat NRHEG 7-5 and Medford won at United South Central.
Tuesday April 27 schedule (weather permitting)
Baseball
Owatonna at Northfield, 5:00 on Kat Kountry 105
Medford at Hayfield
Kasson-Mantorville at Triton
Softball
Northfield at Owatonna
Blue Earth Area at NRHEG
Boys tennis
Track and field
Golf
Owatonna boys home against Faribault and Mankato West
Blooming Prairie boys host a meet
Triton hosts a meet
Enter your number to get our free mobile app
Winning $10,000 is as easy as hearing the code word and entering it on this station's free app. Play WIN CASH today.
Charming Wabasha Home Has an Amazing View of the Mississippi River
This home in Wabasha, Minnesota is so charming but also pretty expensive. It's a huge house and also has an amazing view of the Mississippi River, so no wonder it costs over $1 million!
Top 10 Favorite Sounds Heard in Minnesota