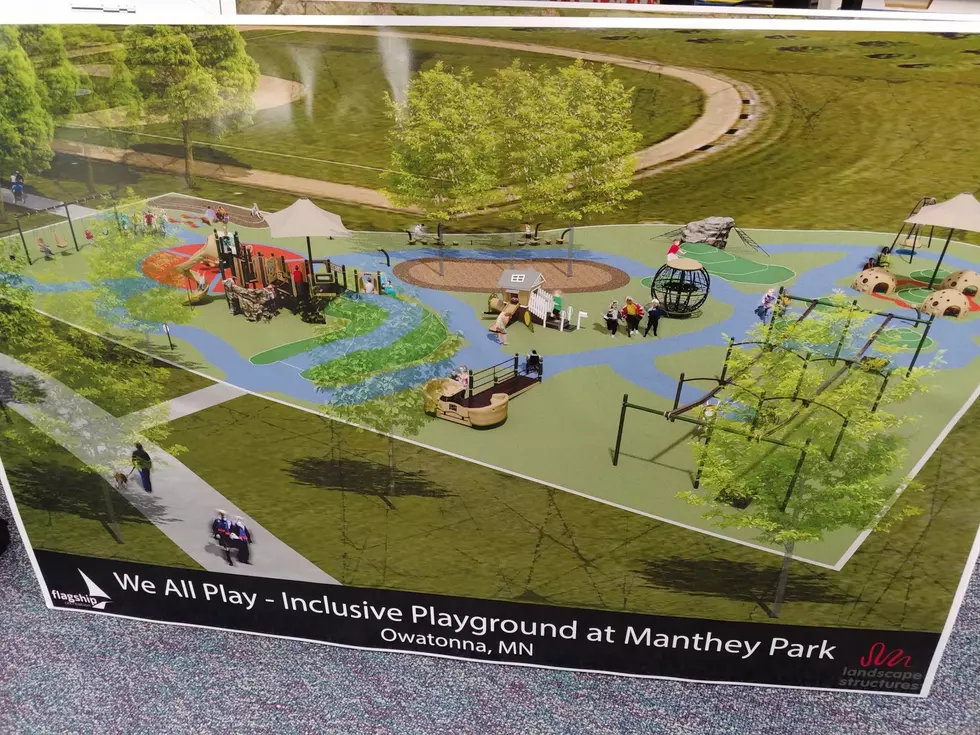 Owatonna Kiwanis Provides Assist to 'We All Play'
Roy Koenig/Townsquare Media
Enter your number to get our free mobile app
Owatonna Kiwanis is putting up the We All Play project in Owatonna for a chance at $25,000. The local chapter has entered the inclusive playground in the Kiwanis Legacy of Play Community Playground voting competition. People can vote once a day until September 27, 2020 for a chance at the financial influx.
As it is, work is beginning at Manthey Park which is the site for the inclusive playground and Miracle Field. Owatonna Parks and Recreation reports, "The current playground will be removed and reinstalled at Morehouse Park and we will be installing a new inclusive playground and Miracle field, along with an additional restroom building and all current amenities will be handicap accessible.
The Kiwanis submission states, "We All Play is supported by the Owatona Parks and Recreation Department, the City of Owatonna as well as contributions from individuals, private and corporate businesses, the school district and many non-profit organizations. The Owatonna Kiwanis Club is one of the supporters through a monetary and a purchase of equipment donation."
The project is ready for construction, "The We All Play project is already working with Mohs Contracting, the Owatonna Park and Recreation Department and the City of Owatonna to have the playground and ball field installed by October 31, 2021. Equipment has been selected, a timeline is in place by Mohs Contracting and work has already begin."
Local park supporter and member of the We All Play committee Amanda Gislason says, "Play is having the opportunity to explore the world around you is a way that is fun and stress free. Children are able to develop physically, socially, intellectually and morally through play. Adults are able to bond with and teach their children through play. Play is a way for people of all ages to interact, learn and socialize."
Mineral Springs Brewery and Owatonna Parks and Recreation are also teaming up for a "Bike & Brew" fundraiser. Get signed up for a small fee. Log your miles through October 4. Submit totals and pictures. Receive beer certificates.
MUST-SEE: Recharge Your Mind, Body, and Soul With These Minnesota Wonders
HOT DEALS: 13 Summer Items Seeing Major Discounts