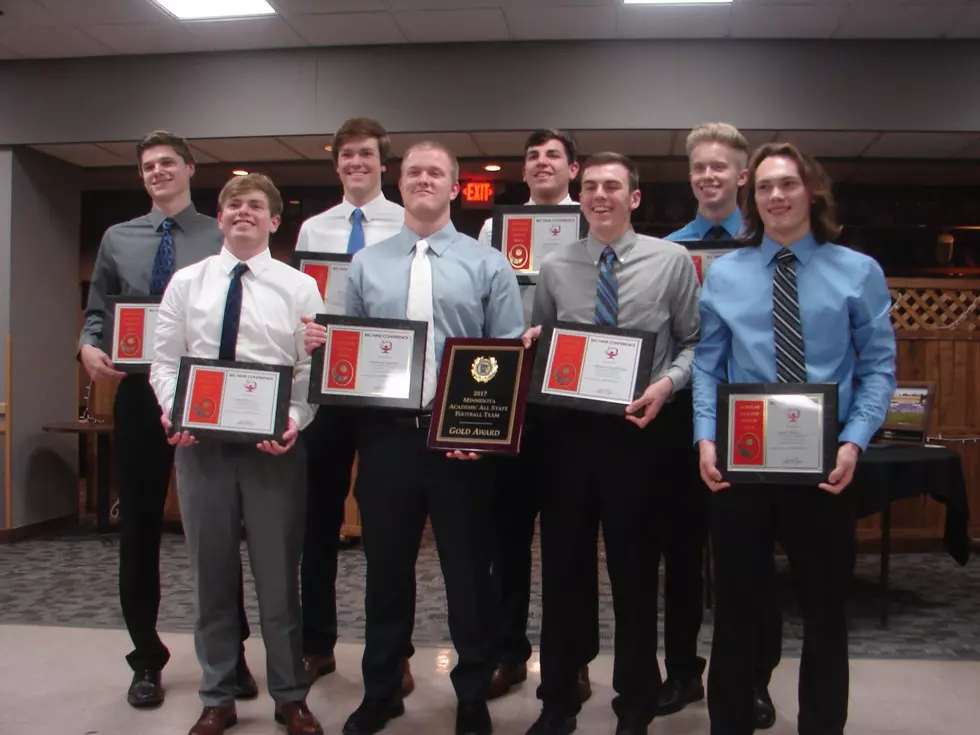 Owatonna Football Celebrates State Title at Banquet
Roy Koenig/Townsquare Media
The Owatonna High School football team had many aspects of their state championship season to recognize during Sunday's banquet. Many individual and team records were set, many awards were earned, but most of all coach Jeff Williams said it was difficult to say goodbye to a special group of players.
"I will tell you that winning is an awful lot of fun. We really enjoyed that. But when 95-percent of your time is spent with coaches game-planning, watching video, with kids out on the practice field, grinding through a week's worth of practice, the really gratifying thing of being a coach is being surrounded by such great people," said Williams.
All parts of Owatonna's team contributed to their second title in five years. Overall, 43 records were set in 2017, many on offense. Defensively, the Huskies held opponents to one score or less seven times. The Huskies averaged a school-record 50.5 points per game and had a 34.7 average margin of victory. Special teams also lived up to their name by consistently pinning teams deep on kickoffs. OHS only punted 24 times for the entire season.
Jason Williamson was named the team's Most Valuable Player after gaining 2,323 yards and scoring 44 overall touchdowns, both school records. He is already the career leader in rushing with 4,000 yards. Williamson was sixth in defensive points, had six interceptions and returned two kickoffs for touchdowns. The junior also was named the Gatorade Minnesota Player of the Year.
Owatonna's Offensive Player of the Year honor went to senior quarterback Abe Havelka, who set Huskies' records for passing yards in a game, a season and a career, in addition to touchdowns in a game, season and career. He threw for 3,157 yards and 40 touchdowns this season. He had a school-record seven scoring tosses in the state semifinal win over Brainerd. Of Havelka's season, Williams said, "Might have been the best quarterbacking performance I've seen since I've been here in Owatonna."
The team's Defensive Player of the Year award was shared by seniors Zach Mensink and Mitch Wiese. The pair spearheaded a defense that contained the complex offense run by Elk River in the Prep Bowl title game at U.S. Bank Stadium. Both were captains, alongside Havelka and Alex Raichle.
The Special Teams Player of the Year was Parker Westphal. The Lineman of the Year honor went to Dylan Meier for his solid play anchoring the offensive line as its center. The Champion of the Year award was presented to Spencer Steckelberg, which drew a huge round of applause from his teammates.
Players earning Big Southeast Scholar Athlete awards included Dalton Kubista, Dawson Leer, Karson Madole, Nola Malo, Jacob McMains, Mensink, Steckelberg and Wiese. Big Southeast All-District players included Noah Budach, Terrell Conner, Wiliamson, Havelka, Kade Serbus, Mensink, Wiese and Raichle. Honorable mention winners were Kubista, Kadyn Mulert, Meier and Westphal. Williamson was also named the Red Division Player of the Year.
Budach is now the school record holder in receiving yards in a season and a career and catches in a career, plus touchdown catches in a game and a season.
Captains for 2018 will be Joseph Stransky, Joe Edel and Williamson.
An hour-long highlight video created by Gary Walter was interrupted by cheers and applause multiple times. In addition to 31 senior players, the team graduates their managers, Hannah Fisher, Lexi Falken, Macy Hanson and Kenzie Karsten. Fareway Foods presented the team a check for $1,062, representing proceeds from a homecoming event fundraiser.
Each player received a state championship t-shirt, extras of which will be available at the Hot Chic store in downtown Owatonna. Championship window stickers are also available.