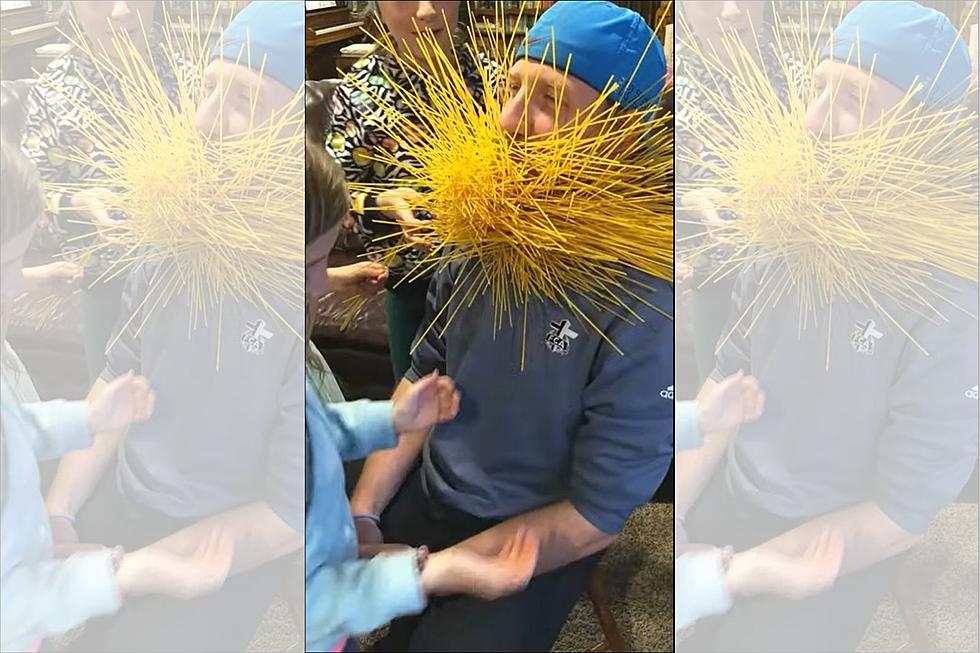 MN Dad Fits Over 800 Noodles in Beard in New Challenge [WATCH]
Ben Watkins via Youtube
Last year Ben Watkins found a creative way to pass the COVID quarantine at home with his family.
Taking to Facebook, the Buffalo Community Middle School teacher and coach asked friends and family, "How many colored pencils do you think the [girls and my wife] could get to stay in my beard? Leave your guesses in the comments!" Guesses ranged from as low as 18 to as high as 4,328 (a little on the optimistic side, we thought). In a follow-up video, he revealed just how many colored pencils his daughters managed to fit into his beard -- 100 pencils exactly!
Well, Watkins is back at it with another challenge, this time involving spaghetti noodles!
"Last year, my daughters found out that my beard could hold 100 colored pencils. This year: we went after SPAGHETTI NOODLES! Check out the video to see how it went! Before you watch, how many do you think would fit?"
Guesses in the video's Facebook comment section ranged from 78 to 350. When it was all said and done, though, Watkins' beard held over twice as many as the highest guess at 800!
Comments heaped praise and thanks for the laughter and smiles.
"You continually entertain! Thank you!!"
"This is so awesome!! Already looking forward to next year's video!"
"I bet there is never a dull moment at your house! Spaghetti for dinner?"
"What's the Guinness book record have for noodles in a beard?"
From what we can find there is currently no official Guinness World Record for the most spaghetti noodles fit into a man's beard. So, Ben, get your video off to Guinness, and you could very well be a world record-holder!
10 Odd Guinness World Records Set in MN or By Minnesotans