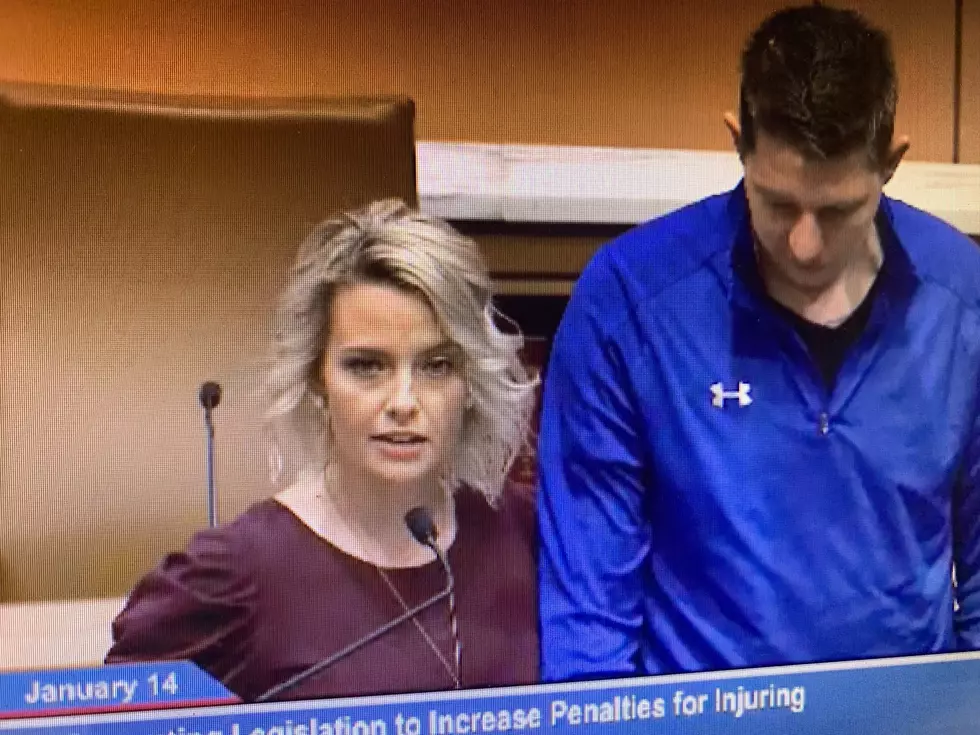 Matson Inspiration for Bill to Increase Penalties for Injuring Cops
Megan and Aric Matson During St. Paul News Conference. Photo by Gordy Kosfeld
Aric Matson and his wife Megan stood at a podium today at the Minnesota Senate Building in St. Paul.  A year ago the Waseca Policeman was battling for his life.  Matson was shot in the head while responding to a call in Waseca January 6, 2020.
A news conference was held by State Senator John Jasinski (R-Faribault) and Representative John Petersburg (R-Waseca) to introduce a bill named after Matson to increase penalties against individuals convicted of attempted first degree murder of a police officer.
Judges, prosecutors and correctional officers are also included.
Megan Matson told those gathered, "As a couple we believe that there is a purpose to why the Lord chose Aric that night.  We are turning a tragic event that happened to our family into something purposeful. With the Lord by our side we listen to him and he guides and provides for us."
Matson stated, "When I asked Waseca County Attorney Rachel Cornelius what needed to happen to make changes she said we needed to change the law and we should try.  I brought up the idea to Aric about the Matson bill and he said it would be wonderful, very helpful.  I told Rachel let's do this."
Megan added passage would mean a lot to her and Aric, "It would feel like a big thank you to all the men and women that helped us along Aric's journey.  To know that if and when this happens again that the next family will have better justice than what was offered to us. There will never be enough justice but this is a start."
Aric has had an incredible year of rehabilitation.  It's not over and he may never be a cop again.
Aric told those gathered, "I wish I could say this would be the last time we have to prosecute this crime but unfortunately that's probably not going to be the case. Thank you for acknowledging how our jobs as police officers are never normal and that we have  a number of circumstances that can go wrong and be very tragic."
He also said, " Thank you for all the support this past year and all the prayers and kind gestures from everybody.  It's been amazing but it's definitely been a whirlwind to recover."
Another clip of audio from Matson:
The legislation increases the minimum sentence from 20 years with release under supervision after two-thirds of the sentence is served to life incarceration with a minimum of 30 years in prison before being eligible for release.
Senator Jasinski said, "We are extremely grateful for Minnesota's police officers who put their lives on the line, in the hardest of circumstances, to keep us safe.  This is a common sense, pro-public safety measure that honors Officer Matson's service and the service of every law enforcement officer by showing the community strong support for police and the tough work they do every day."
Representative Petersburg said, "By the grace of God, Officer Matson is able to tell us in person why this legislation is necessary.  By putting their lives on the line every day, members of law enforcement continue to prove that they are truly heroes.  It's very clear the current punishment for attempting to kill a peace officer and others involved in the apprehension of a criminal is too weak and the very least state lawmakers can do is strengthen these penalties."
The 100 Best Places to Live in the Midwest