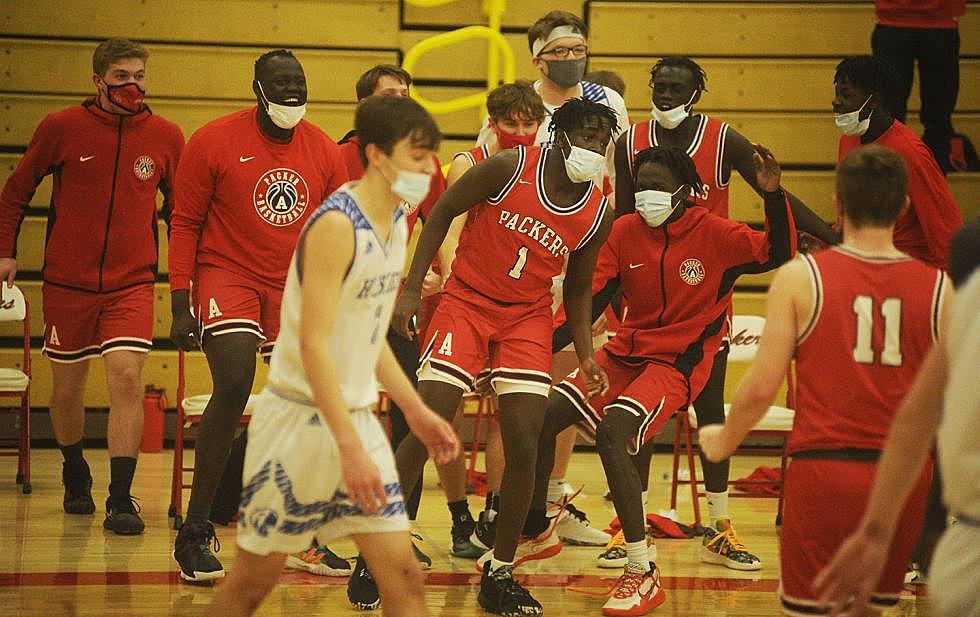 Last-Second Three Completes Packer Rally over Huskies
@RockyHulneADH
Austin completed a come-from-behind 52-49 win over Owatonna in Big Nine Conference boys basketball Monday night with a three-pointer from Teyghan Hovland with two seconds left. The Huskies' Evan Dushek's half-court heave as time expired fell short.
Owatonna led 28-20 at the half and was up 40-32 with about six minutes remaining. Brayden Williams led the Huskies with 14 points. Dushek added 12. And Payton Beyer had 10.
The result leaves both Owatonna and Austin at 6-2. Northfield (5-3) ended Mankato East's 36-game conference winning streak Monday night 71-62. Both East and Mankato West are 7-1. The conference race will be determined on a single round-robin, based on the first meeting of the season between teams. The Huskies host Winona Friday night.
The Austin girls went on an 11-2 run late in the first half at OHS to grab a double-digit lead they held for most of the second half in a 59-45 win. Austin's Hope Dudycha hit a baseline jumper just before halftime to give her 16 and her team a 29-18 lead at the break. She poured in 32 on the night.
The Husikies (2-6) were led by 14 points from Sarah Kingland and Lexi Mendendall. OHS plays at Winona Friday night.
Scoreboard for Monday, February 8
Boys basketball
Austin 52, Owatonna 49
Faribault 61, Rochester JM 60
Farmington 60, Lakeville South 59
Mankato West 74, Rochester Mayo 66
Northfield 71, Mankato East 62
Girls basketball
Austin 59, Owatonna 45
Fairmont 37, Waseca 34
Farmington 62, Lakeville South 35
Schedule for Tuesday, February 9
Boys basketball
Blooming Prairie at NRHEG
Hayfield at Medford
Girls basketball
NRHEG at Blooming Prairie
JWP at Triton
Boys hockey
Mankato West at Owatonna, 7:00 pm on Kat Kountry 105FM
Girls hockey
Owatonna at Mankato West
Gymnastics
Austin at Owatonna
Wrestling
Mankato West & Austin at Owatonna, 5:00 pm on AM 1390 KRFO/94.7FM
Which of the following top baby names of the year will belong to future basketball stars?
MN and Western WI's 10 Most Popular Baby Names of 2020 According to HealthPartners