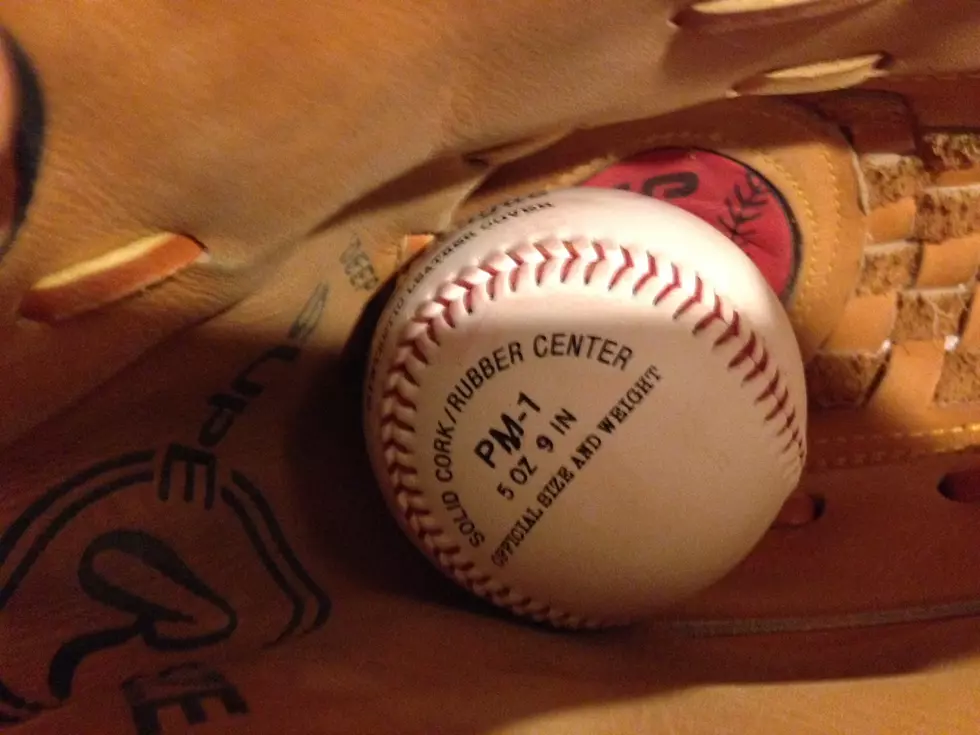 Kenyon-Wanamingo Wins Extra Inning Walk-Off
Baseball in Glove. Photo by Gordy Kosfeld
The Kenyon-Wanamingo Knights stayed in the winner's bracket of the Section 1A West Subsection today with a 4-3 eighth inning walk-off against Rushford-Peterson.
The #4 seed edged the #5 seed to set up a Subsection title game with #2 Class A state ranked and defending State Champion Hayfield 5:00 p.m. on Memorial Day.
Kenyom-Wanamingo senior shortstop Gavin Sommer clobbered a two out 3-2 count fast ball over the fence in left field in the bottom of the first inning.
Knights sophmore pitcher Will Van Epps walked the first batter then retired the next three in the top of the inning.
Following a strike out to start the top of the second inning senior Trojans shortstop Justin Ruberg hit a 2-2 count pitch for a single. The next batter was walked.  Following a strike out the #9 hitter in the Rushford-Peterson order was hit by a pitch to load the bases. Seniior center fielder Malachi Bunke collected a RBI with a bases loaded walk.
Sophmore designated hitter Dillon Bartel walked to start the bottom of the second and was caught leaning toward second just before Van Epps smacked a 1-2 count double.
Senior Evan Brossard was his courtesy runner.  He scored on a full count double hit by senior Alex Vold.  The inning ended with a 6-3-5 double play.
#9 hitter for the Knights junior Cal Luebke jumped on the first pitch of the third inning from R-P senior right hander Alex Ronnenberg for a double.
Senior Trevor Steberg hit the ball to second advancing Luebke to third while Steberg was retired.  Following a strike out Ronnenberg appeared to have no interest in throwing a strike to Sommer.  In fact a wild pitch scored Luebke.  Sommer was walked on four pitches.  Junior catcher Jaedin Johnson jumped on the first pitch following that walk but flew out to center ending the inning.
In the top of the fourth inning following a strike out and walk #9 batter freshman Jonah Bunke hit a 2-2 count grounder toward  third but the throw to get the lead runner was high allowing everyone to be safe on the error.
Malachi Bunke hit a 1-0 count pitch back to Van Epps who took his time to make an accurate throw to third base and retire the lead runner.
Junior second baseman Riley Tesch hit a 1-2 count pitch to left scoring a run to make the score Knights 3 and Trojans 2.
Van Epps fanned four consecutive batters from the end of the second through the end of the fifth innings.  Hi pitch count climbed because he also had 5 walks over that period of time.  After his 6th walk Van Epps left the mound with one out.
The Gopher All-Conference selection allowed 2 hits in 5 and 1/3 innings.  Struck out 13 and walked 6.  He also hit a batter.  I had his pitch count at 120 with 61 strikes.
Sommer came in to pitch.  Trevor Steberg moved to shortstop.  Van Epps went to third base.  Sommer threw a wild pitch allowing senior  Logan Skalet to advance into scoring position.
Sommer then achieved a strikeout and coaxed a fly out to end the threat.
Rushford-Peterson brought sophmore Rylan Schneider in from right field to pitch beginning in the fourth inning.
With one out Van Epps singled and his courtesy runner Evan Brossard was thrown out trying to steal second base.
The bottom of the 5th inning started with a Luebke single followed by a bunt for a single by Trevor Steberg.
Schneider wiggled out of that situation by getting a strike out, fly out and pop out leaving runners at first and second base.
In the top of the 7th inning following a strike out senior catcher Thomas Ekern was walked on four pitches.  He would go to second base on a wild pitch.  Sommer struck out the next batter before senior third baseman Andrew Wilkemeyer who had struck out his previous three at bats would swing late on a 2-2 count and hit a weak pop up to right field that would fall in for a RBI and tie the game.
Sommer got the next batter to strike out.
The bottom of the 7th inning senior Kevin Vazquez stepped to the plate to pinch hit and was hit by a pitch.  Luebke executed a sacrifice bunt to advance Alex Lee who went in to run for himself and the Knights had the winning run at second base with one out.
Rushford-Peterson intentionally walked Trevor Steberg to set up a potential double play.  K-W had a pop out and fly out end the threat sending the game into extra innings.
The top of the 8th inning Trojans pitcher Schneider opened with a 2-1 count single.  His courtesy runner went to second base on a wild pitch.  Sommer beared down to get two outs before Malachi Bunke hit a single placing runners at the corners before Sommer recorded his 5th strike out to end the inning.
The bottom of the 8th started with a Johnson double.  Bartel was asked to bunt and the ball was hit a little too hard so the pitcher pounced on it and easily threw Johnson out at third base.
Van Epps hit a grounder that resulted in Bartel being out at second for the second out.  Vold walked.  Lee came back in to hit and was hit in the head with a pitch to load the bases for Luebke.
The outfielder stroked a 2-1 pitch into left field for the walk-off game winning hit scoring Brossard who went in to run for Van Epps earlier in the inning.
The Knights now have a 13-8 record.  Rushford-Peterson dropped to 9-11.
Van Epps, Sommer and Luebke received our Cashwise Foods and Pharmacy Deliveries of the Game for their performances.  Van Epps and Sommer combined for 18 strike outs, 7 walks, 5 hits allowed.  Luebke cracked a double, two singles, scored a run and had the game winning RBI.
Hayfield cruised to a 20-1 win over Fillmore Central.  Rushford-Peterson got by Fillmore Central 7-3.  On the other side of the bracket #2 seed Lyle-Pacelli outscored #10 Wabasha-Kellogg 10-7 while #6 United South Central defeated #3 Southland  6-5.
In the Elimination Bracket there Southland downed Wabasha-Kellogg 17-7.
Hayfield and Kenyon-Wanamingo battle for the West Subsection championship while Lyle-Pacelli and United South Central collide for the East title at 5:00 p.m. Monday.
Winners of those games don't have to play until Saturday, June 4, 2022 at Noon.
At 7:30 p.m. Monday the loser of the K-W vs Hayfield game plays Rushford-Peterson and the loser of the Lyle-Pacelli vs United South Central game plays Southland to determine the other two teams advancing to the Section Tournament at Riverland College in Austin.
Section 1AA at John Burch Park in Cannon Falls top seed Rochester Lourdes blanked #4 Pine Island 10-0.  #2 seed Cannon Falls defeated #3 Dover-Eyota 5-1 to set up the West title game 3:00 p.m. Monday in Cannon Falls.  The winner advances to the Final Four at Mayo Field in Rochester 10:00 a.m. Saturday, June 4, 2022.
Pine Island will play Dover-Eyota with the victor tangling with the Cannon Falls/Lourdes loser 5:00 p.m. at John Burch Park in Cannon Fallls. The winner takes second in Subsection and heads to finals in Rochester on Saturday.
In the east Plainview-Elgin-Millville won 9-5 over Chatfield and LaCrescent downed Caledonia 10-2.  Both games were played at La Crescent High School.
The Bulldogs and Lancers square off for the East Subsection title in Lacrescent at 3:00 p.m. Memorial Day.  At 5:00 p.m. in the Elimination bracket Chatfield will go up against Caledonia with the winner playing the Pem vs. LaCrescent loser for the second team out of the East to advance to the Finals in Rochester on Saturday.
Section 1AAA is double-elimination all the way through because there are 8 teams total.  #6 seed Faribault will have a home game Tuesday, May 31, 2022 at 5:00 p.m. after the Falcons lost 5-0 in Winona.
Faribault's opponent is #7 seed Kasson-Mantorville who lost 4-2 in Red Wing.
On the other side of the bracket top seed Byron survived a scare with a 4-3 win over Austin.  #4 seed Stewartville edged #5 Northfield 2-1.
The Packers will travel to the Raiders Tuesday at 5:00 p.m. in Elimination Bracket action.
In the Winner's Bracket 5:00 p.m. Tuesday, May 31, 2022 Stewartville is at Byron and Winona travels to Red Wing.
The winners don't have to play until Saturday, June 4, 2022 at 11:00 a.m. in Austin.
The victors in the Northfield and Faribault Elimination Bracket games go up against the losers of Winner's Bracket contests at 5:00 p.m. Thursday.  The Falcons could play at Winona again Thursday if everything goes according to seed.
Section 1AAAA still has no bracket uploaded to the MSHSL website but I do believe they start their games on Memorial Day.
Section 2A is single elimination first round.  Thursday top seed New Ulm Cathedral defeated #16 Nicollet 10-0.  #8 Cleveland won 5-4 over #9 seed Martin Luther/GHEC/Truman.  #5 seed Mankato Loyola/Immanuel Lutheran escaped with 7-6 win over #12 seed BOLD.  #4 Sleepy Eye defeated #13 Gibbon-Fairfax-Winthrop 5-0.
On the other side of the bracket #3 seed Springfield downed #14 St. Clair 8-1.  #6 Sleepy Eye St. Mary's blanked Buffalo Lake-Hector-Stewart 6-0.
#7 Martin County West outscored #10 Mountain Lake/Comfrey 12-4,  #2 Madelia shut out #15 Heron Lake-Okabena 8-0.
Winner's Bracket games are Tuesday, May 31, 2022 at 5:00 p.m. at the high seed.  Loser's Bracket plays Thursday at high seed at 5:00 p.m.  Beginning Saturday, June 4, 2022 the tournament goes to ISG Field in Mankato.
Section 2AA  top seed New Ulm and #2 seed New Richland-Hartland-Ellendale-Geneva received byes and begin play Tuesday, May 31, 2022.
New Ulm hosts #9 LeSueur-Henderson 3-0 winners over #8 Tri-City United 3-0 last Thursday.  #2 seed New Richland-Hartland-Ellendale-Geneva will have Minnesota Valley Lutheran visit 5:00 p.m. Tuesday.
Other games are #5 seed Maple River (8-2 winners over Lake Crystal) traveling to #4 Belle Plaine (Tigers won 4-0 over Waterville-Elysian-Morristown).
#3 Sibley East blanked #14 Blooming Prairie 6-0. while #6 Blue Earth Area eked by #11 Medford 5-4. Blue Earth Area goes to Sibley East 5:00 p.m. Tuesday.
Now it's double-elimination the rest of the way.  The Section Finals will be hosted by Sibley East.
Section 2AAA has no bracket on the MSHSL website as of Saturday, May 28, 2022 around Midight.
Section 2AAAA begins play Memorial Day Noon at the high seed.
#1 Chaska entertains #8 Bloomington Jefferson.  #2 Eden Prairie hosts #7 Minnetonka.  #3 Chanhassen sees #6 Waconia come to their place and #5 Prior Lake goes to #4 Shakopee.
Check these out.
."}" data-sheets-userformat="{"2":33554688,"11":4,"28":1}">
READ MORE: See 50 remote jobs that can pay well