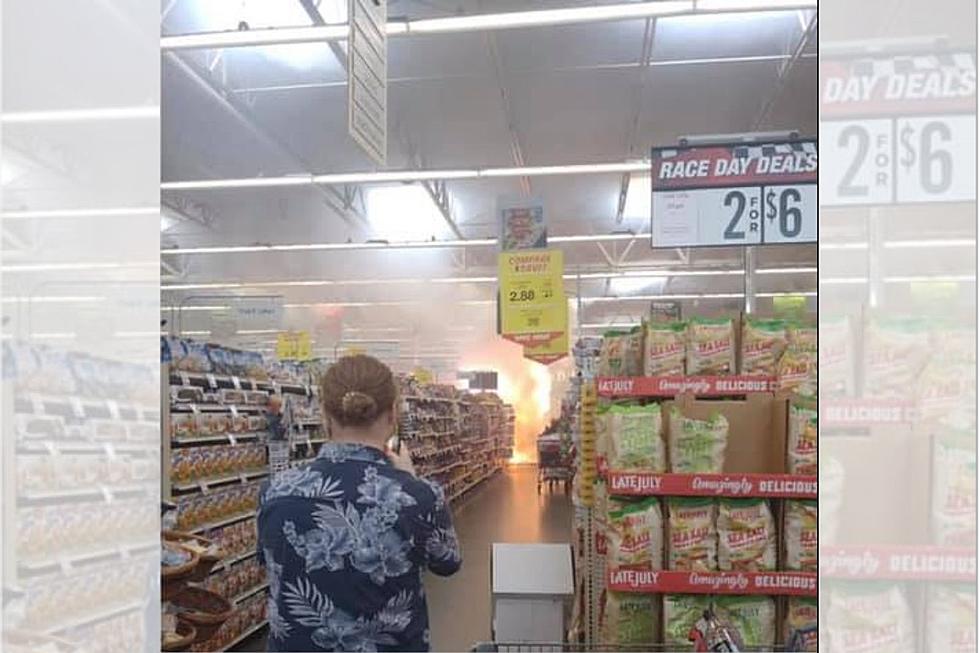 Juveniles Arrested After Lighting Fireworks Inside MN Hy-Vee
Tanya Olsen via Facebook
Three juvenile male suspects were taken into custody.
A Hy-Vee store in Eagan, Minnesota is closed after a fireworks display caught fire inside the store Monday afternoon.
"Due to unforeseen circumstances, we are temporarily closed until further notice," Hy-Vee (Eagan, MN) posted to Facebook late Monday. "We hope to reopen soon for our customers. Stay tuned to this page for updates."
Bring Me the News reports that Eagan police were notified of the fire at the grocery store around 2:19 p.m. Monday. The blaze in question was not a normal fire and may not have been accidental, however. While police say the cause of the fire is still under investigation, Sgt. Joe Moseng has confirmed that three juvenile males were taken into custody, and several bystanders in the store have corroborated reports that three young people were responsible for setting the fireworks alight. Bring Me the News has a video of the blaze that was submitted by a bystander here. Tanya Olsen shared these photos she captured to Facebook.
"The A$$es lit it on fire and ran," she captioned her photo. "I had to leave a full cart of food. Felt horrible. What a waste, and no care for people around them."
One person in the post's comments suggested keeping fireworks behind a counter out of reach of kids, like cigarettes and prescriptions.
"Sorry to hear about what happened. I wonder if, like cigarettes and prescriptions, fireworks should be kept behind the counter so they are out of reach of children," suggested Cheryl Renk.
Sgt. Joe Moseng told Bring Me the News that the Eagan Fire Department responded to the fire and put it out, and nobody was injured.
6 Vintage St. Cloud Items for Sale on Etsy