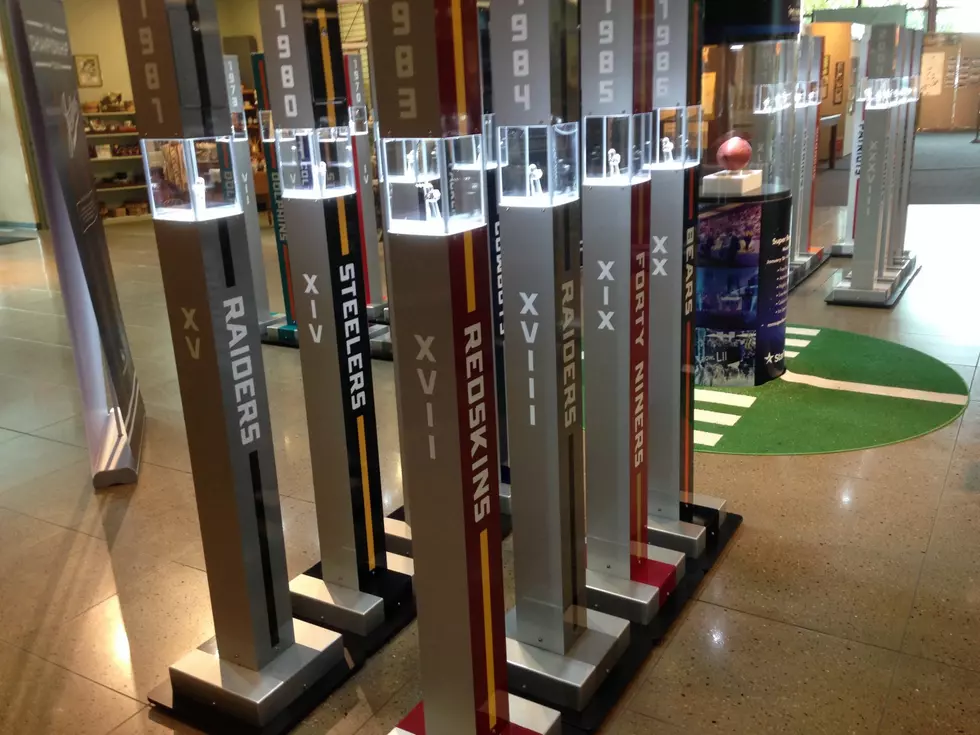 Jostens' Super Bowl Ring Display Brings Major Bling to Owatonna
Roy Koenig/Townsquare Media
When that team that won't be named won the AFL-NFL championship game in 1967, the game wasn't even called the Super Bowl. Retroactively, it was dubbed Super Bowl I. And when the winners were presented with their simple title rings, who could have imagined how big the game, and the championship rings, would get through the years.
"The Championship Tour Presented by Jostens" opened at the Steele County History Center Tuesday and runs through Sunday September 24. There is no charge to tour the exhibit. Hours are Wednesday and Friday are 10AM-4PM, Thursday and Saturday 10AM-3PM and Sunday 11AM-3PM. The set-up allows you to walk through years and see how much more elaborate the rings have become. Each glass enclosure showcases the championship ring that went to the winning team and the game score.
Green Bay won the first title game in 1967. New England grabbed the title away from Atlanta earlier this year. In between you will find the ring that went to the unbeaten Dolphins after their perfect 1972 season, the Redskins title ring from Super Bowl XXVI at the Metrodome and many more. Owatonna is one of nine cities that host the ring display this year, leading up to the Super Bowl at U.S. Bank Stadium in February 2018.
Some rings feature the team logo. The Ravens, Broncos and Patriots went this route. All rings feature numerous diamonds, sometimes forming the shape of a football. Most look like they would be uncomfortable to wear. CNBC reported that rings cost around $5,000 each and are paid for by the National Football League for the winning team's players and members of the organization.