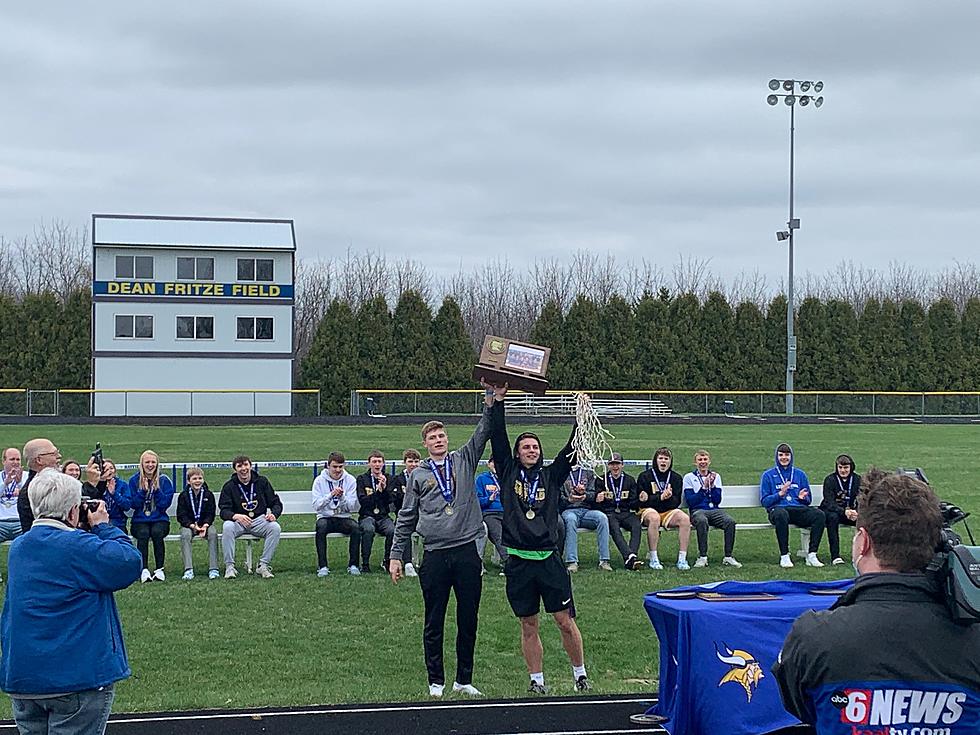 Hayfield Welcomes Home Their State Champions
Hayfield Players Ethan Slaathaug and Easton Fritcher Show 2021 Class A Boys Basketball Championship Trophy.
The MSHSL Class A State Boys Basketball Champion Hayfield Vikings got to ride through Hayfield and Brownsdale Sunday afternoon on fire trucks in a welcome home they will remember the rest of their lives.
A program followed at the football field where Head Coach Chris Pack recalled they opened the season ranked #2 in the state and were not playing well early.  Pack said they worked hard to get better and the final 15 games or so rounded into the kind of team he knew they could be.
Hayfield was not ranked by Minnesota Basketball News in the final Class A Top 20.  In fact all the final four teams were not rated.
I have a feeling the welcome would have been equally great had Hayfield not won the title game.  That's what small towns do.  Support their neighbors.
Pack talked about each player and what they brought to the team emphasizing everyone was important in making them state champions.
He said junior Easton Fritcher averaged 12 rebounds a game during the season saying the 6'0 player had, "The heart of a lion."  I called him the Windex Man because of his incredible knack cleaning the glass.  No rebounds were more important than his final two defensive boards late in the title game Saturday against Hancock.
Fritcher hit the free throw with 5.7 seconds to go to seal the Vikings title.
Junior 5'9 Kobe Foster was left open by Hancock in an effort to clamp down on sophomore 6'2 Isaac Matti.  Foster delivered his best offensive game of the season while draining 4 of 5 three point shots.  He scored 12 points in the 61-60 victory prompting Pack to call him the MVP of the game for Hayfield.
Pack said the Vikings played their three state tournament games about as close to perfect as possible.
The Hayfield Head Coach called senior 6'3 Ethan Slaathaug, "A great leader" who did what was needed to win.  Slaathaug told those in attendance the championship was not just the team's but belonged to the, "Entire Hayfield Community.  We love you guys."
Pack became emotional a few times during the program.  He said the Hayfield fans were the best in the Target Center and thanked his wife for keeping home together during the chaotic final few weeks of the season.
It was noted during the program that basketball has been played at Hayfield High School for about 100 years.
Hopefully they won't have to wait another 100 years for a title.
This is some amazing educational information about animals sleeping habits.
LOOK: 30 fascinating facts about sleep in the animal kingdom