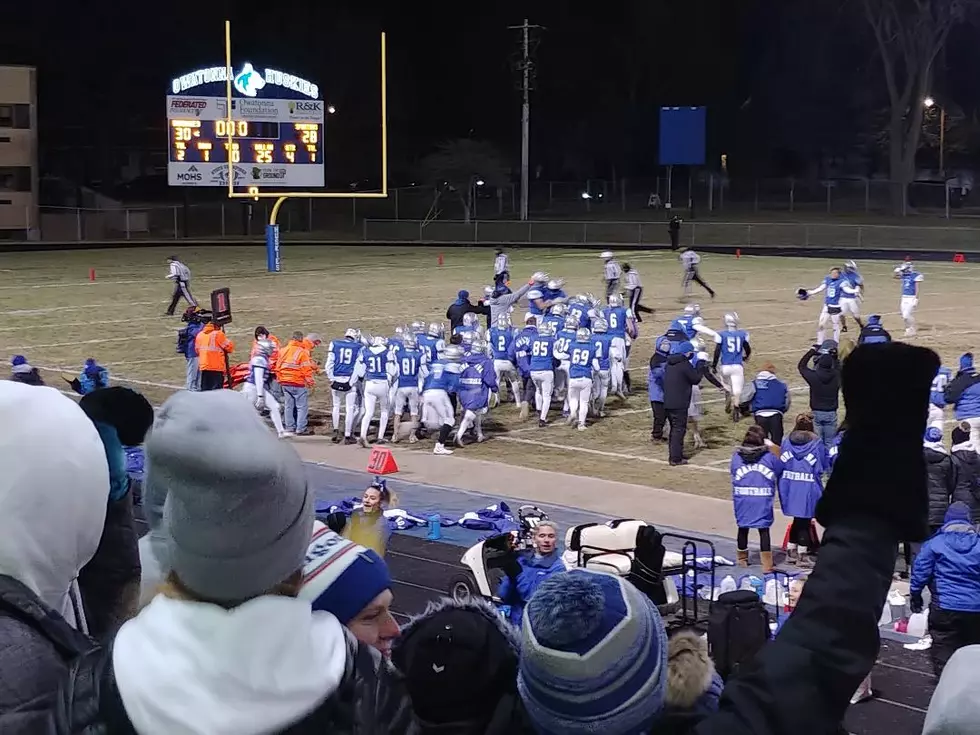 Football Powerhouse to Join Owatonna's Class
Roy Koenig/TSM
If Owatonna continues its reign in football. And if a state tournament is held in the fall, the Huskies could face a match up with a storied Minnesota program. Reports indicate the Cretin-Derham Hall will play in Class 5A for the next two seasons.
The Star Tribune reports that with an enrollment of 940, the Raiders qualify for Class 4A but will opt up to Class 5A. The report states, "But declining enrollment and on-field struggles led leadership within the St. Paul private school to make a change for at least the next two seasons."
CDH Activities Director Phil Archer is quoted in the article that the move was received "positively by students, their families and other community stakeholders. They are excited about it, which was a little unexpected, to be honest."
Cretin-Derham Hall won state titles in 1988, 1999 and 2009 while playing in the biggest class of schools. Currently, Class 6A contains the largest schools districts, all Twin Cities-based. Owatonna plays in Class 5A and won back-to-back state titles in 2017 and 2018. The Huskies have won five straight section titles. The 2020 championship marked the end of the season, with no state tournament held in the fall.
Cretin-Derham Hall has gone to state 23 times. Owatonna has qualified for state nine times. See full participation list from the Minnesota State High School League.
In other football news, Owatonna's Most Valuable Player from last season, Payton Beyer, has announced he will play at Winona State University.
e
OHS football coach Jeff Williams called Beyer "one of the most naturally gifted players to ever put on a blue jersey. He possesses great hands, a phenomenal nose for the ball, and the ability to go up and get it, whether he is on offense or defense."
Beyer spoke with Jon Wiesbrod on the Sports Buzz at OwatonnaLive.com, saying recruiting "ramped up right after the season. What really altered by decision (to attend WSU) was the connection I could sense from the players and the coaches." He adds that Minnesota State Mankato made a late offer as well.
Beyer told Weisbrod that current OHS assistant coach Nate Skala, a Huskies grad and former WSU player had positive things to say about the Warriors. Recent OHS grad Carter McCauley also played for Winona State, setting numerous field goal-kicking records.
Regarding in-season sports, the Owatonna girls and boys hockey teams earned impressive wins recently over top-20 rated Mankato East.
Enter your number to get our free mobile app
Do you say the following things? They may be a 'tell' that you are from Minnesota.
SPEAK UP: 10 Unique Things You Only Say If You're In Minnesota