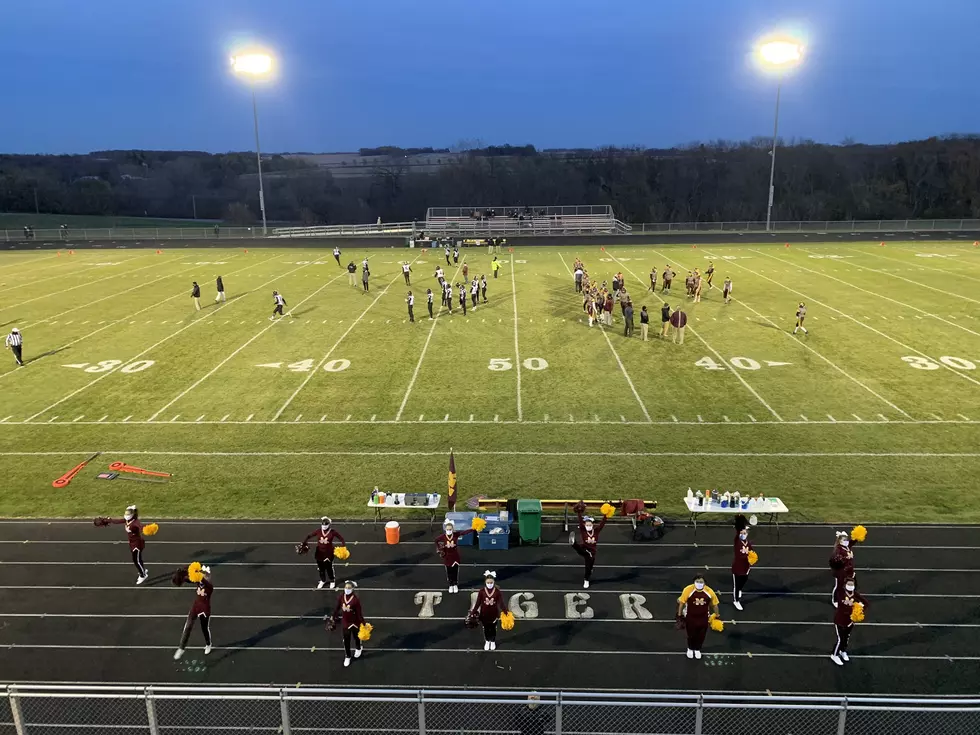 Football: Blooming Prairie, NRHEG Improve to 2-0
Jason Iacovino/Townsquare Media
Blooming Prairie football improved to 2-0 on the season with a strong fourth quarter in a 26-15 win at Medford (1-1) in the Kat Kountry Game-of-the-Week on Friday, October 16. NRHEG won Thursday, October 15 at Gibbon-Fairfax-Withthrop 26-20 by turning in several great defensive stands in the red zone, including one at the end of the game. Triton (1-1) beat St. Charles Friday 26-6. Owatonna (2-0) blanked John Marshall Saturday afternoon 40-0.
Week three sends BP to Lewiston-Altura for a Friday, October 23 7 pm kick off on Kat Kountry 105FM and the free Kat Kountry 105 app. Owatonna hosts Century Friday night on AM 1390 KRFO and the free AM 1390 KRFO app. Triton travels to Lake City and NRHEG is home against Lake Crystal-Welcome Memorial. Medford hosts Goodhue Saturday, October 24 at 7 pm.
Enter your number to get our free mobile app
In Blooming Prairie's 26-15 win at Medford, BP coach Chad Gimbel commented on the AM 1390 KRFO Coaches Show, "It was a hard-fought, tight game...Whenever we were able to score, they came right back." The Awesome Blossoms took a 14-7 lead into the fourth quarter and tacked on two more scores and ate some clock, "We were able to get a couple of key first downs and hold on to possession of the football."
Tigers coach Jerome Johannes was pleased with his team's approach to the game, "I thought our guys came out and played extremely well. It's been a while since we've played Blooming Prairie pretty tough." He added, "Both defenses just bared down in the third quarter and really no one was able to get too many yards...(in the fourth quarter) Blooming Prairie was able to get two more touchdowns on the board."
In Triton's 26-6 win at St. Charles, Cobras' coach Mike Ellingson said the team "went back to the drawing board and tried to simplify the offense and simplify the game plan after having struggles with fumbling the ball last week. The kids executed really well."
NRHEG coach Marc Kruger says the Panthers and GFW have played some big games, "Great game. It's a fun rivalry between us and GFW even though we're so far away. Just in my time it's been three great games. There was a seven-overtime game before I got to NRHEG."
It looked like overtime might result on Thursday as well, but the Panthers stood their ground, "They were inside the five when time expired. Our defense was outstanding. There were three times that GFW was inside the ten-yard line trying to score. And we stopped them all three of those times." The Panthers won 26-20 in Winthrop.
Week 2 scores (October 15-17)
Owatonna 40, Rochester JM 0
Blooming Prairie 26, Medford 15
NRHEG 26, GFW 20
Triton 26, St. Charles 6
Austin 47, Albert Lea 0
Bethlehem Academy 35, Hayfield 14
Byron 28, Winona 0
Kasson-Mantorville 37, Faribault 6
Kenyon-Wanamingo 28, Fillmore Central 0
Lewiston-Altura 53, Goodhue 8
Mankato West 20, Mankato East 0
New Prague 23, Northfield 7
Randolph 32, Rushford-Peterson 22
Rochester Mayo 34, Rochester Century 14
St. Clair/Loyola 27, JWP 14
YOU BETCHA: The Most Minnesota Halloween Costumes
PEEK INSIDE: Beautiful Home for Sale in Western Wisconsin on National Register of Historic Places
The Most Iconic Fashion Items of All Time