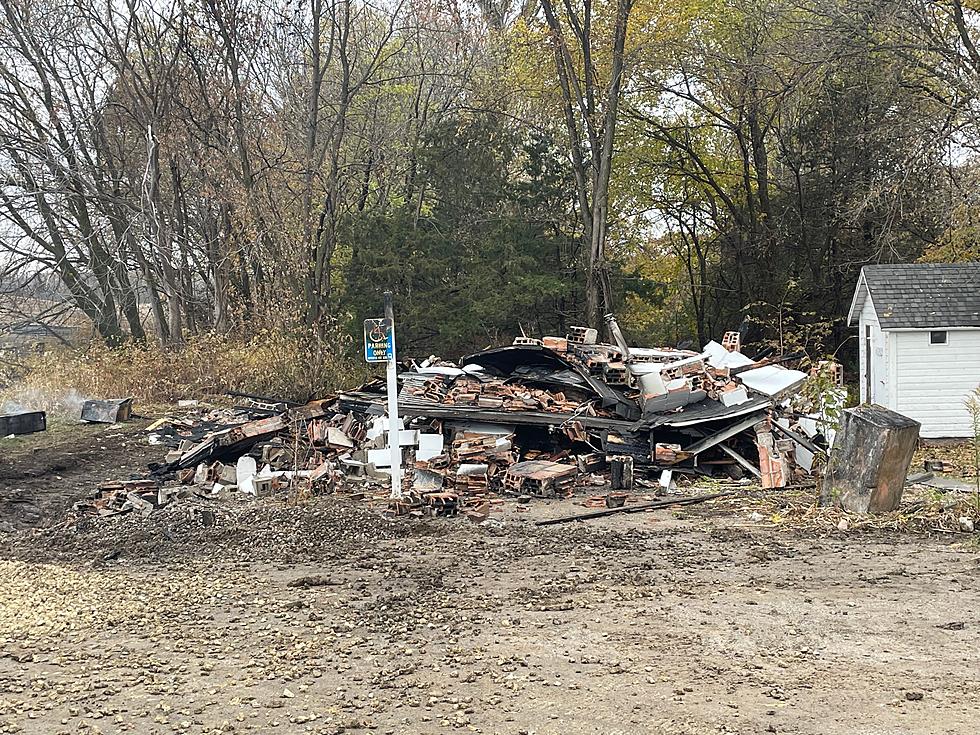 Fatal Accident Destroys Warsaw Town Hall
Warsaw Town Hall Rubble. Photo by Gordy Kosfeld
Rice County Sheriff Troy Dunn sent a News Release to KDHL just as we were hitting the airwaves for the 7:05 a.m. Report this morning.  Below is that News Release.
Date/Time of Incident:   10-28-2021 at 9:25 PM
Incident Description:  Fatal Crash – Vehicle vs Building  
 Location of Incident:   230th Street W & Dalton Ave– Warsaw Twp
Victim Information: Withheld pending autopsy and next of kin notification
Description of Incident:  On the above date/time , Rice County deputies, Morristown Fire/Rescue, Faribault Fire and Rescue, MN State Patrol and North Ambulance were dispatched to a vehicle vs building crash at the Warsaw town hall. 
The vehicle had been traveling w/b on 230th Street and crashed into the town hall. Both the vehicle and building started on fire.    Deputies attempted to clear the vehicle but were unable to due the intense heat and fire. 
After the fire was under control, emergency responders located human remains in the drivers' compartment of the vehicle.  The body was later transported to the Hennepin County Medical Examiner's office for identification and an autopsy.
The crash remains under investigation and further updates will be provided when further information is obtained.  
The Sheriff gave us a few additional details while joining us on the 8:05 a.m. report via the KDHL Newsline.  You can listen to our conversation below.
Some COVID information available for us.
Answers to 25 common COVID-19 vaccine questions
Vaccinations for COVID-19 began being administered in the U.S. on Dec. 14, 2020. The quick rollout came a little more than a year after the virus was first identified in November 2019. The impressive speed with which vaccines were developed has also left a lot of people with a lot of questions. The questions range from the practical—how will I get vaccinated?—to the scientific—how do these vaccines even work?
Keep reading to discover answers to 25 common COVID-19 vaccine questions.