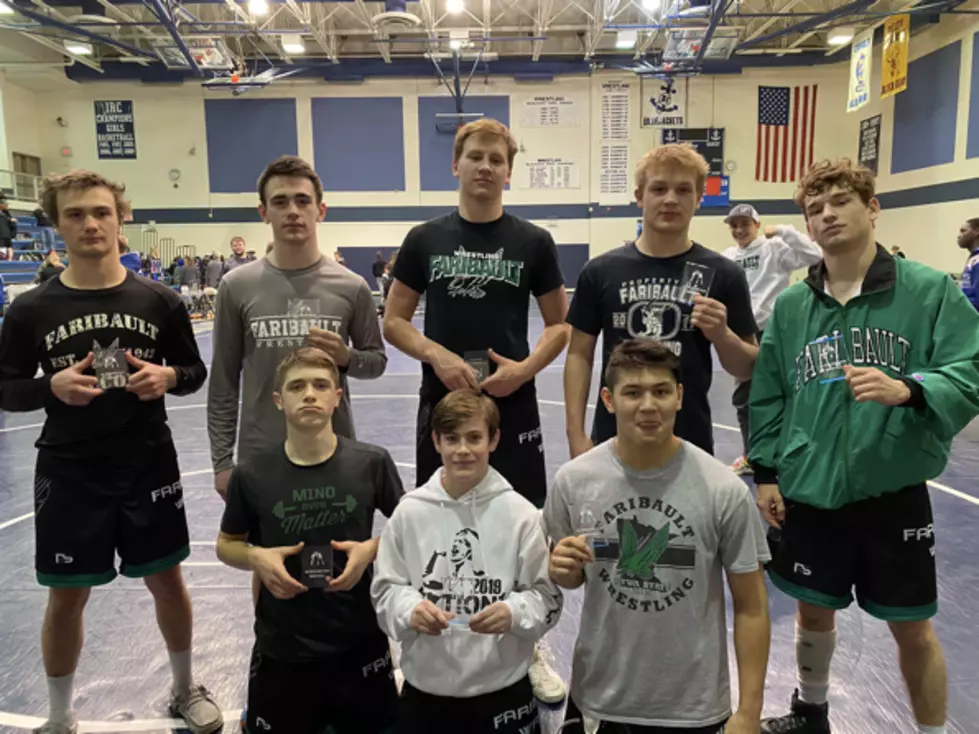 Faribault Wrestlers Win Hibbing Duals Tournament
Hibbing Duals Tournament 2019 Falcons Individual Champions. Photo provided by Faribault Wrestling
The Faribault Falcons dominated the competition at the six team Hibbing Duals Tournament Friday and Saturday.  The Falcons defeated Zimmerman 49-24.  Then downed Fosston/Bagley 45-21.  Then they crushed Virginia 70-3, dominated Nashwauk-Keewatin/Greenway 70-12 and handled Hibbing 61-18.
Eight Faribault wrestlers were named to the All-Tournament team.  JT Hausen, Isaac Yetzer, DJ Saunders, Riley Stoltz, Bryce Nolen, George Soto, Josh Oathoudt and Dillon Lippert.  Those eight had a combined 40-0 record.
The Falcons are now 11-0 in dual competition. Head Coach Jesse Armbruster speculated last Saturday on the Faribault Coaches Show at Bashers that his team would be rated the next time Guillotine puts together the rankings.  That should come out this Thursday.
The Faribault Junior Varsity also did well with a 33-6 record and 22 falls.  Individual champions were Elliott Viland, Cameron Vold, Ben Boyd, Hunter Conrad, Cael Casteel, Christopher Forcier.
Other are wrestling teams had good weekends also:
Zumbrota-Mazeppa won Buffalo Invitational.  Medford was also 4th out of the 10 teams.
Simley won the 33 team Cheesehead Invitational in Wisconsin with Kasson-Mantorville placing 8th.
Shakopee was the Clash Cahmpions in Rochester with 33 teams competing.  Owatonna placed 11th.
Tri-City United Tournament was won by New Prague.  Tri-City United was 3rd, Albert Lea 4th.
Cannon Falls Invitational was captured by Woodbury.  Cannon Falls was 3rd, Winona 5th, Byron 6th, Pine Island 10th out of 16 teams.
Norwood-Young America Central Invitational was won by Waseca.  Mankato West was 4th, Waterville-Elysian-Morristown/Janesville-Waldorf-Pemberton 9th in the 11 team competition.
Clash of the Titans 8 team Tournament was won by Grand Meadow/Leroy-Ostrander/Southland.  Maple River was second, Lake City 3rd, Lakeville North 4th.
Enter your number to get our free mobile app