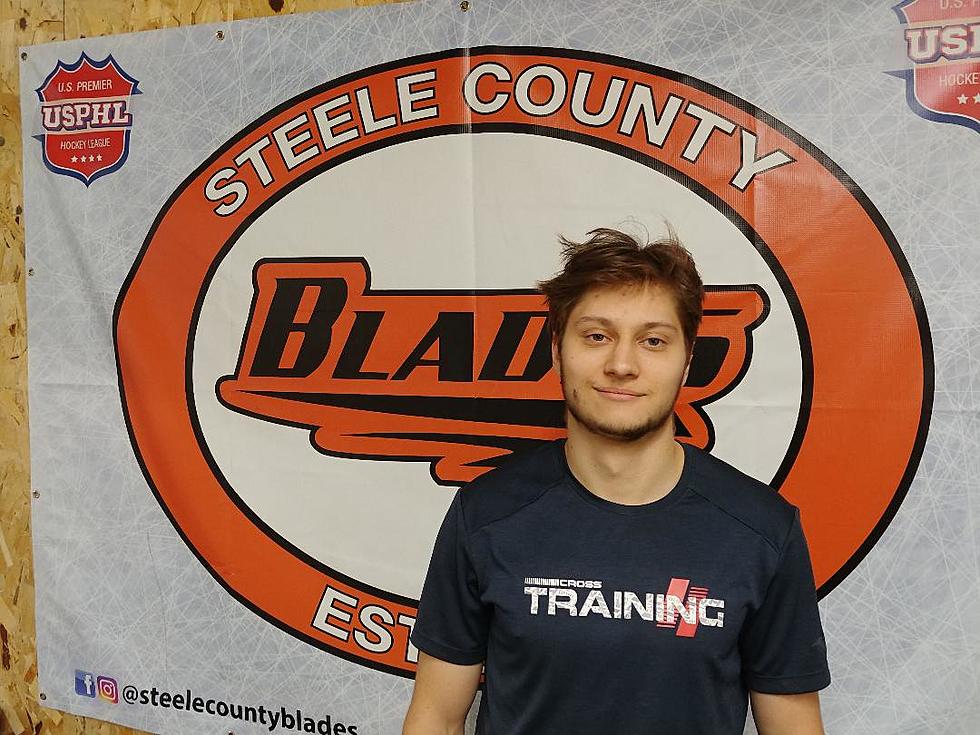 All the Way from Belarus to Play Hockey in Southern Minnesota
Roy Koenig/TSM
Seva Bannikov is back with the Steele County Blades after being the second-leading scorer for the team during the 2019-20 season, but missing last season due to the pandemic. While he continued to work out last winter, he hardly put his skates on at all. From Minsk, Belarus misses his mom's cooking while being so far from home, but enjoys playing in Owatonna.
"Obviously it feels good to be back on the ice. Didn't play last year because of COVID. Pretty happy to be back...I like the fans. The team is real good this year."
Bannikov scored a key goal in a 4-2 win over Wisconsin Rapids Sunday, November 7. The River Kings had just scored to erase a two-goal deficit and tie the game 2-2, "I was just kind of (ticked-off)...I saw the puck. Get it. Just scored. End of story." Charlie Smith won the faceoff to assist on the goal, coming nine seconds after Wisconsin Rapids had tied it up. [Click on his name below to hear a full interview.]
AJ Burke is from Barrie, Ontario and is enjoying the dynamic of the team, "Great group of guys, great locker room. Really fun, yeah." Burke (listed at 5-6, 150 pounds) doesn't let that size limit him, "I think, actually, being a physical body out there is a big part of my game. Being the shorter guy, it has to a part of my game. (Otherwise) they're going to see a weakness. So I got to play my body."
Steele County welcomes the first-place Minnesota Blue Ox on Friday, November 12 to Four Seasons Centre for a 7 pm tilt. Steele County has won four of their last six games. The Blades go to Hudson on Saturday, November 13 for a 7 pm game.
Enter your number to get our free mobile app
ROAD TRIP! 60 SMALL TOWN RESTAURANTS YOU HAVE TO VISIT IN SOUTHEAST MINNESOTA
Our listeners chimed in with their favorite small-town restaurants and even told us what to order when we visit. Below you'll see 60 great restaurants that you should try as you travel around southeast Minnesota.
Did You Know These Festive Holiday Movies Were Filmed In Minnesota?
'Tis the season for fuzzy socks, hot cocoa, and Christmas movies!
If you're looking for something new to watch this year? Try one of these hilariously corny and irresistibly romantic holiday movies filmed in the Land of 10,000.