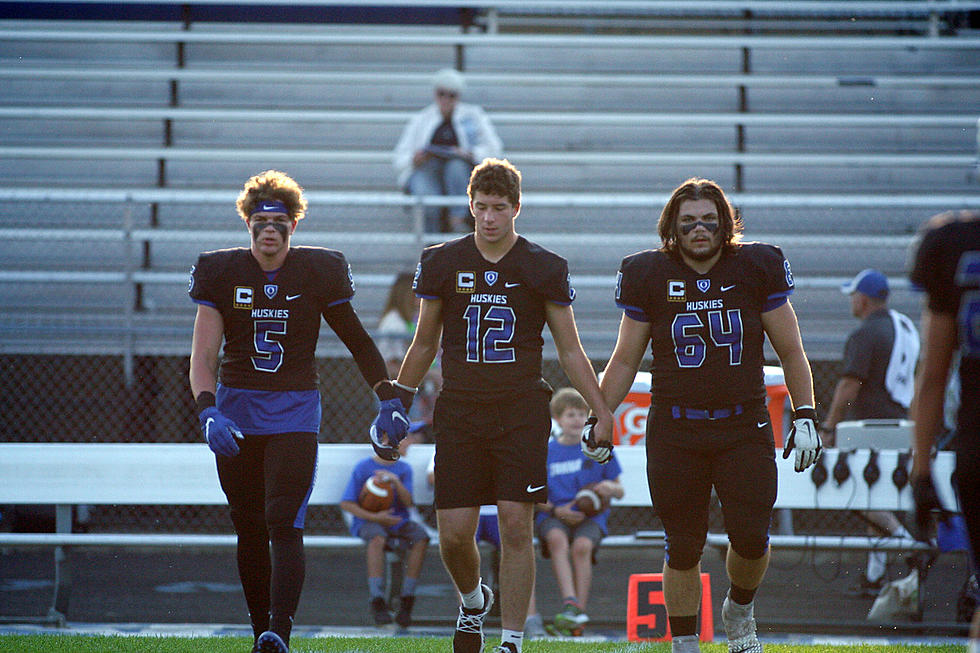 7 Owatonna Football Award Winners; Huskies Earn Gold Honors
courtesy of Gary Walter
The statistics are impressive from the Owatonna High School football banquet. Ten All-District Players. Eight Big Nine Conference Scholar Athletes. One Friend of Football honoree. Keith Bangs was recognized for his "more than 30 years" of keeping stats along the OHS football sidelines. He and his wife Jane were special guests at Sunday's event held at the Eagles Club in Owatonna.
The Huskies went 6-4 on the season, making it to the Section 1-5A title game, where they lost to Rochester Mayo 38-33. OHS B-squad went 6-2 this fall.
MOST VALUABLE PLAYER / DEFENSIVE PLAYER OF THE YEAR
Senior Grant Achterkirch earned both honors after leading the team in tackles and defensive points despite missing the first two games due to a broken hand. He also contributed mightily as a fullback. He also played in the High School Football Showcase at US Bank Stadium in early December. OHS coach Doug Wanous was on the coaching staff for the South's win.
LINEMAN OF THE YEAR
Senior Eli Spurgeon was a force along the offensive and defensive lines.
OFFENSIVE PLAYER OF THE YEAR
Senior Nick Williams transitioned through tight end/full back to wide receiver to put up one of the best seasons for an OHS receiver.
CHAMPION OF THE YEAR
Senior Reid Stauffer earned this honor for his solid all around play and contributions to the team as determined by the coaching staff
SPECIAL TEAMS PLAYER OF THE YEAR
Junior Drew Henson had an incredibly accurate season kicking the football and is close to a variety of Owatonna records. He was also named the Big Southeast District Special Teams Player of the Year-Red Division.
Big Nine Scholar Athletes (all seniors)
Grant Achterkirch
Cael Dowling
Eli Knutson
Reid Stauffer
Aiden Stowe
Caleb Vereide
Nick Williams
Luke Wottreng
Big Southeast All-District
Grant Achterkirch
Nick Williams
Eli Spurgeon
Caleb Vereide
Collin Vick
Drew Henson
Big Southeast Honorable Mention
Dylan Maas
Ryley Glassmaker
Drew Kretlow
Trever Schirmer
Captains for 2021
Grant Achterkirch
Eli Spurgeon
Nick Williams
Captains for 2022
Mikah Elstad
Drew Kretlow
Trever Schirmer
Collin Vick
Gary Walter presented a wonderful highlight video for the 2021 season. Thanks to him for including the AM 1390 KRFO play-by-play call to the package. Each player was presented with a copy of the video by the OHS coaching staff. Walter's photography is also featured in most of the photos in this story.
Enter your number to get our free mobile app
5 Best Places to Get a Mouthwatering Burger in Owatonna According to Yelp
Burgers are always a great choice when you're going out to eat. Here are the best places in Owatonna, Minnesota to get a burger (
according to Yelp reviews
) for the next time you're craving one.
10 of Minnesota's Favorite Christmas Traditions
They're not all specifically Minnesotan, but they are all things that are fun, family or friends friendly traditions. The most important thing to note, I think, is it's really about spending time together with loved ones. Here's to old traditions and new!
25 Stocking Stuffer Gifts Made in Southeast Minnesota
Christmas is just around the corner. If you're looking for great gift ideas but also want to support local businesses, here are stocking stuffer gift ideas that are all made in southeast Minnesota.
Enter your number to get our free mobile app