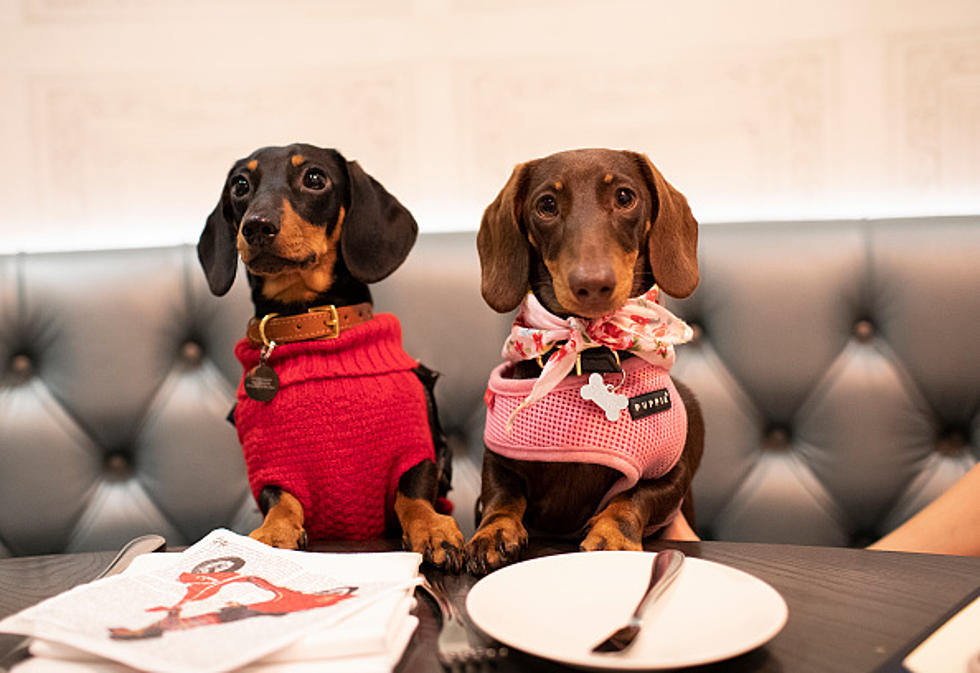 Your Dog Can Enjoy A Three-Course Meal At These 5 Restaurants in The Cities
John Phillips/Getty Images
Treat your pup like royalty at one of these five restaurants in Minnesota.
Each restaurant is managed by Craft & Crew Hospitality. And guess what! They are hiring! (That means you could basically pet dogs all day.)
From 'appetizers' likes pig's ear and smoked beef marrow bone to 'desserts' like pupcream and peanut butter nilla woofers, your pet is bound to leave any of these locations fat and happy.
Main Entrees Examples:
WOOF WOOF BOWL: Organic Brown Jasmine rice sauteed with Power Greens, topped with a Sunny Side Up Egg and drizzled with Coconut Woof Woof Sauce.
K-9 CHICKEN: 6 oz Grilled Chicken Breast served on a bed of Organic Jasmine Brown Rice, Veggies, and Sweet Potatoes
NE PUP BURGER: 1/3 Pound Burger served on a bed of Organic Jasmine Brown Rice, Veggies, and Sweet Potatoes
SALMON CAKES: Puuuurfectly seared Salmon Cakes prepared with Salmon, Quinoa, Organic Jasmine Brown Rice, Flax, Spinach, Celery, Apples and Parsley
 NALA'S TURKEY MUTTLOAF: Homemade Turkey Meatloaf loaded with Veggies, Oats and Flax
A portion of each entree cost helps Pause 4 Paws. The proceeds are sent to rescues across the state in an effort to provide medical care, spay/neutering, and find forever homes to animals in Minnesota.
The 'pawtios' also supply yoga mats for pets to lounge on and complimentary water.
Stanley's NE Bar Room, The Block, and The Howe Daily Kitchen and Bar are dog-friendly year-round.
List of Restaurants in Rochester with the Best Macaroni and Cheese
You thought that people in Rochester were passionate about burgers and
coffee!
Well, move aside burgers because people are very picky and particular about their mac and cheese and there are a few favorite spots in Rochester for some cheese-covered noodles.