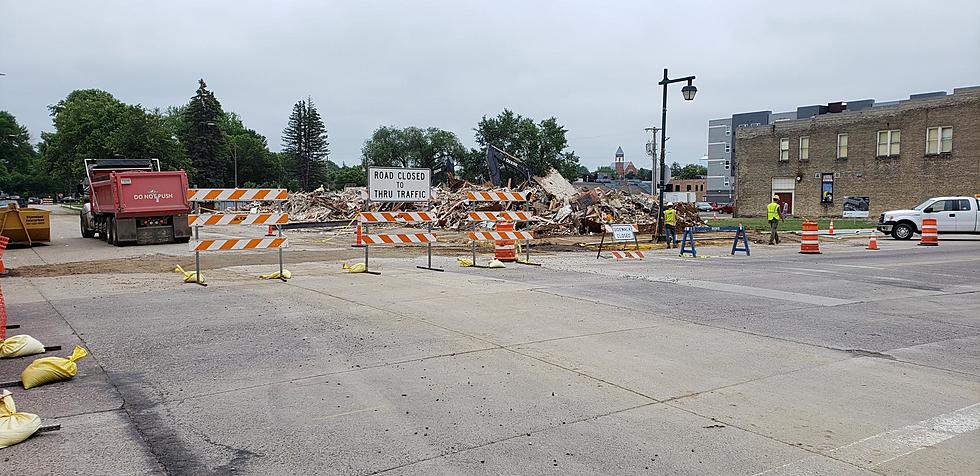 [Video] Downtown Owatonna Building Demolished
Rich Will/TSM
The Owatonna Area Chamber of Commerce and Tourism (OACCT) has shared video of the demolish of the Flooring Frenzy building downtown. The move is part of the project to make way for the new Marriott Courtyard. The work coincides with the North Cedar Streetscape project, making a slightly different look to Owatonna's downtown pretty much everyday.
The video is shared from the Owatonna People's Press. The OACCT updates the streetscape project to state, "The intersection of Pearl Street is planned to be fully closed beginning the week of July 19 to allow for sanitary sewer construction."
"Sidewalks in front of the buildings are intended to remain open for as long as possible...Additional business parking signage, directing users to the public lots, are planned to be placed in the coming days to aid drivers...Work in the 200-block is anticipated to begin in late July," the update page goes on to indicate.
Look here to watch the downtown project in real time.
In other news, the Owatonna Chamber reports they were notified by the Faribault Chamber of Commerce of counterfeit ten-dollar bills that have come into circulation there. Contact the Owatonna Police Department if you suspect a counterfeit bill.
Tuesday Talk also includes updates on the chamber's golf outing on August 3 and the new GEM Days July 18-25 presented by the Owatonna Business Partnership.
Enter your number to get our free mobile app
Things You've Go-To-Do at the Steele Co. Fair
KEEP READING: 10 Safest Neighborhoods in the Faribault/Owatonna Area