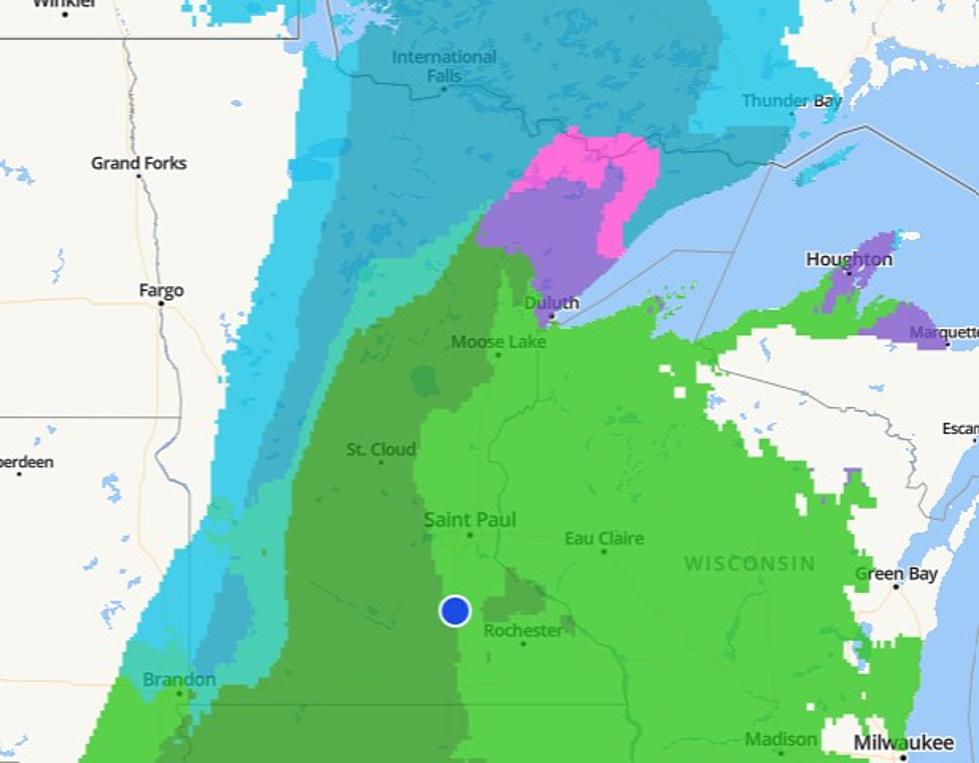 Thought Southern Minnesota Was Done With Snow? Think Again. Spring Storm Coming.
The Weather Channel
According to the calendar, Spring officially began yesterday, March 20th. However, we Minnesotans know that doesn't mean much in the Land of 10,000 Lakes. 
"After this beautiful end to the weekend, an active period of weather arrives with multiple rounds of precipitation expected from Monday night through Wednesday," says 
the National Weather Service
. 
At this point, Northern Minnesota is expected to see most of the accumulating snow while the Twin Cities and Southern Minnesota will receive mostly rain. (Rain, I can live with, but snow? No, thank you.)
Below you can see the radar for Tuesday at 5:30 am. 
Of course, things could still change by tonight, but right now, a slushy coating of snow is possible for the Twin Cities and surrounding areas, especially as we progress into Tuesday.
The National Weather Service forecast continues explaining, writing:
"The uncertainty really starts coming in Tuesday night as the surface low starts moving toward the Great Lakes. We'll see a more defined deformation band develop on the northwest side of the low, with precipitation expected to transition from rain to snow. How much precip is still left this far northwest when this transition happens will determine our snow potential for Tuesday night through Wednesday morning."
Monday's Forecast:
Tuesday's Forecast:
Wednesday's Forecast:
The next few days could bring some messy weather to Southern Minnesota, so make sure you get outside and enjoy the beautiful temperatures before the rain (and potential snow) hits.
The 10 Minnesota Counties that Shrunk and Grew the Most in the Past Decade
A
recent report
from the 2020 US Census revealed how much each county's population grew or shrunk in the past decade. Here are the 10 Minnesota counties that shrunk the most and the 10 that grew the most.