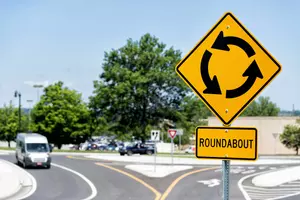 This Minnesota Roundabout Will Get You In The Halloween Spirit
WendellandCarolyn
For as much as we complain about roundabouts going in seemingly everywhere, if communities would do things like Anoka did with their roundabout, maybe fewer people would complain. I would like to introduce to you a jack-o-lantern inspired roundabout.
Anoka, the Halloween Capital of the World, added this mini-roundabout back in 2017, and not only did it fit the city with its pumpkin toothy grin, but it was also one of the first of its kind in the country, according to a post to social media from the City of Anoka.
I kind of think this was brilliant, it fit the cities theme, and it reduced the headache of being at a 5-road intersection with an all-way stop.
With roundabouts going in at a rapid pace around the area, it would be great to see some of this creativity unleashed on area roundabouts to make them, at least to me, more appealing to those living in the area.
Faribault could have a fleur-de-lis design in the middle, Northfield could spin its Cows, Colleges, and Contentment theme and have cows inside their roundabouts, something to make them stand out a little, by making them into points of community pride.
Anoka, since 1920, has been hosting Halloween parades, and because of that, it has dubbed itself the Halloween Capital of the World. On top of the roundabout, the city of Anoka puts up a winking neon pumpkin on its city hall building for the entire month of October as a salute to their fame. 
4 Most Haunted Hotels Within an Hour of Rochester
These four hotels in Southeast Minnesota are some of the most haunted in the state, and they're all within an hour of Rochester, MN.
2021 Halloween Haunted Houses, Events, and Attractions in The Rochester Area
Scroll through the official 2021 guide for
Halloween
haunted houses, events, and attractions in Rochester and the Southeast Minnesota area.