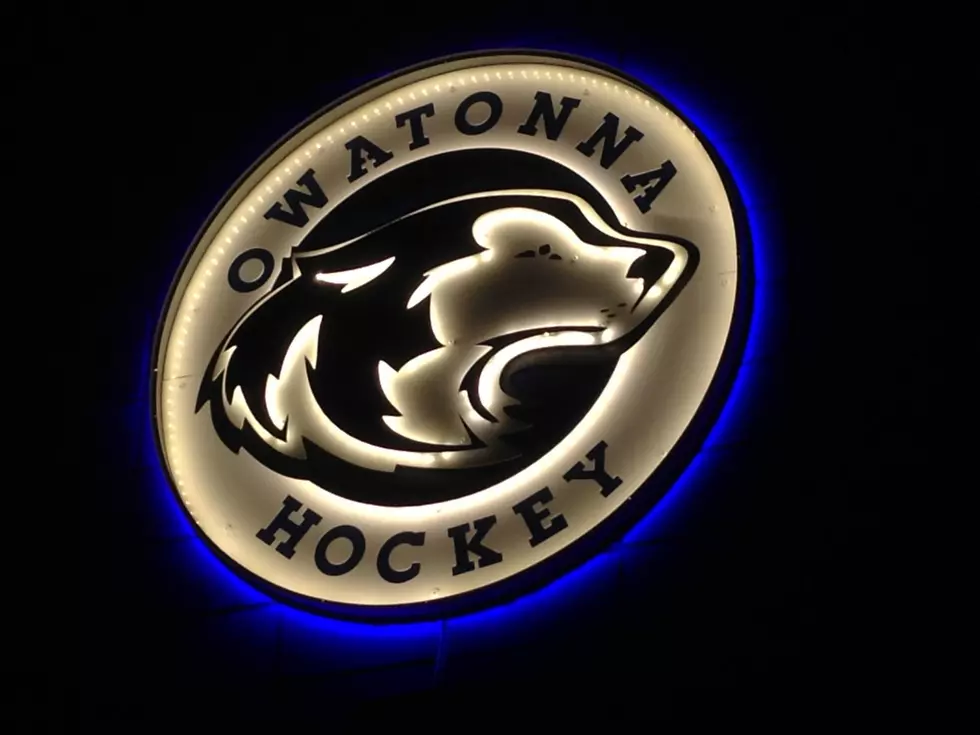 Record Performance, Overtime Thriller in Owatonna Hockey Wins
Roy Koenig/Townsquare Media
It was end-of-game drama for each Owatonna High School hockey game Thursday night against Rochester Mayo. The boys were locked in a tie with the Spartans on Dudley Otto Rink at Four Seasons Centre. OHS went on to win 4-3 in overtime. The girls were trying to keep a shutout on the board at Graham Arena, which they did for a 3-0 win, allowing Ava Wolfe to set the school record for career shutouts.
The OHS girls wrap up the regular season with a home game Saturday night against Northfield to determine the Big Nine championship. Owatonna has the inside track after an early season tie with the Raiders and a Northfield loss to Mankato East.
The Raiders won the title last season. The two shared the crown in 2019-2020. Girls hockey playoffs begin Wednesday, February 9.
In the boys game, sophomore Joseph Webster scored the game winner in the closing minute of the extra session with assists from Benny Bangs and Owen Beyer. Sam Knoll, Caleb Vereide and Tanner Stendel also scored as the Huskies won their fifth straight game. Preston Meier made 28 saves. OHS was outshot 31-29. See the score sheet from Hockey Hub. Owatonna plays at Northfield Saturday, February 5 at 7 pm with radio coverage on AM 1390 KRFO and 94.7 FM.
Prep scoreboard for Thursday, February 3
Boys basketball
Owatonna 81, Rochester Century 62 (Huskies improve to 12-0  in the Big Nine.)
Goodhue 74, Medford 38
NRHEG 57, WEM 36
Triton 63, JWP 61, overtime
Red Wing shocked Austin 42-37
New Ulm 67, Waseca 51
Girls basketball
Owatonna 60, Rochester Century 56 (Huskies third straight win)
Medford 47, Tri-City United 45
Pine Island 27, Triton 13
Wrestling
Faribault 46, Westfield 30
Westfield 55, Triton 16
Junior hockey
Steele County Blades 4, Minnesota Mullets 3
Hockey Day Minnesota 2022, Mankato
Minnesota State University-Mankato hosted Hockey Day MN. The eight-day festival featured all levels from youth to Division I, including a junior game for the first time.