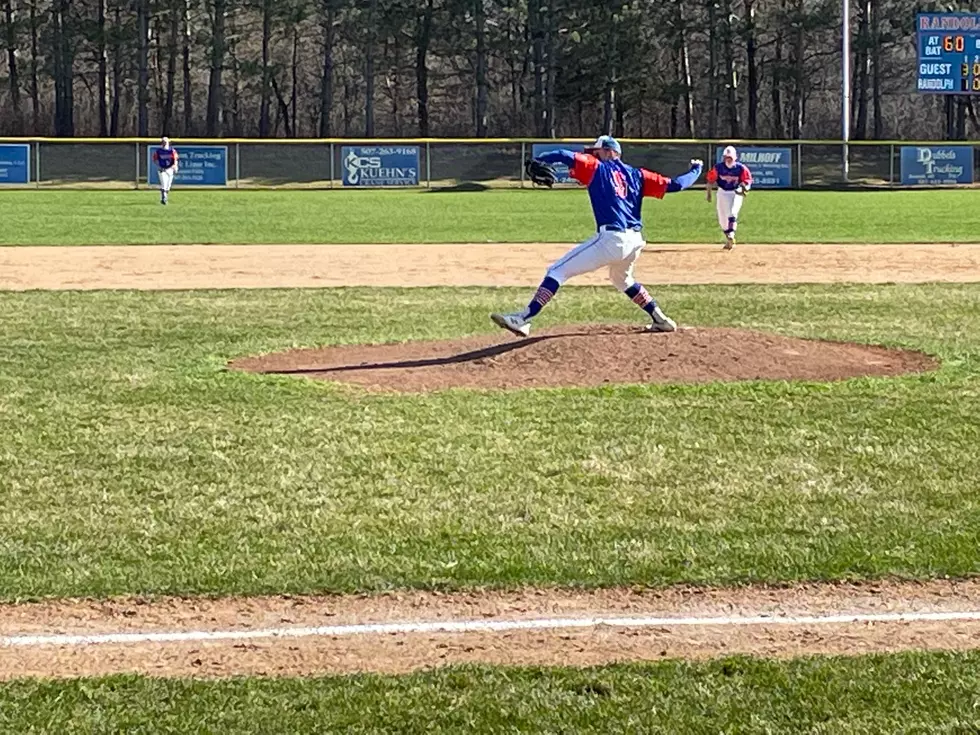 Randolph Walks-Off Hayfield in 8th Inning
Randolph Starting Pitcher Will Baldus. Photo by Gordy Kosfeld
The Randolph Rockets achieved a pair of two strike hits in the bottom of the 8th inning to defeat defending State Champion Hayfield 6-5 tonight before a terrific crowd.
Senior Jacob Weckop stroked the game winning hit and was the winning pitcher after coming on to relieve Will Baldus to start the 7th inning. Weckop struck out 4, with 0 walks, 2 hits and 1 run scored,
Hayfield took the lead in the first inning when lead-off hitter, shortstop senior Easton Fritcher bunted to start the game, stole second then ended up on third base thanks to a wild pitch,
He was knocked in by catcher, senior  Karver Heydt who would score after Isaac Watson smacked a double.  Following a Rockets error second baseman, senior Kobe Foster executed a great bunt scoring Watson before Foster was retired.
Randolph answered with back-to-back doubles by Jacob and Nathan Weckop with one out in the bottom of the inning.  The Vikings starter Nathan Klocke recorded all three outs by strikeout.  All swinging.
The Rockets would make the score 3-2 when Baldus led off the bottom of the 4th inning with a single.  His courtesy runner Tyson Cooreman advanced to second and third on wild pitches.  With two outs Evan Bennerotte connected for a RBI single .
In the bottom of the 5th inning Randolph scored 3 runs when 8 batters stepped up to the plate. Shortstop Drew Jenkins walked to start the rally then went to second base on a error .  Catcher Jacob Weckop was safe on an error.
Following a strikeout, cleanup hitter first baseman senior Mason Lorenzen stroked a 2 run single.  Baldus singled.  Designated hitter Rueben Kriesel clubbed a RBI single to five the Rockets a 5-3 lead.
In the top of the 6th inning following a strikeout looking and one swinging sophmore Zander Jacbsen hit a no doubt home run over the center field fence with a 2-0 count.
Jacib Weckop came in to pitch in the top of the 7th with a 5-4 Randolph lead. Following a strikeout Fritcher collected a two strike single.  He went to third base when Klocke singled.
Fritcher would score the tying run on a wild pitch after Klocke had stolen second base.
Randolph did not score in the 7th sending the game into extra innings.
Weckop struck out the first two hitters he faced in the top of the 8th, both looking.  Jacobsen hit a weak grounder on a 0-2 count the shortstop charged ending in a error but a Hayfield pinch hitter hit the ball back to the pitcher ending the Vikings at bat.
The bottom of the 8th inning started with a strikeout swinging.  Number 9 hitter Brayden Olsen hit a 0-2 pitch back up the middle.  During the Jenkins at bat Olsen stole second base.
Jenkins walked.  Weckop hit a 1-2 count pitch for the game winner to send Randolph to 9-0 on the season and hand Hayfield their second loss of the season.
In other Gopher Conference baseball action Tuesday Kenyon-Wanamingo defeated United South Central 9-6 in 8 innings.  Janesville-Waldorf-Pemberton cruised by Waterville-Elysian-Morristown 11-1. Waseca defeated Medford in a non-conference game 9-2.
Other reported scores.
 Albert Lea 5  Faribault 2,  Albert Lea 4  Faribault  2
Red Wing 3  Winona 0     Winona 3  Red Wing  0
John Marshall 6  Northfield 3  (Rockets score 4 runs in bottom 6th)
Mankato West 4  Rochester Century 3
Burnsville 2  Prior Lake 1
Eagan 6  Shakopee 4
Farmington 3  Rosemount  2
Belle Plaine 22 Lester Prairie 2
Jordan 12  Delano 9
Mayer Lutheran 10  Sibley East 7
Plainview-Elgin-Millville 4  Fillmore Central 0
See if you knew most of these.
Check out these 50 fascinating facts about dogs: