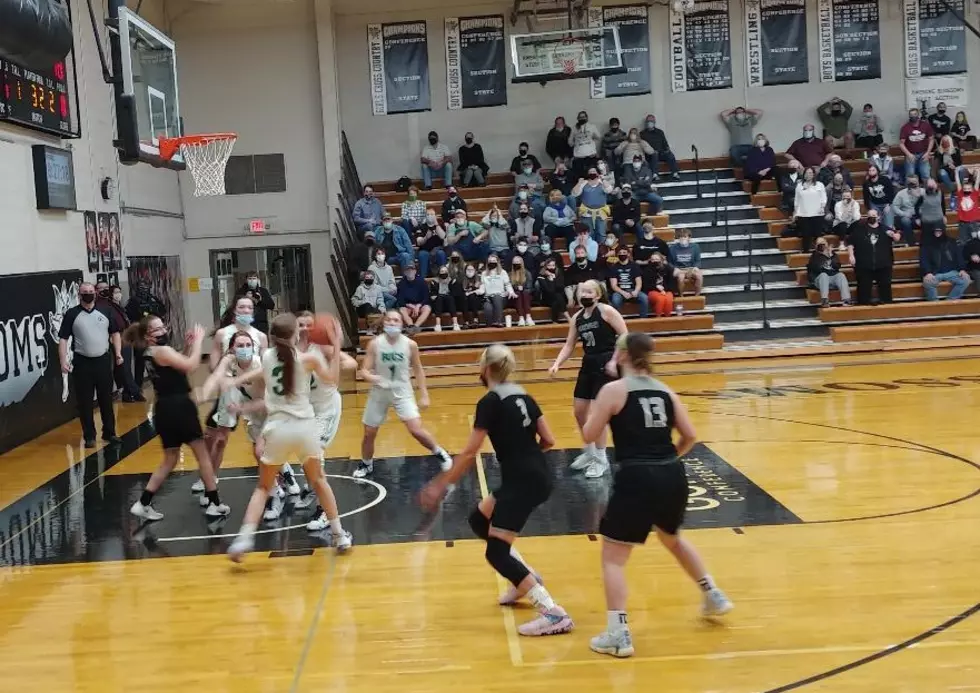 Rally Comes up Short for Blooming Prairie
Roy Koenig/TSM (file photo)
Trailing 24-13 at halftime, the Blooming Prairie girls basketball team went on a 13-3 run to open the second half to pull within 27-26 against Kingsland in the Section 1A semifinals at John Marshall High School in Rochester. The Knights responded with an 8-2 run of their own on the way to a 44-39 victory that eliminates BP from the playoffs.
That run by Kingsland put them up 35-28 with about seven minutes to go. BP rallied to within 35-32 with about five minutes left. Kingsland hit a three with three minutes to go and added a two for a 40-32 lead with about two minutes left. The Knights hit some free throws at the end.
Blooming Prairie struggled from three-point range and the free throw line, especially in the first half. Megan Oswald, the school's all-time leader in points, steals, and rebouands, scored 17 Tuesday. Bobbie Bruns added 13. BP (17-4) has seniors Maggie Bruns, Ashleigh Alwes, Maren Forystek, Allison Krohnberg, and Megan Oswald.
Kingsland (17-2) advances to the section final against Houston (17-0) who pulled away late against Hayfield for a 62-49 win. The final is Thursday, March 25 at Mayo High School in Rochester.
Girls basketball, Section 1AA:
Goodhue 64, Rochester Lourdes 45
Lake City 67, Winona Cotter 46
Girls basketball, Section 2A
WEM 61, Martin County West 26
Sleepy Eye St. Mary's 94, BOLD 56
Girls basketball, Section 2AA
Lake Crystal Welcome Memorial 61, Waseca 57
Glencoe Silver Lake 55, Jordan 54
Girls basketball, Section 2AAA
Marshall 62, Mankato East 49
Waconia 87, Mankato West 75
Boys basketball, Section 2AAA
Mankato West 61, Willmar 36
Marshall 65, Worthington 45
Enter your number to get our free mobile app
10 Dangerous Things to Say to a Minnesotan
Minnesotans can be very passionate about certain things, like ranch, the Vikings, and the state fair. Here are 10 things that are dangerous to say to a Minnesotan. H/T:
Only in Your State