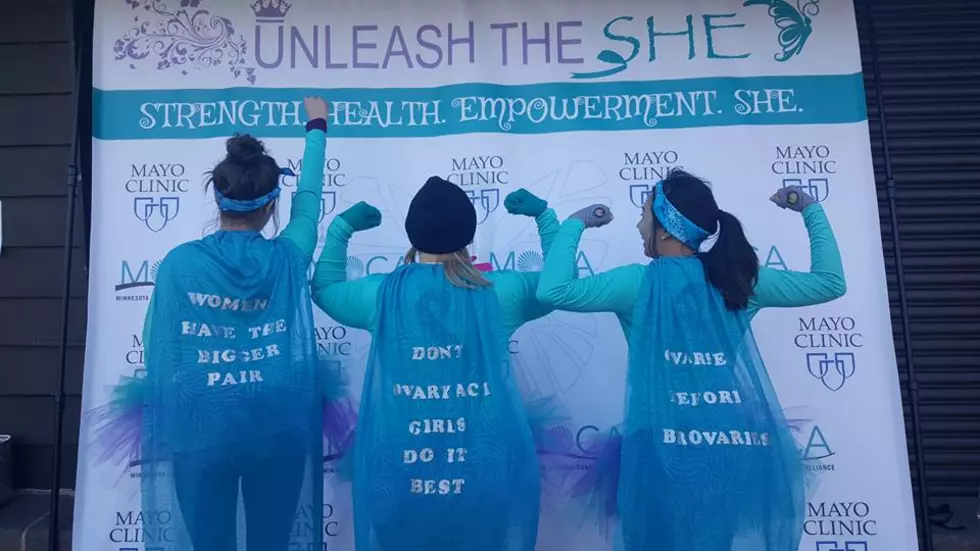 Raise Awareness and Money to Fight Ovarian Cancer at Popular Rochester Event
Unleash the She Facebook
The popular annual event, Unleash the SHE is just around the corner here in Rochester, Minnesota. Make sure to get signed up to participate to help raise awareness of ovarian cancer and raise money for the Minnesota Ovarian Cancer Alliance (MOCA).
What is Unleash the SHE
Unleash the SHE is a 5k or 10k race that, as I mentioned earlier, raises awareness of ovarian cancer and money to fight ovarian cancer, so obviously a good cause. Also, SHE stands for Strength, Health, Empowerment.
There are different races you can be involved in: the 5k walk or run women-only race, the 10k women-only race, or the 5k run or walk Support the SHE co-ed race. If the kids want to participate there's also a 1k Kids Fun Run.
When is Unleash the SHE
The Unleash the SHE races are coming up Sunday, October 24th at Mayo High School. The 10k will begin at 9 AM, the 5k run begins at 9:10 AM, the 5k walk begins at 9:25 AM, and the Kids Fun Run starts at 10:20 AM.
After the races are complete there will also be special guest speakers from Mayo and MOCA. They'll begin at 10:30 with a survivor presentation at 10:35. Finally, the awards ceremony for race winners will be at 10:55 AM.
How to Sign Up
If you'd like to participate in this year's Unleash the SHE you can sign up at the website HERE. Registration is $45 for the women's 10k and 5k, $40 for the co-ed 5k, and $14 for the Kids Fun Run. $5 of each registration will go to MOCA and if you'd rather race virtually, the registration price is slightly reduced.
Also, I'll be at the event emceeing, which I'm very excited about and honored that they asked me. So I'll be there to cheer you on!
Listen to the Get Up & Go Morning Show w/ Dunken & Carly On-Demand below, with the 106.9 KROC app, and on the following podcasting services:
Apple | Google | Spotify

Check out other events going on in the area this month!
2021 Halloween Haunted Houses, Events, and Attractions in The Rochester Area
Scroll through the official 2021 guide for
Halloween
haunted houses, events, and attractions in Rochester and the Southeast Minnesota area.