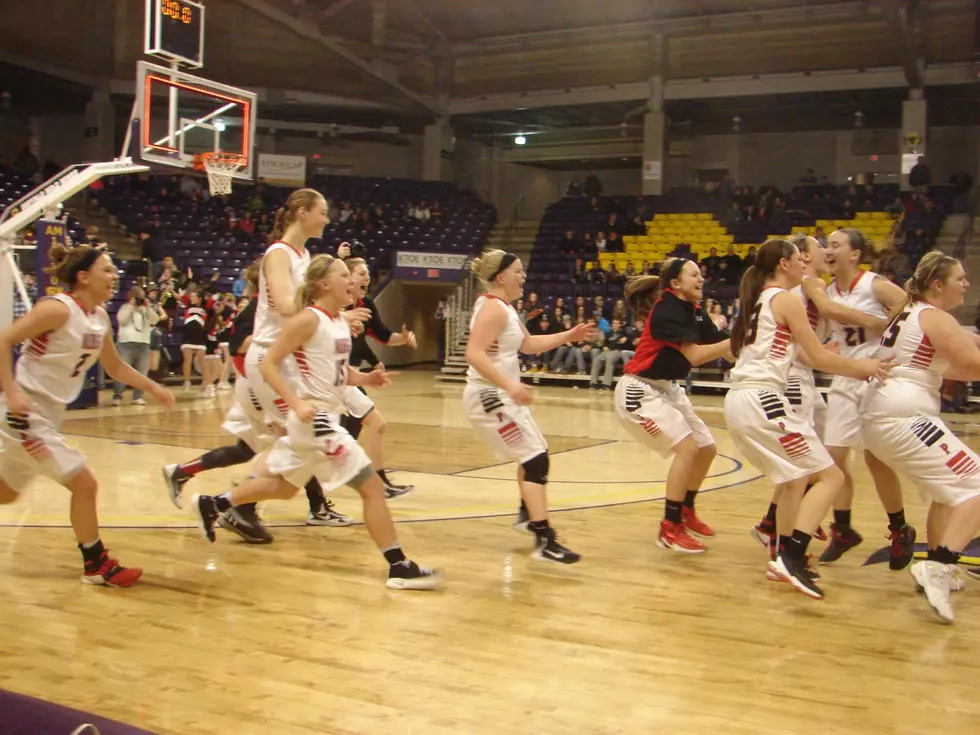 Panther Girls Roar Back to Earn Trip to State Basketball Tournament
Roy Koenig/Townsquare Media
The NRHEG girls rallied from a 15-2 deficit to beat Norwood-Young America 53-45 for the Section 2AA and earn a trip to the state tournament.
It's the fifth section title for the Panthers, who are just three years removed from back-to-back state titles. Friday's slow start left some wondering if this would be the year to get back there. Coach Onika Peterson told KRFO Radio afterward that the team just didn't want to see the season end and the seniors willed the team to victory.
Solid inside play from Betsy Schoenrock and great rebounding helped too. The 6-foot-3 junior reserve scored 14 of her 18 points in the second half and grabbed about a dozen rebounds. Senior Marnie Wagner scored 10 points. Twin sister Maddie hauled in 10 rebounds. NRHEG outrebounded NYA about 36-26.
NRHEG didn't get their second basket of the game until more than 10 minutes into the first half, but then went on a 12-3 run to pull within 20-17. The Raiders went into the locker room up 22-17. The Panthers started the second half on a 10-4 run to gain their first lead, 27-26 with about 13 minutes to go. The teams traded the lead four more times shortly thereafter before NRHEG went on a 9-0 dash to take the lead for good with less than 10 minutes remaining.
The Panthers went 8-for-10 at the free throw line in the second half and hit four of their 10 three-point attempts after halftime. They were just 2-for-13 in the first half.
Players cut down the net inside Taylor Center at Minnesota State University-Mankato after the victory and posed for pictures. A big crowd of fans mingled on the floor of Bresnan Arena after the win, tears of joy were seen on many faces.
No. 13AA NRHEG (25-5) will open state tournament play Wednesday, March 15, at Mariucci Arena at the University of Minnesota. The other state qualifiers in Class AA are No. 1 Roseau, No. 2 Sauk Centre, No. 3 Watertown-Mayer, No. 5 New London-Spicer, No. 7 Minnehaha Academy, No. 10 Esko and No. 17 Rochester Lourdes.