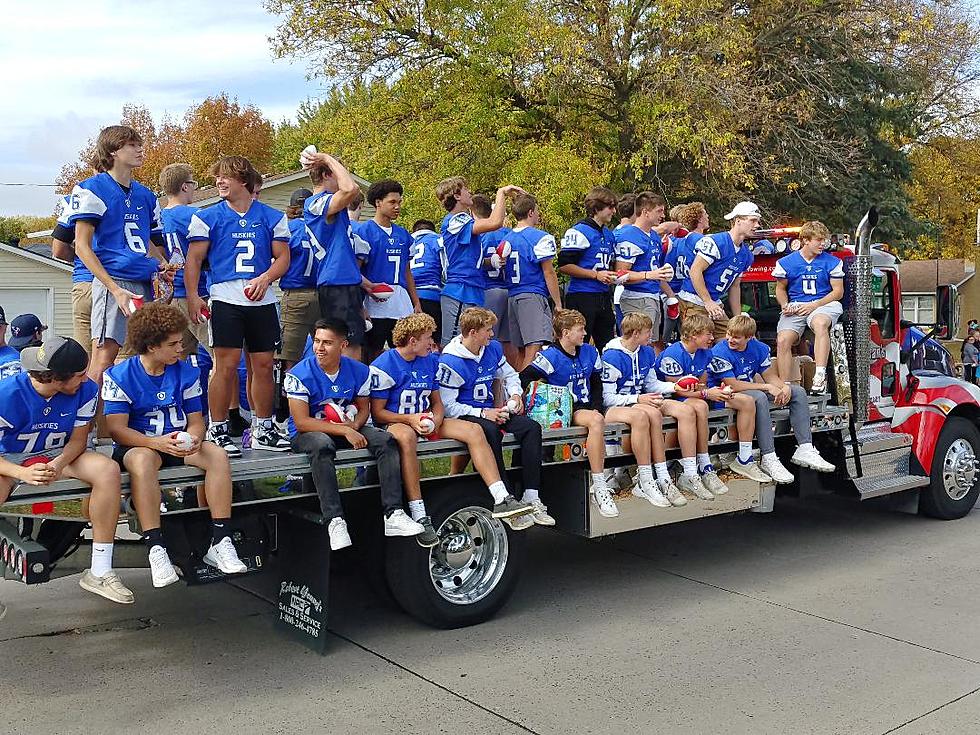 Owatonna Runs Over Rochester for Homecoming Victory
Roy Koenig/TSM
Rochester John Marshall's sophomore quarterback likely felt like he got hit by a truck, which had the No. 64 on its back. Huskies senior Eli Spurgeon was one of several Huskies to put a heavy hit on the JM signal caller. Owatonna's defense turned in another dominating performance in a 41-0 homecoming victory Friday night in front of a packed house, festive crowd at the OHS football field.
The Huskies had three touchdown drives of 35 yards or less thanks to the stifling defense and four forced turnovers. Jacob Ginskey had three touchdown tosses, two of those caught by Ayden Walter. Dylan Maas had a touchdown run and catch. Drew Henson connected on field goals of 41 and 33 yards.
Owatonna (4-2) goes to New Prague Friday, October 15 for a 7 pm kickoff. Hear the game on AM 1390 KRFO / 94.7 FM and on the free KRFO app. The Huskies will close the regular season Wednesday, October 20 hosting Kasson-Mantorville.
Friday's win over the Rockets should secure a top two seed in Section 1-5A where the Huskies are the five-time defending champions. Rochester Mayo is in line to be the top seed.
Get a full game recap at Owatonnafootball.com.
In other Big Southeast games:
Rochester Mayo 45, New Prague 0
Mankato West 76, Austin 0
Northfield 28, Century 14
Mankato East 58, Albert Lea 0
Faribault 40, Winona 0
Stewartville 28, Kasson-Mantorville 21
Byron 50, Red Wing 13
Blooming Prairie extended its winning streak to 24 games, the longest active streak in the state.
NRHEG won 39-6 at Medford on Friday night.
Triton won another thriller, beating Lewistown-Altura 43-42 in double overtime. Four of the Cobras' six games have been decided by two points or less.
Enter your number to get our free mobile app
Why do cats have whiskers? Why do they meow? Why do they nap so much? And answers to 47 other kitty questions:
Why do they meow? Why do they nap so much? Why do they have whiskers? Cats, and their undeniably adorable babies known as kittens, are mysterious creatures. Their larger relatives, after all, are some of the most mystical and lethal animals on the planet. Many questions related to domestic felines, however, have perfectly logical answers. Here's a look at some of the most common questions related to kittens and cats, and the answers cat lovers are looking for.