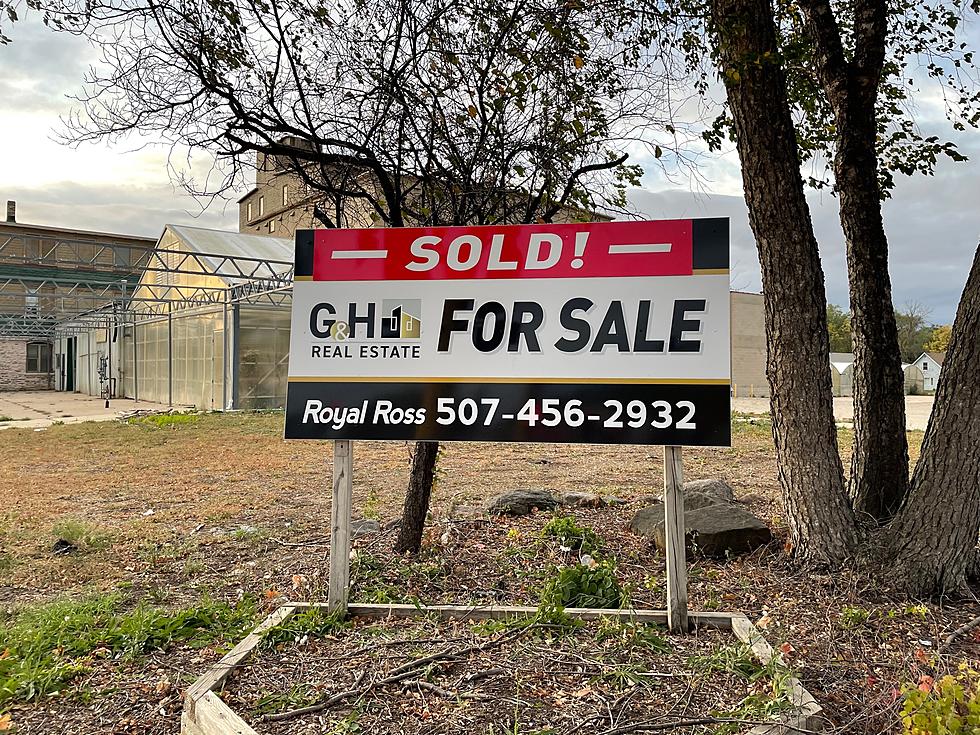 Iconic Farmer Seed Building in Faribault Purchased for Storage
Farmer Seed Building Sold Sign. Photo by Gordy Kosfeld
The Farmer Seed and Nursery store building in Faribault has been sold to a storage company from Rochester according to G&H Properties Agent Royal Ross.
The past two weekends on the Faribault Coaches Show which Ross co-hosts and co-sponsors he has stated the company told him they had no plans to take down the massive structure along 4th Street NW, which is also Highway 60.
Just east of the railroad tracks it nearly covers an entire block.
I contacted Rice County Historical Society Executive Director Susan Garwood and asked for some information about the historic business.  The information she sent was from a 2013 article in the RCHS Newsletter written by volunteer and Board Secretary Pauline Schreiber.
In the article it's explained German immigrant Otto Kozlowski was employed by a monthly farm newspaper published in Chicago in the late 1800's.  His brother-in-law William Kueker was also employed there. (it says Keener in the article at the beginning and later Kueker)
There were no agricultural experiment stations in those days so the two advised farmers on what kind of seeds to use with the different soil types.
In 1888 Kozlowski talked his brother-in-law into opening a seed sales firm to help the farmers they had been advising through the newspaper.  The firm opened in Chicago, Illinois with the name Farmer Seed.
Kueker's uncle, Christian Deike farmed near Faribault, Mn. and suggested they move the company to Faribault to serve the many German-American farmers arriving in the area.
In 1893 the men opened their seed business in a two-story building constructed on West 4th Street.  A small seed catalog was also printed in German and distributed to 10,000 farmers in Minnesota and Wisconsin.
Sales were good the first year so the next year the catalog was also printed in English and 20,000 catalogs were distributed.
The German printed catalog continued until 1914.
In 1899 the men purchased a large stone warehouse across the street from the original structure.
The building formerly held the Faribault Threshing Company.  One of Faribault's first industries.  That stone structure is the first story of the building that stands today.
The Farmer Seed and Nursery is listed on the National Register of HIstoric Places.
It was added to the National Register in 1982. (Not included in the article)
By the early 1900's garden seeds were added to the catalog due to demand from farmers who grew their own vegetables and wives wanted flowers.
Nursery stock was added after World War I and the firm changed their name to Farmer Seed and Nursery Co.
They pioneered, "Seed Cases" in 1913.  Racks of seeds for sale in stores throughout the midwest.  Salesmen kept the rack stocked using company-owned Model T-Fords to deliver the seeds.
The retail store was added on 4th Street around 1909.
Company records state by 1938 the Farmer Seed catalog was being sent to 250,000 people and seed racks were displayed in over 4,000 stores.
Farmer Seed was the first company in Minnesota and one of the first in the upper midwest to offer hybrid corn seed to farmers.  These seeds meant farmers could raise 150 to 160 bushels of corn per acre versus the 30 bushels they were getting.
By the early 1970;s the company no longer developed hybrid corn seed and let other agricultural firms and colleges develop hybrid seeds.
It had other retail stores in the 1960's and 70's in Albert Lea, Alexandria, Bemidji, Fairmont, Forest Lake, Glencoe, Mankato, Minneapolis, Newport, Rochester, St. Cloud, Le Center and Windom.  Eventually they would close.
Ross told us everyone he showed the building to was made aware of the love the Faribault community has of the 75 foot tall structure.
Ross told us during the October 2, 2021 Faribault Coaches Show at Bashers Faribowl Center, "It is officially sold.  Turned over to the new owners out of Rochester and I believe they are a storage company.  They have no plans of razing it or tearing it down.  They're going to reuse as much of the building as they possibly can and continue with that grand structure that you see when you come into Faribault on Highway 60."
I told Royal I couldn't imagine the iconic building being gone, "if you know what I'm saying."
He replied, "Yep.  I know exactly what you're saying and as a realtor, the listing agent for it ,you know you can't demand that the buyer not tear it down.  I always did stress this building is important to the City of Faribault.  It's on the National Historical Register so they would have to jump through some hoops to tear it down but you know it can always happen."
Ross declined to reveal the purchase price saying it will become public record when it goes on the public rolls.
Would one of these places be a good destination?
LOOK: Here are the 50 best beach towns in America
Every beach town has its share of pluses and minuses, which got us thinking about what makes a beach town the best one to live in. To find out,
Stacker
consulted
data from WalletHub
, released June 17, 2020, that compares U.S. beach towns. Ratings are based on six categories: affordability, weather, safety, economy, education and health, and quality of life. The cities ranged in population from 10,000 to 150,000, but they had to have at least one local beach listed on TripAdvisor. Read the
full methodology here
. From those rankings, we selected the top 50. Readers who live in California and Florida will be unsurprised to learn that many of towns featured here are in one of those two states.
Keep reading to see if your favorite beach town made the cut.
Did you know about most of these?
LOOK: Famous Historic Homes in Every State