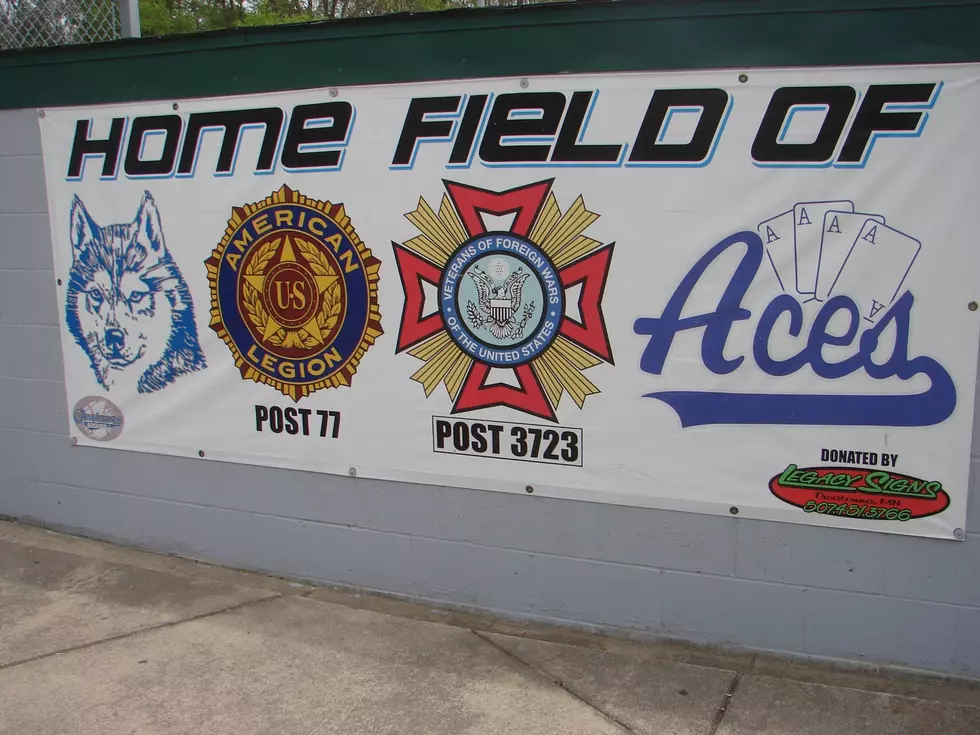 Owatonna Legion Baseball Wins Wild One over Lourdes in Playoff Opener
Roy Koenig, Townsquare Media
Owatonna Post 77 beat the Rochester Eagles 13-11 in a see-saw affair at Fuller Field on Tuesday night. It was Owatonna's third straight come-from-behind victory.
The scoreboard at Fuller Field got a good workout in advance of all the games coming up in the sub-state tournament there this weekend as the teams combined for 24 runs, about 20 hits and several errors in the playoff quarterfinals.
Post 77 was down 2-1 after the first inning and trailed 6-1 after two after Rochester hit a two-run home run as part of their four-run inning. Owatonna pushed three across in the fourth to pull within 6-4. The teams each scored twice in the fifth, but Owatonna left the bases loaded. Rochester led 8-6 at that point.
Owatonna turned the game in their favor with a six-run sixth inning to grab a 12-8 lead, highlighted by Noah Budach's two-run double.
The scoring barrage wasn't over however, as Rochester added one in the seventh and two in the ninth. Owatonna held on for the 13-11 win and will play in Thursday's 4PM winner's bracket semifinals at Fuller Field at Dartt's Park. Their opponent is yet to be determined. The Rochester Patriots were leading the A's 4-1 in the ninth when the game had to be suspended Tuesday. It will be completed Wednesday.
In other baseball news, the Owatonna Aces are scheduled to host the Rochester Roadrunners on Wednesday, July 19, at 7:30PM with coverage on KRFO AM 1390. Owatonna's VFW team heads to Winona on Saturday for playoff action. Post 3723 will face Faribault at 12:30. Winona and Waseca play at 10AM.
Medford's Legion team plays in the district tournament Thursday at 7:30PM against Caledonia in La Crescent. Adams and St. Charles are the other semifinalists.
Sub-State 1, American Legion baseball
Tuesday results, according to the Owatonna Post 77 Twitter page, @Post77MN:
No. 1 Austin 15, No. 8 Rochester Redhawks 5, eight innings
No. 5 Winona 9, No. 4 Albert Lea 8
No. 2 Owatonna 13, No. 7 Rochester Eagles 11
No. 6 Patriots 4, No. 3 A's 1, suspended in the ninth inning
Thursday, July 20, schedule, winner's bracket at Fuller Field
Owatonna vs. Patriots/A's winner, 4PM
Austin vs. Winona, 7PM
Friday, July 21, schedule, loser's bracket at Fuller Field
Redhawks vs. Albert Lea, 10AM
Eagles vs. Patriots/A's loser, 1PM
Austin/Winona loser vs. Redhawks/Albert Lea winner, 4PM
Owatonna/Patriots/A's loser vs. Eagles/Patriots/A's winner, 7PM
Games Saturday are scheduled for 1PM, 4PM and 7PM. The championship game begins at 1PM Sunday. A second game will follow if needed.