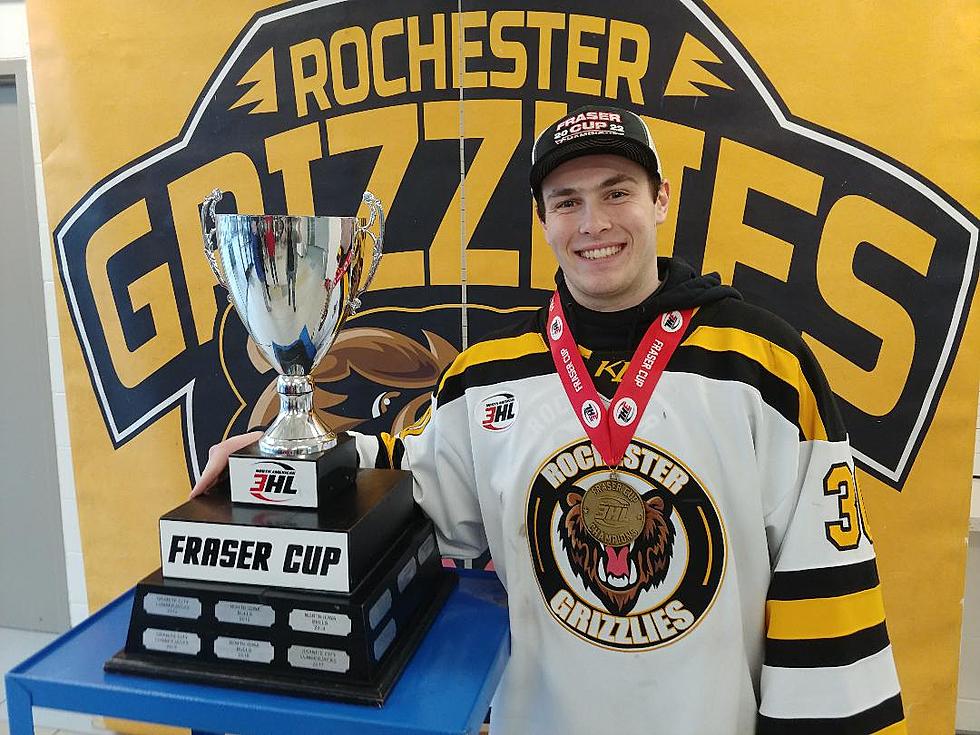 Owatonna Grad Commits to Gopher Hockey Team
Roy Koenig/TSM
After a spectacular prep career with Owatonna High School and a national championship with a high-level Rochester (MN) junior hockey club, Zach Wiese has announced his commitment to join the Gopher hockey program. In a tweet, Zach stated, "I am very honored and excited to announce my commitment to play hockey at the University of Minnesota. I would like to thank my family, coaches, and teammates."
He told therinklive.com, "It's crazy; I never thought this would happen to me. It's been a roller coaster. When (the possibility) was brought to my attention, it was like 'yeah, sure, it would be cool.' But you're thinking it's probably not going to happen."
"I can't even explain how this feels. My phone has been blowing up."
Wiese was named the NA3HL Goaltender of the Year after backstopping the Rochester Grizzles to a national title earlier this year. At the time he said, "Feels great. Definitely never thought I'd be a national champion...Team just really came together. We lost the first game Wednesday night. Wasn't the best game. But all the boys just came back and said, 'Hey! We really got to tighten down if we want this.' And everyone wanted it really bad. And that's what we did. The team played really great in front of me."
During his two-season stint with the Grizzlies, Wiese appeared in 51 games compiling a 40-7-3 record with a .934 save percentage, and a 1.84 goals-against average. He is the first Grizzlies' player to make a Division I college commitment. Rochester is in its fourth year as a program.
Head coach and General Manager for Rochester Chris Ratzloff said in a news release, "He has worked so hard over the past two seasons with us and has received well-deserved recognition from his teammates and the league. Thank you to Coach Motzko and the Gophers for giving Zach an opportunity to fill the role they need him for, we know he will do a great job for them. We wish Zach much success in school and hockey and know that he will do great things at the U and in life after college."
Read more about the national championship for Rochester and hear what Zach had to say during a community celebration.
Weise, a 2020 OHS grad, earned the Oldenburg Senior Athlete of the Year honor after putting together an amazing list of accomplishments on the football gridiron, hockey rink, and baseball diamond.
Check out Minnesota's best town nicknames, there's a hockey reference in there.
Five of the Best Minnesota Town Nicknames
There are so many great Minnesota town nicknames, below are five of our favorites. Let us know which ones we miss on our
app
.